Speech
Britain and Australia – making the most of global opportunity
Foreign Secretary William Hague gave a speech on Britain's relationship with Australia.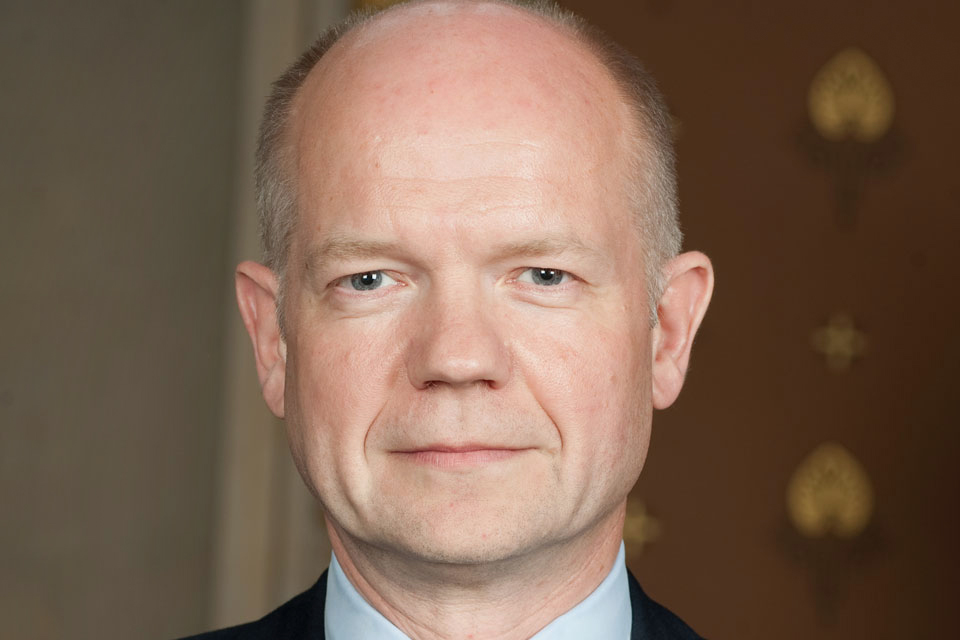 "It is a privilege to be here in Australia's oldest Parliament, and I am grateful to Tony Abbott for his generous introduction.
By a coincidence, it is 225 years this very month since the founding of New South Wales. It is impossible not to admire Australia's achievements since then:
You have become one of the richest and most successful economies in the world, enjoying twenty-one years without a recession;
You have developed a vibrant society with citizens drawn from an ever-wider pool, particularly Asia;
And you have played a leading role in international affairs as what has been described as a "global middle power"; helping to create the G20 and strengthening international peace and security.
I will pass lightly over our sporting rivalry and achievements, which delight and rankle in equal measure – on both sides.
In Britain we are still glowing from the success of the London Olympics. But with ten Ashes tests coming up in the next twelve months I have no doubt that Australia will give us a good run for our money - and that John Howard will not miss a single game.
I am very grateful to the Menzies Research Centre for inviting me to give this lecture.
Sir Robert Menzies was a distinguished Australian leader and a strong friend to the United Kingdom. I'm fond of the story of him being interrupted as he gave a speech once, by a woman shouting "I wouldn't vote for you if you were the archangel Gabriel". He replied "if I were the archangel Gabriel, madam, you wouldn't be in my constituency". This is the politest way to tell somebody to go to hell that I've ever encountered.
It is an immense honour to give the 4th John Howard lecture. As well as having the highest respect and admiration for John as a leader and as a politician, I have benefited personally from his friendship.
When I became Leader of the Opposition in 1997, he was the first Head of Government that I met. He told me that I would find my first year as Leader extremely hard; until I realised that all the other years would be even tougher. How right he was. What realistic advice that was.
As Prime Minister he phoned me regularly during our 2001 General Election on Sunday mornings. I would say that we were twenty or twenty-two points behind and he would say "don't get down-hearted at this stage." Anyone who knows anything about British politics will know that was not an easy time to be a Conservative Leader and we didn't always feel that we had that many friends.
But being a friend through thick and thin is a hallmark of John Howard's character.
It is also a defining characteristic of the Australian people.
Next year we will mark the Centenary of the start of the First World War and the sacrifices made to defend our freedom, including by so many hundreds of thousands of soldiers from Australia and New Zealand.
In more recent times our three countries stood shoulder to shoulder together in so many different places from Bosnia and Kosovo to Iraq and Afghanistan.
We are the backbone of the Five Powers Defence Arrangements in South East Asia, now in their 42nd year.
And our 'Five Eyes' security cooperation with the United States, New Zealand and Canada is the most formidable intelligence partnership in the world, based on trust that was a hundred years in the making.
Allies don't come with broader shoulders, bigger hearts, or greater courage and resourcefulness than Australia.
We've been saddened to watch the devastating bushfires sweep through parts of Australia and I bring a message of sympathy and solidarity from Prime Minister David Cameron to everyone who has been affected.
Our two countries share very strong bonds of history, family, and values. We believe in many of the same things - in democracy, the rule of law, personal freedom - and we have been willing to spend blood and treasure to defend those things. We have a similar open, roving and outward-looking character as nations.
But if the relationship between Britain and Australia was based only on sentiment and affinity - however strong - then its practical value to both countries would probably fade over time.
Instead I want to argue that our ties are stronger and more relevant than ever.
I know that some people might argue the opposite, saying that Australia's relationship with Britain and with Europe as a whole is less important given Asia's rise, and Europe's economic difficulties.
I strongly disagree with that, for three reasons:
The first is that the British and European economies retain many great strengths and offer many opportunities.
In the United Kingdom we are tackling our economic difficulties and will emerge stronger from them.
There is a global economic race underway, and all Western countries need to adapt to compete in it.
Some, like Australia, keep well ahead in this.
And in Britain we are laying the foundations for sustainable economic recovery and growth.
We're bringing public finances under control; creating a tax system that fosters growth and is attractive to business; reducing our rates of business taxes to among the lowest in the G20; reforming our welfare system so that it encourages people into work, overhauling our education system so that it gives our people the skills they need to succeed, supporting world-leading research in our great universities and using foreign policy to connect Britain up to the fastest-growing economies of the 21st century.
Of course, no single thing would have a greater impact on our economy in the short term than the resolution of the crisis in the Eurozone.
Some European economies are stagnant, facing weak public finances and weak growth prospects. Balancing finances, deepening the Single Market in areas like the digital economy, services and energy, completing free trade deals and focussing on tasks that matter to the lives of European citizens, these must be absolute priorities for the European Union, and Britain will be at the centre of those efforts.
But the EU is still the largest single market in the world, with more than 500 million consumers, 21 million companies; and some of the most dynamic and competitive parts of the global economy.
Enlargement, the EU's biggest single success, is still on track. For example this summer Croatia is set to join, and Western Balkan countries are on the path to membership, only twenty years after they were at war.
And whether it is tackling climate change or confronting terrorism, the EU acting collectively is a force to be reckoned with in world affairs.
The second reason that I believe it would be wrong to think that Britain or Europe will matter less to Australia in the future is our growing engagement with Asia.
Today, Britain is looking East as never before in modern times.
We have set our sights on far closer ties with Asian nations.
We will have opened as many as eight new British diplomatic posts in Asia by 2015.
We are now one of only three European countries to be represented in every single country in ASEAN.
We now have the largest diplomatic network in India of any nation – with ten posts across the country.
We are equipping our diplomats to do business in Asia, leading to, since I have been Foreign Secretary, a 40% increase in the numbers who speak Chinese languages.
And we are reinforcing our Embassies in China, India, Pakistan, Indonesia, Vietnam, Malaysia, the Philippines, Thailand, Burma, Singapore, North and South Korea and Mongolia with significant increases in staff. And indeed I am increasing the capacity of the political section of our High Commission in Canberra as well.
UK exports are to the Asia-Pacific region are up 15% compared to the previous year, and last year for the first time in decades we exported more outside the European Union than to it, including topping £10 billion in our exports to Australia. Asia today is an engine of global growth, and we are determined to be part of that.
But we are also increasing our engagement on defence and security issues.
We are developing defence and security dialogues with China and Vietnam, on top of our work on counter-terrorism in South East Asia, our role on the UN Security Council on issues like North Korea, and our contribution to tackling piracy from the Malacca Straits to the Indian Ocean and the Gulf of Aden,
We are not engaged in an effort to contain China. We all need China to continue to grow, and to play a responsible and active role in international affairs and its region.
I am also extremely proud of Britain's role helping to sustain the Mindanao Peace Process.
And while our interests will not always be identical, the UK and Australia can work together to support stability in the region, to support education, fight corruption, promote trade, cooperate on energy, and make greater use of the Commonwealth network in Asia – on which the UK and Australia have worked closely during your chairmanship of CHOGM in 2011.
We are also urging the European Union as a whole to follow our example and to be more active in Asia, within the limits of its competences: such as promoting responsible investment in Burma; supporting development and disaster preparedness across the region, enlarging free trade, and taking a lead from Australia on regional issues like Fiji.
So in Britain we are strengthening our economy, playing a leading role in the Asia Pacific region and encouraging the European Union as a whole to do the same.
But there is a third and even more compelling reason why Britain is an important partner for the 21st century:
It is that we are a global nation, with global interests and global reach.
The rise of Asia over the last decade is remarkable. As John Howard has said, "history will have no bigger stadium this century than the Pacific rim".
But the emergence of new economic and political powerhouses is a global phenomenon as well as an Asian phenomenon.
In Latin America, the Gulf, and parts of Africa we see the emergence of countries that are significant economic and political powers in their own right. So from Britain's perspective, we live in a global century, not just an Asian century.
Today there are many more centres of decision-making in the world, which countries like ours need to be able to understand and to influence.
Moreover, the world is not settling into blocs based on regional geography or ideology. It is a much more complex global landscape, with a web of shifting connections between nations, business, civil-society and individuals that cross continents.
It is not a landscape dominated only by big powers – small agile nations are playing a greater role from Qatar to Singapore. The Arab Spring, still for now the most significant event of the 21st century, began in a small country, Tunisia, but spread with dramatic effect.
And countries like Britain and Australia increasingly have populations drawn from every corner of the globe, which gives us direct personal connections to every global event. Whether your forebears came from Guangzhou or Karachi, Australian and British citizens have a shared interest in our two countries working closely together on the many global challenges.
Britain's answer to this changing global landscape is that we need to be present in more places; to make the most of our special links in many of the regions of the world; and to widen the group of nations with whom our foreign policy is crafted.
We are setting out to be able to work as effectively with the new centres of decision-making of the 21st century as we do with Brussels and Washington today, developing our global role without turning away from Europe or the United States.
We are the only European nation to be opening Embassies on a significant scale. I described what we are doing in Asia. We will have opened up to 20 new diplomatic posts by 2015, in Africa and Latin America as well as in Asia.
This is a conscious change from the policy of the previous British government, which closed Embassies in many countries.
We are using this stronger diplomatic capability to support our economy and growth in trade and investment and, we hope, to build connections that will benefit our country thirty years from now as well as in the immediate future.
We have also set out to 'turn the dial' on many major international issues, such as the situation in Somalia.
Two years ago Somalia appeared locked in a downward spiral of conflict and suffering. Today, it has begun to turn the corner. We brought fifty countries together for a conference in London last year, secured a UN Security Council Resolution and new action on piracy and persuaded Somalia's leaders to make political progress on the ground. This year, we will convene a second conference, this time hosted with the new government of Somalia as an equal partner, focussing on security and justice, public financial management, political reconciliation, and economic development. This shows that it is possible to tackle some of the UK's most intractable problems.
And also this year, during the UK's Presidency of the G8, we have launched a major initiative on preventing sexual violence in conflict, taking an international problem that is generally regarded to be insurmountable, and proposing ways that we can reduce and one day hopefully eradicate the use of rape as a weapon of war.
In all of these things, whether we are tackling the problem on a regional issue or a thematic issue such as preventing sexual violence in conflict, we are looking more to Australia.
That is why this is my third visit to Australia since our government came to office.
Before then, no British Foreign Secretary had made an official visit here in nearly twenty years, a form of benign neglect which we have ended.
Today, the level of our foreign policy cooperation is unprecedented.
We're seeing much closer and more regular contacts between our Ministers and officials.
We are confronting some of the biggest challenges of our time, such as developing our cyber security capacity to help other countries tackle cyber crime.
Tomorrow we will sign a new Defence and Security Cooperation Treaty, giving strategic direction to our defence relationship.
And Australia is now the only country in the world with whom Britain has a formal agreement to share confidential diplomatic reports on a systematic basis. Today, Australian diplomats anywhere in the world can read many of the reports from British diplomats in our 260 missions overseas, and vice versa.
Furthermore, we will now pave the way for British Embassies to host Australian diplomats in approximately twelve countries across Africa during your Security Council tenure over the next two years. Your Government and Foreign Ministry ran a successful campaign to win a seat on the United Nations Security Council, and we see this as a major opportunity to work closely together over the next two years. We are also working on longer-term arrangements to share diplomatic premises in some countries around the world, as we are with Canada and New Zealand.
These are all tangible steps to strengthen the UK-Australia foreign policy relationship. But as with any capability, it is what we do with it that counts. 2013 will be a crucial year in the Middle East. We could see a perfect storm of crises converging if the conflict in Syria continues, if the Middle East Peace Process remains stalled, and if Iran will not enter into meaningful negotiations over its nuclear programme.
Like Australia, we believe that a peaceful political transition in Syria would be the best way forward for the country. But if the killing and violence continues and there is no diplomatic breakthrough, the international community must be ready to step up its response, including looking at ways to send life-saving help and assistance to the Syrian opposition. 2013 cannot be the year in which another 60,000 Syrian civilians perish.
We also see 2013 as a decisive year for the Middle East Peace Process. Before long, a two-state solution could be made impossible by facts on the ground. We recognise the immense obstacles to the Peace Process, not least of all the role of Hamas in Gaza. But still, we believe that it must be a priority for President Obama's re-elected administration to launch a new effort to start the peace process, greater in intensity than anything seen since the Oslo Accords. This is a tall order, but the situation is urgent and the consequences of failure extremely grave.
And 2013 could be a year of crisis over Iran's nuclear programme, if Iran is not willing to enter into meaningful negotiations.
We may well have to face all these things side by side at the UN Security Council, as well as dealing with so many unexpected crises.
But thanks to the steps we have taken on both sides to strengthen our foreign policy relationship, something for which there is such enthusiasm across Australian and British politics, we are in a stronger position to do so today.
So to anyone who says that Britain and Australia are facing in different directions, I say that we have more work on our hands than ever before;
To anyone who thinks that our relationship is based only on history, I point to the areas where we are breaking new ground to advance our common interests;
To those who think Britain has to choose between Europe, the United States and the rest of the world, I say that we will continue to build up our global role.
And to those who say that Australia needs to choose between its neighbourhood and its traditional alliances I say no, these are mutually reinforcing, and Britain is a partner for Australia here in the Asia Pacific region as well as globally.
Ours is a remarkably durable relationship, one that I can confidently say has its best days, and its greatest opportunities, still to come."
Published 17 January 2013