Speech
Baroness Williams of Trafford speech to Tell MAMA conference
Baroness Williams of Trafford speech to Tell MAMA conference Tackling anti-Muslim hatred in Manchester and Beyond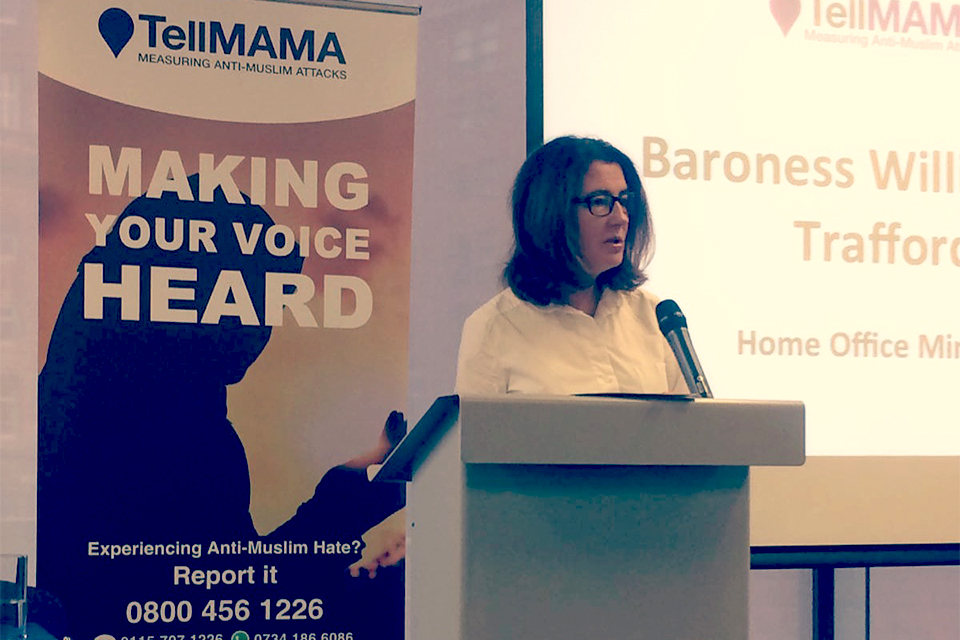 I am delighted to be back in my home city and with Tell MAMA who we have a long-standing relationship with. I am pleased to see so many people here today, to listen, share and discuss the issue of tackling anti- Muslim hatred.
An issue that this government is committed to challenging.
And Tell MAMA are a key partner in our work and I would like to start by thanking you for all the work that you do.
Crimes committed against people because of a particular characteristic are pernicious and can eat away at the very fabric of our society leading to mistrust, isolation, fear and anger. And nobody in this country should live in fear because of who they are.
We know from Tell MAMA data that from 1 January to 31 December 2015, there were 2622 anti-Muslim hate incidents reported to the organisation by victims, witnesses, third parties or the police, compared to 599 in 2014.
A further 3179 incidents were reported during the first eleven months of 2016. It is important that hate crime is not ignored and is reported so that we can continue to understand the scale of it and we can tackle it.
In part, the statistics reflect a greater encouragement of and confidence in reporting as well as an increasing number of data sharing agreements between Tell Mama and individual police forces.
Britain has a proud tradition of religious tolerance and this government is committed to creating a strong and integrated society in which hate and prejudice are not tolerated and in which all people are free to express themselves and live without fear of harassment, abuse or harm because of their identity.
We want a society in which there is respect for the religious beliefs and practices of others and where our citizens consider what their impact on others might be.
We value the contributions made by the Muslim community and we are determined to stamp out hate crime, protect the communities that are subject to it and to ensure that those who engage in such reprehensible acts are brought to justice.
So what actions have we taken as a government?
In 2012 the government worked with a number of individuals and civil society groups to establish the Working Group on Anti-Muslim Hatred this came into force when I was at The Department for Communities and Local Government and I was very happy to chair it. This group provides a forum for Muslims impacted by hate crime to raise concerns directly with national agencies with responsibility for addressing hate crime issues. The working group informs the government of issues and concerns within the Muslim community and provides input and feedback into the development of government policy.
In July 2016 The Home Secretary launched the hate crime action plan. The plan includes a number of key actions to combat anti-Muslim hatred.
It includes measures to increase the reporting of hate incidents and crimes, including working with communities and police to develop third party reporting centres. It also includes actions to prevent hate crimes on public transport, and it sets out how we will provide improved support for victims.
And we are grateful to Tell MAMA, the anti-Muslim Hatred Working group and other Muslim organisations for your contributions to the development of the plan.
Alongside the plan, we also launched a £2.4 million fund for protective security at places of worship including mosques which had been subject to or may be vulnerable to hate crime attacks. Tell MAMA were instrumental in helping to set up the scheme and have supported us in the delivery of the programme.
The next round of funding is due to open on April 3rd and I would urge mosques that have been subject to hate crime attacks or feel vulnerable to apply to the fund when it opens.
We are also funding the Remembering Srebrenica project to raise awareness of the 1995 Srebrenica genocide and the fatal consequences of hatred and discrimination.
We are also asking police to provide data about the religious background of hate crime victims, to help better understand the scale of anti-Muslim hatred in order to improve our response and make sure resources are deployed as necessary.
And let's not forget, it was Eric Pickles, Conservative Secretary of State for the Department for Communities and Local Government who first launched Tell Mama in 2012.
We are also very pleased that the "No2H8" regional outreach programme and the 'Overcoming Hate Together' programme which are funded by the government and delivered by Tell Mama have resulted in raising awareness of anti-Muslim hatred. They have increased the confidence of victims to report incidents and has helped to ensure that victims feel supported
But we know there is more that needs to be done to tackle the prevalence of anti-Muslim hatred and the fact that women are disproportionately targeted.
The Home Secretary has shown her commitment to tackling organisations that peddle and sow division – banning the racist Neo Nazi group, National Action, in December.
Extremism is an affront to our society and we will continue to pursue individuals and organisations who seek to harm and divide our communities with hatred and intolerance by working with our partners including the anti-Muslim Hatred Working Group, which has done a lot of good work.
Among other things they have:
Worked with the media to develop training for journalists to tackle the negative portrayal of Muslims in the Media.
They've achieved an increase in reporting and recording of anti-Muslim hate incidents, through the work done with Tell MAMA.
And they've worked with Tell MAMA and Hope Not Hate to tackle online anti-Muslim hatred.
And I want to assure you that we will continue to work hard across Government and with partners to improve the security and protection of the Muslim community.
No one should have to live in fear or feel marginalised in a country that they love and contribute so much to. Wherever the threat comes from, far right, far left or Islamist extremist.
Freedom of speech, freedom of worship, democracy, the rule of law, and equal rights define us as a society. We are determined to promote these values, working in partnership and alongside Muslim and indeed all faith communities to demonstrate what we have in common as the best defence against extremists who would seek to divide us.
The government is committed to supporting the vital work carried out by numerous faith and community organisations to challenge hatred and intolerance.
We must stand together and with one voice and send a clear unequivocal message - Hate will not be tolerated.
I want to again reiterate my sincere thanks to Tell MAMA for working with us, challenging us and playing a vital role in monitoring and recording incidents of anti-Muslim hostility. I want to thank you for the work you do to support victims, raise awareness and challenge those who would seek to divide us.
Thank you for working with us and supporting us in our efforts to tackle hate crime. Together we are stronger.
Published 26 January 2017