Baroness Shields' speech at INTERPOL Specialists Group meeting
A global response to online child sexual exploitation.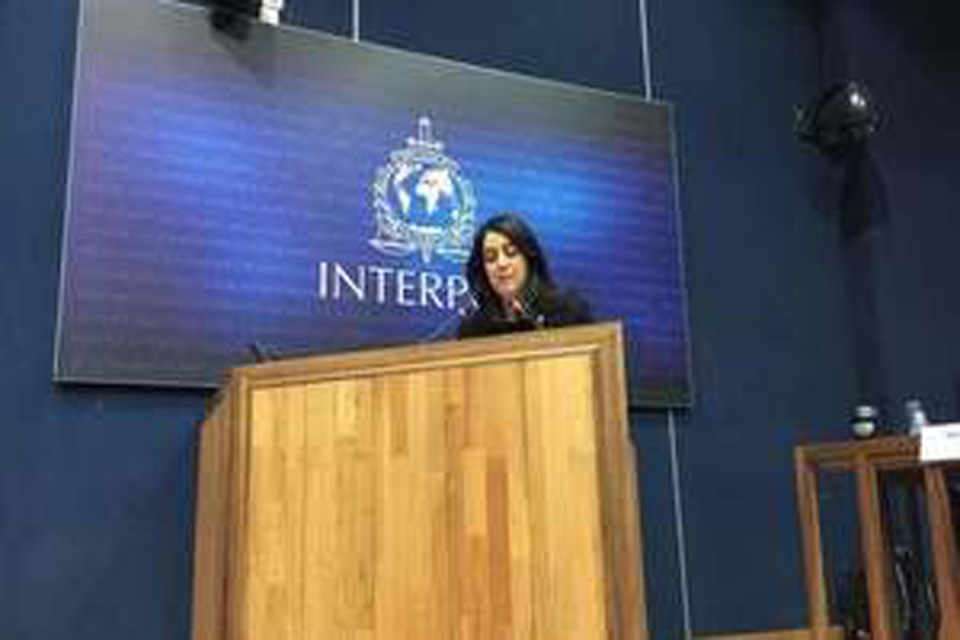 We are all gathered here today to address what has become one of most complex, evolving and alarming challenges that society has ever faced – the use of the internet and technology to abuse children on a mass scale.
As you the experts are well aware, it is a sad reality that today, for criminals with a sexual interest in children, it has never been easier to access and circulate child sexual abuse material. It has never been easier to engage and coerce children online. And it has never been easier for sexual predators to identify vulnerable people, to reach into their lives often in the privacy of their own homes and abuse them in record numbers.
In fact, children are being groomed online by people they have never met and coerced into producing sexually explicit images of themselves in humiliating acts of abuse. And today, offenders can connect with other offenders online to share their disguising tactics and strategies. They pay to watch the live-streaming of children being sexually abused all over the world using anonymous access and crypto-currency mechanisms to obfuscate their identity and crimes.
But according to a 2016 UNICEF survey, young people are developing a clearer sense of the threat they face online: 80% of 18 year olds surveyed believe that they and their peers are in danger of being sexually exploited online. And among those young people are countless victims, real children and teenagers with names and stories whose lives have been shattered.
One example is Rosalyn and her sister from the Philippines, who were forced to participate in live streaming sexual abuse in an ultimate betrayal by those they should be able to trust most, their own parents.
Elsa, who is 12, and her sister Gina, 13, from Madagascar were sexually exploited by a 59 year-old European man who employed their mother as a domestic worker.
And Charlotte from England, who suffers from Asperger's Syndrome took to the internet desperately seeking friendship and acceptance, but instead a man posing as a young girl exploited her friendship. He groomed her and began demanding naked photos, which he then posted onto a social networking site, exploiting her vulnerability again and again with each view.
These brave young people have spoken out against their offenders and with the help and support of expert professionals, they have demonstrated great courage and resilience, but we know there are countless victims of this crime who are suffering in silence with no one to turn to and no way to alleviate their pain.
And it is not just teenagers who fall prey. The Internet Watch Foundation reported in 2016 that of the 68,000 reports they received of images of online sexual exploitation, 1,788 of those victims were assessed to be 2 years old or younger.
I don't need to tell you that this heinous crime must be stopped but in a rapidly developing world, we cannot address this simply by managing the cases that happen in our communities. The global nature of the internet and the technology we all use means that this crime cannot be addressed by one country alone.
As Rosalyn, Elsa, Gina and Charlotte's stories demonstrate, this is an international crime. It does not observe country borders or boundaries and it cannot be addressed without collaboration and cooperation. The solution to the problem is a coordinated worldwide response from government, civil society organisations, law enforcement and technology companies. To fight this abhorrent crime, it takes us all. United in a global multi-stakeholder response.
The WePROTECT Global Alliance to end child sexual exploitation (CSE) online is that response and it is being purpose built to solve this challenge.
The recently completed merger of WePROTECT with the Global Alliance against Child Sexual Abuse Online has created, for the first time ever, a single global organisation with the influence, expertise and resources to transform how online child sexual exploitation is dealt with and how it is disrupted around the world.
The WePROTECT Global Alliance mission is to empower everyone with a responsibility to protect children online, to identify and protect victims, to remove the child sexual abuse material online that fuels this crime, and to strengthen cooperation to track down the perpetrators and protect its vulnerable victims.
The WePROTECT Global Alliance already has unprecedented reach with 70 countries serving as members of WePROTECT or the Global Alliance, along with international child protection and civil society organisations, the biggest names in the global technology industry, including Facebook, Google and Microsoft and most importantly our host today and one of our most important partners, INTERPOL.
This unprecedented collaboration is united in the goal of ending online child exploitation by supporting comprehensive national action and galvanising global action. To achieve this, we need to secure high-level commitment from all the key players involved and ensure that everyone involved is aware of the threat and how it is evolving and manifesting online.
That is why we are working in partnership with UNICEF to deliver targeted programs and awareness campaigns such as the #ReplyForAll communications campaign, that started in June this year.
The #ReplyForAll campaign is heart-breaking but it's also inspirational. The campaign features video stories and testimonials from victims and those who have stood up to end violence online, some of whom I have already mentioned this morning, and it has so far been viewed 2.6 million times.
The campaign has provided a platform for children to share advice on how to deal with abuse online. This had the effect of creating an online community where children support each other in dealing with online violence and the campaign has already reached children in over 40 countries, with 1.5 million views in its first week alone.
But demonstrating that change can happen is as important as raising awareness. That is why the UK government provided £10 million to UNICEF to deliver a global programme of capacity building, to tackle online child sexual exploitation in 17 countries and 4 regions in 2015/16.
And that change is already happening. The development of a national platform for child safety online in Albania led to 40 reports of online child sexual exploitation; a crime that was previously rarely reported, and an education campaign that reached 20,000 primary school children.
In Guatemala, a WePROTECT funded project dismantled two online exploitation networks, which led to 28 prosecutions. In Uganda 25% of law enforcement officials were trained in techniques for identifying and rescuing victims. In Madagascar 18 children were rescued from sexual exploitation, and finally in Kenya, 2,244 child victims received support through child protection services.
But to scale these programmes and initiatives takes a high level political commitment too, and fortunately the world is coming together and many countries have already made commitments to the United Nations sustainable development goals (SDG), in particular 3 which are relevant to our efforts. The first is the sustainable development goal 16.2 to end the abuse, exploitation, trafficking and all forms of violence against children. The second SDG 8.7 to end child labour and finally, SDG 5.2, to eliminate the sexual exploitation of women and girls.
And in Abu-Dhabi at the second WePROTECT Summit, participating countries committed to delivering and establishing a coordinated national response to online child sexual exploitation in their own countries. And what's more, they agreed they would accomplish this by adopting the model national response. The model developed in partnership with the UK's National Crime Agency CEOP Command was developed to provide countries with a real starting point to assess their capabilities in responding to and tackling this heinous crime.
The model national response is a best practice roadmap that details the capabilities required by a country to enable the delivery of a comprehensive response to online child sexual exploitation in the areas of policy, governance, law enforcement, societal responses, victim care, and working with the industry and the media.
The model is not prescriptive; it defines the capabilities required but does not dictate how they should be provided. It helps a country identify gaps in their capabilities, prioritise national efforts to fill those gaps and, by establishing a common set of capabilities it enhances international cooperation.
We have already seen UNICEF deploy the model national response as a framework to guide a review of capabilities for tackling online CSE in South East Asia with law enforcement agencies. We believe that this essential framework must be made available and supported globally and that is why, today I am pleased to be launching a guidance document that defines further how to develop and implement each of the capabilities in the model national response.
This guidance will importantly take countries through the process of answering the key questions to begin the process of organising to combat this crime and support those whose lives are hurt by it. And with a clear and understood framework there is the potential for countries around the world to share best practice and to deliver solutions at scale; solutions that make the world a hostile place for those who seek to harm children.
However, delivering on this goal requires funding. That is why the UK has worked with UNICEF to establish the Fund to End Violence Against Children and we have committed £40 million over the next 4 years to tackle this crime globally.
And in July of this year, I was proud to launch this fund in New York with the Secretary General of the United Nations and the Chief Executive of UNICEF.
The WePROTECT Global Alliance Board is responsible for advising the fund on how to prioritise and programme its activities for maximum results and impact. And the fund will use the model national response to prioritise and assess the quality of proposals to the fund. This partnership is unprecedented: a genuine multi-stakeholder initiative with the resources to transform how online child sexual exploitation is dealt with worldwide and I look forward to it delivering more changes on the ground.
That change cannot come soon enough. We know that due to the nature of this crime, the demographic of the victims and the advances of technology that we cannot rest on our success. More and more needs to be done to ensure all parts of the international community recognise this evolving threat and focus on mobilising a response capable of ending this heinous crime.
Through the model national response we can help countries to build their capabilities to tackle online CSE, and through the international reach of the WePROTECT Global Alliance and its members, we can build a strong international platform of cooperation to empower your efforts, and to scale them to have an impact on the national and international level.
I want to thank you for your incredible commitment and dedication to combating this crime and protecting the vulnerable from harm and abuse. We are empowered and strengthened by your efforts and together, one day I hope we can say that we have done enough but until the, we cannot stop until every child, no matter where they live or under what conditions has the opportunity to dream, to learn, to create and live healthy and fulfilling lives without the fear or threat of abuse or exploitation.
I want to thank you again for inviting me today and I wish you a productive meeting here in Lyon.
Published 15 November 2016