Amanda Spielman's speech at the Festival of Education
Ofsted's Chief Inspector talks about a review of the curriculum and the importance of recognising leadership challenges and valuing management.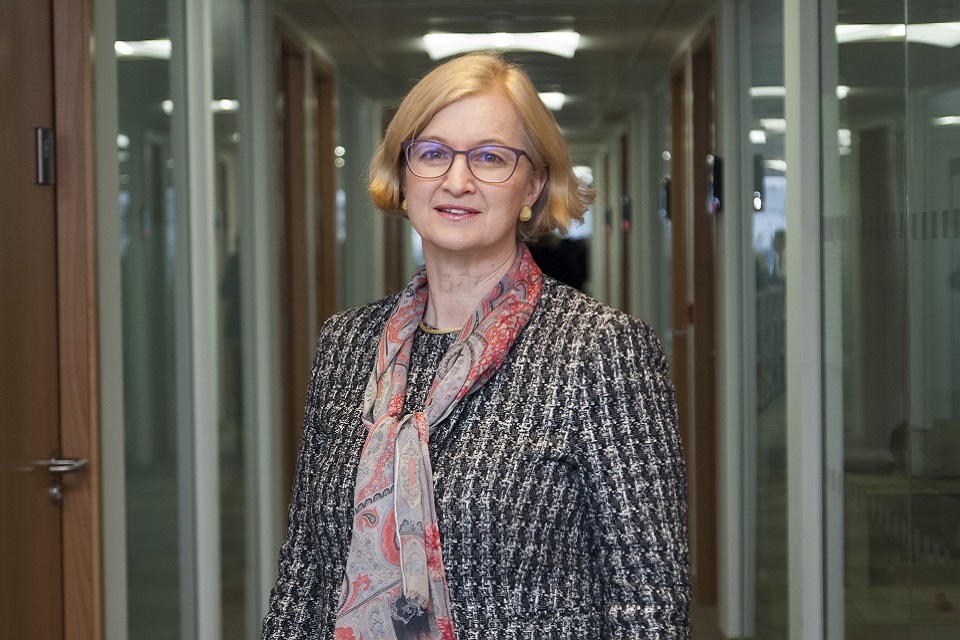 Enriching the fabric of education
Thank you for inviting me here today. It may surprise you to know that, despite numerous invitations from the likes of Leeds, Reading and Glastonbury, this is in fact the only festival I have spoken at since taking up post at Ofsted.
And I'm delighted to be here. I have been to Wellington many times, to listen as well as to speak, so I can say from experience just how useful it is to hear from the engaged and eclectic group of people that this festival brings together. So, if you don't get chance to ask a question in this session, do come and talk to me or to one of my colleagues – Sean Harford and Luke Tryl – who are here from Ofsted as well.
Having space for reflection is important in any job. As you wind up this term and prepare for next year, most of you will be taking time to think about how this year has gone, with all its challenges. And this may be a good time for me to contribute to your thoughts about the future.
Now, perhaps this future isn't quite the one we thought it was going to be just a few weeks ago. The changed landscape at Westminster has clearly affected the direction of education policy already. This, in turn, has a bearing on all our work. But my hope is that Ofsted, as an independent inspectorate and regulator, can be a source of strength and stability for the years ahead.
Looking back to my first speech as Chief Inspector, not so long ago, I said that I would use Ofsted's power responsibly and intelligently, not just in my own personal approach, but in the whole way Ofsted inspects and regulates.
This means, among other things, inspecting and reporting on the things that really matter for good education. It means using the evidence we gather to inform and advise and combining the feedback we get from inspection with evaluation of our frameworks to improve what we do. At all times, I want Ofsted to be a force for improvement in education.
Greater than the sum of our parts
For Ofsted to continue being a force for improvement, we as an organisation must be more than the sum of our parts. Yes, of course, we must never lose sight of our core activity, which is providing fair, valid and reliable judgements about the performance of individual institutions.
But we have evidence from thousands of individual inspections on the ground, as well as a bird's eye view of the entire system. It would be an unforgiveable waste of the unique position we occupy if we thought that our job was done when we publish an inspection report. I believe Ofsted adds real value when it aggregates insights, triangulates its findings with existing research and evidence and produces robust analysis of what is working well, both at the national level and in individual school practice.
This is why I am expanding Ofsted's research function. We're going to be looking at the validity and reliability of our inspections, making sure we look at what really matters in education and that our judgements are consistent and reliable.
And, more generally, we are thinking about how evidence is used across the whole of Ofsted.
We particularly want to capitalise on the enormous wealth of information out there on how we, as an independent arbiter of standards, affect the sectors we inspect. That means seeking your views – the views of parents, teachers, governors, the government and all the other users of inspection outcomes and reports – on how well we inform and advise. We already do a lot of this, but we want to do it better. And we want to make sure the totality of our work leads to real, tangible improvement.
I also want us to have a much greater engagement with the wider research community. My hope is that, by sharing and analysing more of what we find, we can play a larger role in informing education policy. Not a role that is based on personal prejudices or hobby horses, but on proper evidence from the ground.
And beefing up our research means we can have more influence on practice too, particularly through our thematic reviews. I am clear that being able to comment on what works requires our inspectors to see the full range of practice, including what is happening in outstanding schools.
Many people have told me that there is value in our focused thematic reviews and survey reports, as well as in our individual inspections. Done well, this research can be used by all of you to celebrate the good and stop the bad before it takes hold and, most importantly, to throw light on areas that have sometimes been neglected.
The substance of education
One of the areas that I think we sometimes lose sight of is the real substance of education. Not the exam grades or the progress scores, important though they are, but instead the real meat of what is taught in our schools and colleges: the curriculum.
To understand the substance of education we have to understand the objectives. Yes, education does have to prepare young people to succeed in life and make their contribution in the labour market. But to reduce education down to this kind of functionalist level is rather wretched.
Because education should be about broadening minds, enriching communities and advancing civilisation. Ultimately, it is about leaving the world a better place than we found it. As Professor Michael Young wrote in his article, 'What are schools for?':
Schools enable young people to acquire the knowledge that, for most of them, cannot be acquired at home or in the community.
Yet all too often, that objective, that real substance of education, is getting lost in our schools. I question how often leaders really ask, "What is the body of knowledge that we want to give to young people?"
As one head, Stuart Lock, put it during a typically insightful thread of tweets:
Most schools don't think about curriculum enough, and when think they do, they actually mean qualifications or the timetable.
And I have become ever more convinced of this, as a visitor to schools and as an observer of some of our inspections. In some of those, I have seen GCSE assessment objectives tracking back into Year 7, and SAT practice papers starting in Year 4. And I've seen lessons where everything is about the exam and where teaching the mark schemes has a bigger place than teaching history.
That is not what will set our children up for great futures. Nor will the growing cannibalisation of key stage 3 into key stage 4. Preparing for GCSEs so early gives young people less time to study a range of subjects in depth and more time just practising the tests themselves.
We have a full and coherent national curriculum and it seems to me a huge waste not to use it properly. The idea that children will not, for example, hear or play the great works of classical musicians or learn about the intricacies of ancient civilisations – all because they are busy preparing for a different set of GCSEs – would be a terrible shame. All children should study a broad and rich curriculum. Curtailing key stage 3 means prematurely cutting this off for children who may never have an opportunity to study some of these subjects again.
But none of this is to say that GCSEs, and qualifications more generally, are not important or that there is anything ignoble about making sure young people leave school with a set of excellent exam results. On the contrary, having spent 5 years as Chair of Ofqual, I know better than most quite how high-stakes these qualifications are as passports to future success.
But – and I need to be clear here – if you are leading a school that enters 90% of young people for the European Computer Driving Licence – a qualification that can take only 2 days to study for – then you must ask yourself whether you care more about the school's interests than about making the most of pupils' limited time at school. If you don't encourage EAL (English as an additional language) students to take a taught language at GCSE because they can tick that box with a home language GCSE instead, then you are limiting their education.
Again, if you are putting more resources into providing exam scribes than in teaching your strugglers to read and write, or scrapping most of your curriculum through Year 6 to focus just on English and maths. If you are doing any of those things then you are probably doing most of your students a disservice.
This all reflects a tendency to mistake badges and stickers for learning itself. And it is putting the interests of schools ahead of the interests of the children in them. We should be ashamed that we have let such behaviour persist for so long.
But unacceptable though they are, these behaviours are easily explained. We have a highly transparent system and performance data is valuable for many purposes, including holding schools to account. But most of us, if told our job depends on clearing a particular bar, will try to give ourselves the best chance of securing that outcome.
And that is why leadership and management are so important. At a time of scarce pupil funding and high workloads, all managers are responsible for making sure teachers' time is spent on what matters most. This means concentrating on the curriculum and the substance of education, not preparing your pupils to jump through a series of accountability hoops.
I am glad that these problems are starting to be acknowledged, and I welcome the work of the sector to address this. For example, ASCL (Association of School and College Leaders) has recently established a Committee on Ethical Leadership, of which I am now a member.
And, as a regulator, we at Ofsted have a responsibility too: to make sure that, if schools focus on the right things, then a good inspection outcome will follow.
So I believe we have vital role in balancing the accountability system. What we measure through inspection can counteract some of the inevitable pressure created by performance tables and floor standards. Rather than just intensifying the focus on data, Ofsted inspections must explore what is behind the data, asking how results have been achieved. Inspections, then, are about looking underneath the bonnet to be sure that a good quality education – one that genuinely meets pupils' needs – is not being compromised.
Doing that isn't easy. At Ofsted, we are all too aware of the challenge of interpreting data wisely and placing it in its proper context. And we are particularly conscious of the changing exam landscape and all the increased volatility of results in periods of transition.
We know, for example, that it is particularly difficult to predict outcomes this year in the new English and maths GCSEs. And as Sean Harford said, in his update to our inspectors earlier this year, no one in schools – however good – can predict Progress 8 this accurately.
So both Sean and I have been really clear that our inspectors aren't expecting these predictions. Instead, we will be looking at whether schools know that pupils are making progress and, if they are not, whether the management team is taking effective action.
And after this summer's results, we will also be briefing our inspectors on exactly what inferences can and, crucially, cannot be drawn from this year's results and from comparisons with previous years.
Moving on to the data we use in inspection, it would be far safer for Ofsted to rely solely on what is recorded in national data sets. But if Ofsted's sole purpose was to wrap narrative around a set of figures, it would be fair to ask what purpose we are serving and whether or not the £40 million or so that we spend on school inspection a year could be better spent elsewhere.
Which is precisely why our judgements are not simply a reflection of performance data, but instead give a more nuanced picture of a school. And it is here that I believe we can do more.
Our inspection framework doesn't yet fully capture the substance of education. But we know that great teachers can't be fully effective if that substance, the curriculum meat, isn't there. Curriculum can end up getting lost, as just one in a long list of areas that we inspect under the leadership and management judgement. Rather than carrying the weight it should, alongside teaching, assessment and leadership itself, it can end up as a needle in the haystack.
That is why, earlier this year, I started a review of the curriculum – the main research project of my first year. This project is looking at curriculum practice in hundreds of schools across the country to see what is actually going on. We are also being advised by a group of experts, including the likes of the assessment specialist Tim Oates and Professor Sam Twiselton.
Once we have collected the first wave of evidence, we will look at whether routine inspection needs rebalancing in favour of the curriculum. If it does, we'll be able to reflect this in the new inspection framework we are developing for 2019.
I am excited by both the project and by the positive external reaction to it so far. Sean Harford is talking about it here today. For those who are interested (and by the way this project covers all phases of education, from early years through schools through to colleges) his talk is at 2:10pm, in South Front 1. And I'd urge as many of you as possible to go to it.
Defending our values
Of course, the curriculum doesn't just mean a set of national curriculum or GCSE subjects, important as these are. It also means what is snappily titled: 'spiritual, moral, social and cultural development'.
And, within that, one area where there is room to improve is the active promotion of fundamental British values in our schools. Recent attacks in Westminster, London Bridge, Manchester and Finsbury Park have brought into stark relief the threats that we face.
In the coming months, I am sure we will see heated debates about how to improve our security without impinging on the liberties that are central to our British way of life. But just as important as our physical safety is making sure that young people have the knowledge and resilience they need to resist extremism of the sort peddled by those who, as our former Prime Minister David Cameron said, seek "to put hatred in their hearts and poison in their minds".
Teaching the young about British values is critical to developing that resilience. And by that, I do not mean superficial displays or tick box exercises. We've all seen it: the Union Jack in the corridor, the pictures of the Queen.
But, instead, 'the active promotion of British values' means giving young people a real civic education. The sort of education that teaches young people not just what British values are, but how they were formed, how they have been passed down from generation to generation and how they make us a beacon of liberalism, tolerance and fairness to the rest of the world.
Through this curriculum survey, we hope to find good examples where schools have mastered this teaching, so that others who have struggled with the new requirements can build on their work.
And when it comes to tackling extremism through inspection, I have exactly the same zeal and passion as my predecessor. Ofsted will carry on looking for illegal, unregistered schools where young people are being put at risk, and where we find them, we will do everything we can to make sure they are closed.
Recognising challenge
Turning to the successes of recent years, it is fair to say that the performance of schools in England is transformed even from just 20 years ago. Most remarkably, heads and teachers in schools with significantly disadvantaged intakes have succeeded not just in turning around those individual schools, but also in reviving a sense of aspiration, sometimes for entire communities which had been in decline for decades.
I know from my time at ARK Schools, from the very sharp end of school improvement, just how much energy and focus is needed to transform education in our most problematic schools. But even the most intractably difficult schools, where children have been getting a very raw deal indeed, can be turned around so that all children receive the high-quality education they deserve.
In doing so, these schools thumb their noses at the idea that poverty inevitably leads to lower standards or that certain types of children are incapable of achieving. Right across the country, there are school leaders, managers and teachers who have refused to accept any idea of pre-destiny and, in doing so, have unlocked real social justice.
But we should also recognise that the scale of the leadership challenge in these schools is necessarily greater than that of schools in more affluent areas. The level of ambition, organisation and effort needed to get pupils to make the same amount of progress can be higher. We'd be fooling ourselves to think otherwise. With that in mind, I am conscious that we at Ofsted must not play a part in deterring the best teachers and leaders from working in the very schools that need them most.
Last year, the Education Policy Institute released a study on Ofsted judgements, finding "a systematic negative correlation between school intakes with more disadvantaged children… and with favourable Ofsted judgements."
At the time, I said that schools with more disadvantaged intakes had more to do to reach the same levels of progress for pupils so that, if you put staff teams of identical size and calibre into schools with relatively disadvantaged and advantaged intakes, and keep other things constant, the absolute quality of education experienced by a given child will likely be higher in the advantaged school.
How should Ofsted recognise that challenge? There are some who would have us lower the bar on our overall judgements for schools in these circumstances. This is not something I am prepared to countenance. At best, it would mean our judgements failed to reflect the quality of education young people actually receive. And at its worst, it would legitimise lowered expectations for disadvantaged children. I can't imagine anyone really wants that.
What Ofsted can, and does, do is to recognise the performance of leadership and management teams in overcoming that challenge. As I have said, I have no doubt that it requires stronger leadership and management skills to achieve the same outcomes in schools with much more disadvantaged intakes.
And if you look at our grade profiles, that is precisely what we recognise. The most deprived schools judged requires improvement overall by Ofsted are two and a half times more likely to be graded good for leadership and management than the most affluent in the RI category. Similarly, the most deprived schools judged good are nearly twice as likely to be rated outstanding for leadership and management than the most affluent schools judged good.
So Ofsted really does recognise the leadership challenge in tough schools. However, I'm the first to admit that we haven't always done a good job in communicating it. And I can see how our failure to do so may be acting as a barrier to attracting good leaders. So we will do more to publicise this approach and I want to ask for your help to do the same: to make clear that no head, manager or teacher will be penalised by Ofsted for working in a challenging school.
But part of this responsibility lies with those who use our reports. It is easy to think that only the overall inspection outcome matters, but in fact each of the four constituent judgements convey important information. If you are the organisation responsible for a school, whether a local authority, a faith group, governing body or a MAT (multi-academy trust), the leadership and management judgement may be the most relevant. It may actually be more important than the overall inspection outcome for the decisions you take following an inspection.
Valuing management
Finally, on the subject of leadership and management, there is a further change of emphasis I want to make. That is to make more of that second word: 'management'. We're all used to hearing the tales of the hero head, transforming schools and changing lives. And in almost every case these heads, and many more, are thoroughly deserving of this praise, though I'm reluctant to name names here, as so many have come to grief after public praise and I don't want to be the person to jinx any careers.
But it is equally true that, in most cases or, dare I say it, all, transforming a school involves more than just one individual. It needs the work of a whole team. Schools are transformed when these teams work well together, make use of everyone's strengths and build robust processes.
Of course, the head matters. But they should be concentrating on the overall direction of a school. They need strong deputies and assistants looking after curriculum and behaviour, as well as good department heads, effective business and finance managers, making sure the school balances the books, and, of course, governors providing strong support and challenge.
On the importance of management in effective organisations, I recently saw an interesting study from Harvard. Among a sample of 1,000 high-performing investment analysts, almost half did not replicate their outstanding performance when they moved to another bank. The study hypothesised that their previous success was in many cases to a considerable extent a result of the team and strong organisational structure around them. I would similarly hypothesise that you'd find the same kind of results if you repeated the study in schools.
And while Ofsted's inspection process has always recognised the importance of management, our public pronouncements haven't. I want to change that. I know that a focus on well-functioning teams, rather than 'visionary' individuals, doesn't lend itself to easy print copy or to gushing profile pieces. But it does reflect the reality of how good schools are run. And more importantly, it gives us models of management which others can replicate, rather than trying to emulate charismatic individuals.
Conclusion
So, looking to the immediate future, despite all the pressures from funding, I am hoping that I have given you some reasons to be optimistic. We have an education system full of talent and some space and time for consolidation of so much that is good. I very much hope that I will be able to reflect very positive trends in my annual reports as chief inspector.
Thank you.
Published 23 June 2017