Speech
Alex Chisholm's reflections on the CMA's first year
Speech given by CMA Chief Executive, Alex Chisholm, at King's College London.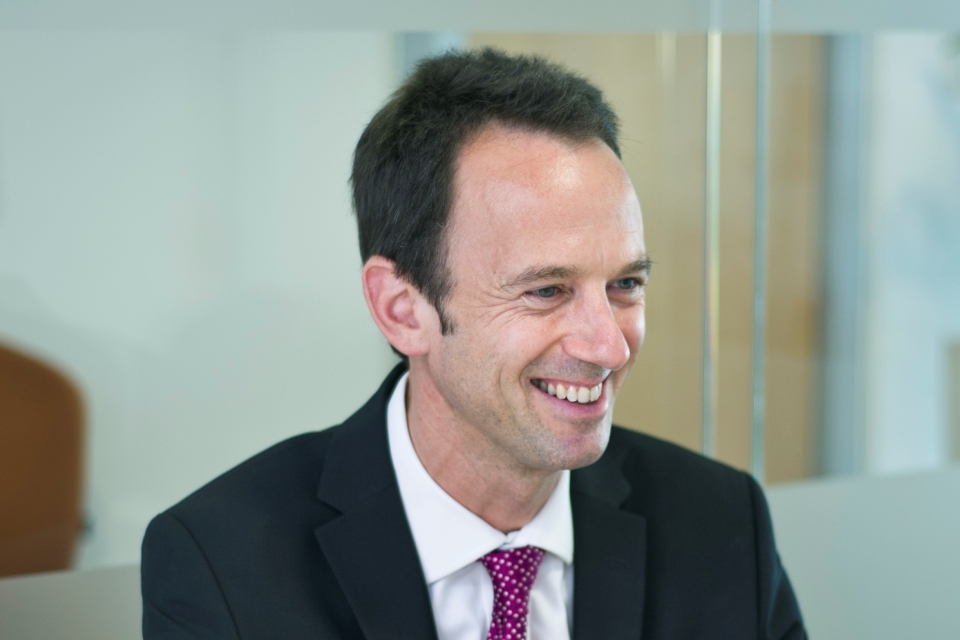 Good afternoon and thank you for the invitation to speak at King's College London today. Over recent weeks I worked with a small team at the Competition and Markets Authority (CMA) to prepare this address, and we found ourselves referring to it colloquially as 'the King's speech'. Alas, as you can see, I bear no resemblance at all to Colin Firth. More fortunately, my childhood stutter has not persisted into adulthood; although I do have the pleasure of working in the same building where part of 'The King's Speech' was filmed a few years ago. There is perhaps another way in which we can see a connection between this King's talk today about the CMA, and the similarly named film. And that is how, given determination and method, almost anything can be accomplished, however stiff the apparent challenge.
As I look back with our board and over 600 staff on the first year at the CMA, we feel we have faced up to and overcome some stiff challenges, developed a strong programme of casework, and are now well placed to deliver on the ambitions we have for the new agency. Over the next 45 minutes or so, I will give you a sense of what those challenges have been, and of the ambitions we have for achieving a competition and consumer agency that makes a real impact.
In doing so, I will aim to convince you of 3 points in particular. First, that we have completed a successful transition and are now harnessing the benefits of being a single, independent competition and consumer agency. Second, that we have carried out important work in our first year and are making good progress on substantial and impactful cases across our markets, mergers and enforcement portfolio. Third, that we are continuing to invest in our people, our skills, our processes and our portfolio to make sure that we have the capabilities – that we are 'fighting fit' – for the undoubted challenges ahead in making markets work really well across the UK economy.
Just under a year ago, the CMA formally assumed its powers. But our development began in 2011 with a review of the competition landscape by the government, and led in April 2013 to the Enterprise and Regulatory Reform Act (ERRA) which brought together our two predecessor organisations, the Office of Fair Trading (OFT) and the Competition Commission (CC) under a reformed, enhanced UK competition regime.
Concerns and ambitions for the CMA
It was not 'love at first sight' for all our stakeholders. One prominent Queen's Counsel once observed that "the CMA has the opportunity to transform itself from an ugly duckling into a beautiful swan". Not everybody was convinced by the logic of moving to a single competition agency. Some expressed concern whether the distinctive 2-phase approach to scrutiny and decision making could properly be preserved in a unitary authority. Others worried that the commitment to independent and objective assessment of evidence might in some way be 'lost in transition' – sounds like another of my favourite films. Another group were anxious that an institutional merger would be highly disruptive and we would take our eye off our core mission of conducting inquiries and enforcing the law. And with all the changes in the consumer landscape, there was a concern that the CMA could not maintain a proper consumer focus without a consumer-facing role – this having been transferred to Citizens Advice.
One year in, I think we can see that these fears have proven to be misplaced and that we have overcome the institutional challenges that we faced as a new organisation in a new regime. We have respected fully the 2-stage separation between phase 1 and 2 scrutiny of markets and mergers, with fresh decision makers at the second stage, and most of the staff team of advisers also changed in the handover between phases. We have applied a similarly robust and objective approach to Competition Act 1998 investigations. After issue of the statement of objections, a new set of decision makers, known as a case decision group (CDG), comprising members of the CMA's independent panel alongside senior staff, reviews the evidence and listens directly to the arguments of the parties at oral hearings.
Our independence is important to us. We have a lot of assurances for independence built into our legal and governance structures, and we have in our board, in our panel system and in our own senior staff, an independent minded group of leaders and decision makers. But we also need to demonstrate independence in our practice.
This is as true of our work in politically controversial territory as it is of our more technical and low profile work. We act within the law and we follow the evidence, rather than trying to anticipate or satisfy calls from one part of the political spectrum or another. That is what it is to be an independent statutory agency, and politicians in Parliament understood this in setting us up in this way.
As an early sign that what we are doing is being well received externally, Global Investigation Review's 2015 due process guide gives the CMA an A- exam mark, saying that our increased transparency "means due process has improved on many levels" and giving just 4 other competition authorities a higher rating than us.
On the third concern raised, it is fair to say that the transition from OFT and CC to CMA has required a lot of work. Developing a new strategy and structure, new processes and systems, and a new set of values was a challenge, as was bringing into our new structure the more than 400 staff inherited from the OFT and CC, and nearly 200 new recruits over the last year, but thanks to those dedicated colleagues we have. This has been accomplished alongside energetic, determined delivery of our core work programme. As you will see from the figures and other evidence I will put to you this afternoon, we have achieved significant outputs on our inherited cases and have not been shy in taking on new work.
On the fourth concern raised in the pre-launch period about our consumer role, we decided to do 2 things. First, we resolved to put the consumer at the heart of everything we do, embedding this perspective in every team and every case. Second, we chose to step up our consumer commitment to the outside world, both through our work with the Consumer Protection Partnership, Which? and others in the UK, and internationally by taking on the presidency of the International Consumer Protection and Enforcement Network (ICPEN).
So much for the fears. What of the ambitions? The statutory objective Parliament set out for us is "to promote competition, both within and outside of the UK, for the benefit of consumers" – an admirably clear goal. In the consultation response preceding this legislation, the government said it wanted to improve the speed and robustness of decision making and further strengthen the competition regime. It wanted the CMA to "build on the best of the OFT and CC to become a world-leading competition authority" and promote competition in areas covered by sectoral regulation.
It sought to achieve a greater throughput of cases, imposing strict statutory timetables and strengthening our powers for gathering information. And it sought to make the criminal cartel offence more effective, without diminishing any essential rights or safeguards.
These goals and responsibilities are reflected in our mission statement where we pledge to make markets work well, in the interests of consumers, businesses and the UK economy. You will note that we have extended the scope of our mission beyond our statutory duty to consumers, to reflect the nexus between competition, business and national economic performance.
As any number of studies by the World Bank, the Organisation for Economic Co-operation and Development (OECD) and academic institutions have shown, healthy competition across markets and the effective application of robust consumer and competition law are key drivers of productivity and strong, sustainable economic growth.
We set out with the ambition to be a world-leading competition and consumer agency, delivering important results for the economy. What have we delivered so far? To adapt Monty Python, what has the CMA ever done for us?
Following our investigations we have proposed remedies that will tackle competition problems resulting in consumer detriment of up to £124 million in the private motor insurance market, £174 million in the private healthcare market and £85 million in the payday lending market.
We are required to achieve £10 in consumer welfare for every £1 we spend, under the published performance framework set for us by the Department for Business, Innovation and Skills. Bill Kovacic, CMA board member, former Chair of the Federal Trade Commission in the United States, and an acknowledged expert in inter-agency comparisons, says this is the most demanding performance framework in the world. So, we are pleased to be on track to hit this challenging target in our first year, thanks to our own efforts as the CMA, and to the strong inheritance from the OFT and CC.
Working across our portfolio
Across our portfolio, we completed 2 phase 2 mergers inherited from the CC, and reviewed more than 80 other mergers, 11 of which raised significant competition issues. We completed 3 market investigations, into the private healthcare, private motor insurance, and payday lending markets. We completed a market study into property management services which has secured industry agreement to increase protections for leaseholders, and whose recommendations the Chancellor accepted in his budget earlier this month. We have published guidance on the lettings market and compliance advice on higher education to protect students and support an increasingly diverse higher education sector. Earlier this month, we agreed undertakings with 4 of the largest secondary ticketing platforms to help consumers understand what they are getting before they buy. We also completed the final stage of one regulatory appeal, into the pricing regime for electricity in Northern Ireland. And on Friday we published a summary of our recent decision not to impose interim measures against Visa, in order to provide guidance on how we interpret the new threshold of 'significant damage'.
We concluded 5 competition enforcement cases, and working alongside Trading Standards partners, one criminal enforcement case, against the promoters of a pyramid selling scheme in the South West of England. The scheme ensnared some 10,000 people and the total cost to the victims was over £20 million. This, our first concluded criminal case, was hard fought over 3 years, first by the OFT, and then by us, and resulted in 9 criminal convictions and 5 custodial sentences. We are also now pursuing recovery under Proceeds of Crime legislation. The case serves not only as a clear deterrent to other people thinking about organising a pyramid selling scheme, but also as a demonstration of our capability and determination to pursue challenging and hard-fought enforcement cases, whether criminal or civil.
We certainly had our day in court this year, quite a number in fact. We were successful in a significant number of court and tribunal hearings, and in the cases where we weren't successful we accept the important judicial oversight of our work and will learn lessons.
That summarises the flow of completed cases. In terms of the stock of current cases we have open: we have 2 calls for information, 3 major market investigations, 8 phase 1 mergers and 6 phase 2 mergers, 12 Competition Act cases, 4 consumer projects, 4 criminal cartel cases, and 3 regulatory appeals.
And on top of this a whole gamut of policy, advocacy and compliance activities, through which we promote competition and consumer interests right through the economy, in multiple industry sectors, in firms large and small, and in all parts of the country.
Those are the headlines. Let us now look more closely at the year, to review our challenges and our achievements according to each of the 5 strategic goals we set out in January 2014.
Deliver effective enforcement
Our first strategic goal, and central to our purpose, is to deliver effective enforcement. Neither businesses nor consumers can have confidence in markets if competition and consumer laws are not upheld. So, it is vital that the CMA is active and effective in enforcing the law, punishing those who breach it and raising awareness of the law among businesses more widely.
In the CMA's initial enforcement portfolio, there were 14 legacy cases: 9 Competition Act investigations and 5 criminal consumer or cartel investigations. As I mentioned before we have concluded 5 of these cases. As well as the pyramid selling case, we secured important commitments to improve competition in the supply of petrol and diesel in the Western Isles of Scotland, and to facilitate new entry into the vehicle service, maintenance and repair platforms market – both that rare form of UK case, abuse of dominance. In addition, we have opened 4 new Competition Act 1998 cases in a range of sectors.
A key challenge for us was to increase the pace of our enforcement, even though in this area there are no strict statutory time limits. The new legislation gave us stronger investigative powers to support this, which we have been using judiciously. We demonstrated our capacity to deliver cases quickly in the Three Counties case, involving alleged agreements to prevent the advertisement of estate agent fees and discounts in local papers and where we reached settlement within 15 months of case opening.
We are rigorous and self-critical in our enforcement work, subjecting every case to internal challenge at each stage of its progression. For example, in the sports bras investigation initiated by the OFT, it was suspected that the manufacturer had entered into agreements with some retailers that fixed the resale price of the company's sports bras.
Following the statement of objections, decision-making responsibility passed to a CDG under the model I described earlier. After a fresh review of the evidence in light of parties' written and oral representations on the OFT's provisional decision, the CDG concluded that there were no grounds for action. While we treat allegations of resale price maintenance very seriously, we will not stubbornly pursue outcomes without critically reviewing the evidence to assess whether an infringement finding is warranted.
Our criminal cartel enforcement activity has progressed significantly this year. In the steel tanks case 2 men have been charged with the cartel offence and another has pleaded guilty to the same offence, with the trial due to commence in June. Our other criminal cases are building quietly behind the scenes, and we expect further decisions on whether to charge or close those cases, based on the evidence, during the next 12 months.
To deliver more effective enforcement against cartels, we have also worked to build more sophisticated detection capabilities, so that we can operate as a more intelligence-led agency. Over the course of this year we have developed closer links with the police and other criminal enforcement agencies, and our teams include a number of senior investigators and intelligence officers with extensive experience. We have also strengthened our criminal prosecution, civil enforcement, disclosure and case support teams.
We have enhanced our digital forensic capacity, both with new systems and new personnel. Deploying additional funding from the Treasury, we have thus significantly augmented our cartel-busting capability, recently launching dawn raids in a new civil cartel case. We expect to be able to pursue more criminal and civil cartel cases in future, confronting these serious economic crimes and strengthening their deterrence effect.
End-to-end enforcement
For us, effective enforcement is about maximising our impact. Our new 'end-to-end' approach to enforcement recognises that although it is important to deter anti-competitive behaviour through delivery of successful enforcement cases, deterrence also requires as many businesses as possible to hear about those cases, and to understand the requirements of the law. For their part, firms must recognise that there is significant potential reputational damage associated with infringements. Our enforcement model therefore combines case delivery and sanctions with awareness raising and compliance work. This may in turn lead to fresh cases via complaints, informants, leniency applications or calls to our cartels hotline, meaning further cases to drive deterrence.
A good example of our end-to-end approach is the Mercedes-Benz case, in which we found that Mercedes-Benz and 5 commercial vehicle dealers had engaged in unlawful cartel activity involving the sale of commercial vehicles. Following the conclusion of the case the CMA developed materials outlining key messages for people working within the UK motor vehicle sector. We spoke at trade conferences, ran a social media campaign, and distributed an open letter through trade associations and trade publications.
Based on membership of those associations, attendance at events and social media tracking, we estimate that our compliance messages reached over 80% of the 200,000 people working within the industry, helping to change attitudes and behaviours in the industry, and to steer people away from wrongdoing.
Enforcement through merger control
Our mergers function is a different kind of enforcement, one which seeks to ensure that the harmful effects of some mergers, which can include higher prices, lower quality or reduced innovation, are mitigated, prevented or remedied.
Our mergers work this year has been a game of 2 halves, driven purely by the cases and the evidence in front of us. In the first half of this financial year, we cleared 2 legacy phase 2 cases and referred just one merger to phase 2, which was promptly abandoned. But in the second half, we have referred 6 mergers to phase 2. The reference rate per year is roughly 10% – so we are well within the historical range. Likewise, there has been no particular change to our methodology and approach to decisions – each will turn on the facts, and be founded on longstanding guidance and precedent.
But the fact is that we now have a significant amount of phase 2 merger assessment underway.
As a voluntary regime, business continues to benefit from the ability to self-assess. Many mergers face no regulatory burden at all. Those mergers which do raise possible competition problems face a system which has clear procedures and processes, and provides for a high degree of transparency through our guidance and published decisions. The flip side of this is that we have to be vigilant for those which slip through the net, whether accidentally or on purpose.
Twenty-one of 84 decisions since the CMA took on its powers in April were called in by our mergers intelligence function, and 2 of these were ultimately referred for full phase 2 investigations – Xchanging/Agencyport and Sonoco/Weidenhammer.
As a unitary organisation with both investigation phases under the same roof, we have sought to capitalise on the opportunities for streamlining and efficiencies. For example, we aim to ensure that whilst the decision makers change, there is some staff continuity across phases, and that we do not unnecessarily duplicate requests for data in each phase.
Alongside a tightening of our statutory timetable, we have new powers to help us apply efficient and effective merger control. For example, we are able to impose interim orders in anticipated or completed mergers. We have the ability to prevent or reverse pre-emptive action, to deal with the difficulty the previous regime had in successfully 'unscrambling' mergers. In most completed cases, where there is an overlap between the parties' activities, there is a strong prima facie case for imposing these 'hold separate orders', unless there is evidence that they are not necessary, or there is no likelihood of any competition issue. We aim to respond to derogation requests quickly and have put in place senior oversight both for the order making, and for derogation requests. We are continuing to listen to feedback and in the coming year we will conduct an internal review of the use of the merger notice and interim orders.
We have greater scope to use the undertakings in lieu (UIL) procedure to resolve competition issues at phase 1, without needing to initiate a 6-month phase 2 investigation.
The new process enables parties to consider any UIL offer after receipt of a reasoned phase 1 decision, rather than prior, as under the old regime. This has proved very useful on 4 occasions already, saving money and time for firms and taxpayers by allowing the CMA's specific concerns to be addressed.
For example, in the recent takeover of Murco petrol stations by Motor Fuel Group Limited, we determined that, at a national level, the acquisition of 228 petrol stations did not raise significant competition concerns.
Yet, we identified concerns that the deal could lead to higher petrol and diesel prices in the local area of Hythe, in Kent – which has a population of a little over 14,000 people. Using our power to accept undertakings from the acquirer to sell that one petrol station, we avoided unnecessary market disruption and inefficient use of scarce resources.
All of this is underpinned by enhanced transparency and engagement with parties, and a strengthened management structure for our mergers unit, in which we have moved from one to 3 directors supporting the senior director and decision makers.
Extend competition frontiers
While enforcement represents the sharp end of what the CMA does, maximising the potential of competition for the benefit of consumers, businesses and the economy requires more than just enforcement activity. In some markets, market structure or the conduct of suppliers or customers can mean that competition is ineffective even where there is no breach of competition or consumer protection law. We look at such issues via our market study and market investigation tools, in support of our second strategic goal: to extend the frontiers of competition.
In many markets, previous regulatory scrutiny has rendered the low hanging fruit a dim and distant memory. The remaining issues are, like the grime in the household cleaning ads, "stubbornly hard to shift". The solutions we can develop may be more controversial in principle, more costly to develop, and carry a higher risk of unintended consequences. But we don't shrink from this if we need to act.
We have taken on markets work in areas that matter greatly to consumers, businesses of all sizes, and the wider economy. This is of course exemplified by the CMA's investigations into energy and banking. Before 2010 almost all the markets that our predecessors investigated had turnovers of below £2 billion. Now, we face the additional challenge that the markets we investigate are increasingly large and complex.
The energy and retail banking markets have respective annual turnovers of roughly £35 billion and £10 billion. Both these market investigations are in the hands of independent groups of panel members supported by CMA staff, rather than the CMA's executive or board. They are both still at relatively early stages, with the energy investigation's first landmark – an updated issues statement – published last month. So I shall say no more here.
An increasingly digital economy
We are looking ahead to the challenges of an increasingly digital economy, which permeates most aspects of consumers' lives. This year, following a Strategic Assessment published in November 2014, we committed to identifying online market developments and practices that might be causing consumer detriment.
This led us to launch a call for information into the commercial use of consumer data as we want to better understand the ways in which consumer data is used, and the consequences which follow. Much use of data is in the interests of consumers, for example to help develop and market products that better meet our needs. But use can spill over into misuse. Equally, use of this data will often but not always enhance the competitive dynamic.
We will examine the harm and the benefits, and identify how best to promote competition and consumer interests in this area. In February we launched a call for information into online reviews and endorsements. We want to find out whether concerns about their trustworthiness and impartiality are valid because it is important that these web services work as well as they can for consumers and for businesses. We look forward to the outcomes of this work in the coming year.
There are other areas where we are extending competition frontiers. In order to encourage stronger competition across the economy, Parliament directed us towards a more consistent and integrated use of competition law and policy in sectoral markets.
The ERRA strengthened the primacy of general competition law by requiring sector regulators to consider whether use of their competition law powers is more appropriate, before taking enforcement action under their sector-specific regulatory powers. To help make this reality, we have set up the UK Competition Network with our sector partners, and as you will see when we publish our annual concurrency report later this week, this has coincided with a promising upturn in competition enforcement across the regulated sectors.
We are also working in partnership with regulators across the full range of our tools – witness our new project to consider whether more competition could be beneficial in the rail sector, or the joint working that preceded the market investigations into energy and banking.
Although we have our hands pretty full with our 'on the clock' work to undertake market investigations, merger reviews and regulatory appeals in defined time frames, we have also decided to initiate in 2015 a major project to systematically review our existing remedies, to identify and remove old remedies that are no longer needed and which may place an unnecessary burden on businesses.
We often try to persuade government to remove regulations that unnecessarily limit flexibility in markets. It is therefore incumbent on us to practise what we preach by removing rules imposed by our predecessors to address problems that are now historic.
Refocus consumer protection
Let me now turn to our third strategic goal, to refocus consumer protection. All of our work is for the benefit of consumers but we also have a specific function to uphold consumer protection law. Our role within the wider consumer protection landscape has changed significantly relative to the OFT's historical role. Responsibility for consumer credit regulation now lies with the Financial Conduct Authority, Citizens Advice supports and advises individual consumers, and responsibility for consumer enforcement, and guidance and codes, rests with Trading Standards services and the Trading Standards Institute.
The CMA's role is to use consumer enforcement powers in complex and precedent-setting cases, where we can achieve an impact across entire markets. Even more so in this landscape than in other spheres of operation, success depends on strong partnerships. So, this year we have built relationships across the new consumer landscape, most notably through the Consumer Protection Partnership, to find new ways to solve complex problems. We are pleased with the progress of the partnership and that its priorities align with our own, in particular, prioritising digital markets and unfair contract terms. We work closely with colleagues in consumer bodies across England, Wales, Scotland and Northern Ireland, to ensure a co-ordinated and effective consumer protection regime.
The CMA's consumer investigations in the UK have covered a variety of subjects, ranging from higher education, to secondary ticketing, and children's online games, areas of the economy that are developing rapidly, driven by regulatory or technological change, and where we can use our consumer powers to help markets function better.
Internationally, as part of the EU Consumer Protection Cooperation Network we collaborated with EU partners to identify and respond to contract and rental issues affecting car hire customers throughout Europe. Within the UK Consumer Protection Partnership, we have examined the challenges experienced by consumers with high levels of debt and the specific problems experienced by low income consumers, and we will continue to focus on this in our second year.
Achieve professional excellence
I have described some of our key casework which is helping us to deliver on our mission to make markets work better for consumers, businesses and the economy. But all this work is delivered by our excellent staff, so let me turn in this final section to how we are working as an organisation – as a group of people.
Within the CMA, we have created an environment in which our talented staff can develop their skills and careers while carrying out important work. Over the course of this year, and in the months prior to the CMA formally assuming its powers, we have invested in our teams by recruiting first rate professionals to join our existing proven performers and by embedding systems and practices to develop and nurture our intellectual capital.
For example, the CMA's Academy convenes regular lectures and training, covering a variety of subject matter ranging from economics and competition law, to data protection and business ethics. The Academy organises regular Distinguished Speaker lectures, and in these we have benefited from the insights and experience of leading competition and consumer practitioners, a number of FTSE companies' chief executives, and prominent legal and economics experts.
We have encouraged our colleagues to experience working across different industry sectors and using the full set of competition and consumer tools. We have welcomed the success of many of our staff in securing promotion when vacancies have arisen, as we have the new recruits who have brought fresh skills and perspectives. I realise that this is a public lecture, not an advertising break. But in a forum such as this, the opportunity is simply too good to pass up. I can confidently say that the CMA is a superb place to practise competition law and economics, and public law enforcement.
I would encourage those of you who are currently studying and contemplating future career paths to consider the CMA as a great place for you to commence or continue your career.
Develop integrated performance
Our fifth and final strategic goal is to develop integrated performance. This strategic goal underpins our status as a unitary organisation. It reflects our ambition to be fully integrated across a suite of professional disciplines and investigative tools. Internally, we are maximising the impact of our staff by combining different professional approaches and backgrounds into effective multidisciplinary teams.
In our first year we have invested significantly in structures, systems and processes that should stand us in good stead for the future. The transition into a new organisation has been an unsettling period for many colleagues, and the CMA's new matrix working arrangements have required significant adjustment for some. But matrix working is essential to our full realisation of the benefits of the new regime. For example, in the second half of the year, we had to put together in short order 9 new case teams for in-depth phase 2 inquiries, which has really brought home the benefits of our flexible matrix working arrangement.
Of course, housing both phases of our markets and mergers work in a single organisation presents some risks. We have ensured that, although we are integrated as an organisation, we have maintained the independence and objectivity that are our foundations.
Integrated performance also means working closely with others at home and abroad. I touched on these relationships earlier in reference to the consumer protection partnership and sectoral partners, but I am also pleased to report that relationships across the 4 nations of the UK have benefited from significant attention, with new representative staff based in Cardiff, Belfast and Edinburgh, and the CMA board meeting in both Scotland and Wales, with Northern Ireland to follow this June. Further afield, international relationships, both bilateral and through bodies such as the International Competition Network, the European Competition Network, the OECD and ICPEN, are also functioning well.
Conclusions
Colleagues from across the CMA are in constant contact with the outside world, and I am personally meeting businesses, professional firms, other regulators and consumer groups every week. The sense we have is that it was by and large a smooth transition as intended and hoped, with a good degree of continuity of process and case team contacts, but a welcome injection of new thinking, energy and personnel. But we recognise that these are early days – the institutional life cycle is long – and we have yet to take our new cases from start to finish.
Returning to the points I made at the beginning of this speech, I hope you recognise that we have been taking advantage of our status as a unitary, independent competition and consumer agency. We have carried out significant cases and projects in our first year and now have a full and challenging programme of work ahead of us, which our investments in our organisational capabilities should allow us to deliver successfully.
So I would like to conclude with a simple metaphor, one we can see as we walk down a city street or country lane: a tree.
A lot of trees have been planted since the CMA's inception, with roots that will provide deep, solid foundations. With a fair climate and further tendering, we will soon have a forest of which we can be proud.
For our part at the CMA, we are pleased with the promising start that we have made and the early challenges we have overcome. And I am immensely proud of what our brilliant and incredibly committed staff have been able to achieve in our first year. But we are also totally realistic about the further stretch needed to achieve our ambition and to be recognised as a world-class competition and consumer agency making a real difference for consumers, businesses and the UK economy.
Published 30 March 2015