Speech
Acting High Commissioner's speech at the Queen's Birthday Party
The Queen's Birthday Party was held on Tuesday 11th June at Gordon House, the official residence of the British High Commissioner.
Your Excellency President Ratu Epeli Nailatikau and First Lady Adi Koila Nailatikau.
Diplomatic colleagues, friends, ladies and gentlemen. Welcome to our celebration of Her Majesty the Queen's 87th Birthday. It is an honour to have you all with us this evening.
The past twelve months have been eye-catching and important ones for the United Kingdom.
We enjoyed one of the greatest summers in living memory. Thousands took part and millions watched as London played host to the inspirational Olympic and Paralympic Games – hailed by many as the greatest and indeed the greenest Games ever.
Who can forget the image of Her Majesty parachuting into the Olympic stadium, accompanied by James Bond, setting the stage in dramatic style for Danny Boyle's blockbusting opening ceremony – a stunning visual spectacle and a wonderful showcase of British creative talent.
And the sport wasn't bad either! Team GB did us proud winning more medals than ever before. But we will also remember London 2012 as the games when Fiji took home the Pacific's first Olympic gold medal. Iliesa Delana's triumph in the Paralympics men's high jump is an inspiration to us all.
Although the action on track and field had to end, the spirit of the games will live on. Over the next 10 years we aim to use the inspirational power of London 2012 to deliver lasting change on our sports fields, in our communities and throughout our economy. Our Olympic legacy planning has been described as a "blueprint" for future games by the International Olympic Committee. There is much to be proud of.
And we'll continue to welcome sports fans from all over the world with GREAT events this year and next, including the Rugby World Cup, Ryder Cup and Commonwealth Games, as well as our usual calendar of annual sporting championships like Wimbledon and the Premier League.
Friends from around the world also joined in celebrating Her Majesty The Queen's Diamond Jubilee 60 years after her accession to the throne in 1952. It was one year ago last Monday that good old British rain poured down on the Diamond Jubilee river pageant in London though it didn't dampen Her Majesty's spirits or her well wishers who gathered in their thousands on the banks of the River Thames. And as part of those celebrations who can forget the hugely successful visit by the Duke and Duchess of Cambridge, William and Kate, to Tuvalu in September. Fantastic and enduring memories.
And just last week Her Majesty, the world's longest serving Queen, celebrated the 60th Anniversary of her Coronation in 1953. Another milestone for a remarkable Monarch who has devoted herself so completely to the service of the British people and the peoples of the Commonwealth.
And we will soon have yet another welcome event to celebrate – a Royal baby expected in July.
Domestically, Britain's first coalition government since the Second World War marked its halfway point steadfast and united, giving the country strong, stable and determined leadership at a time of global economic uncertainty.
And the UK confirmed this year that we will fulfil our commitment to meet the UN target of devoting 0.7% of our Gross National Income (GNI) to international development. We will be the first G8 country to keep our promise to the world's poorest people. We are proud of this historic achievement which has been accomplished against the tide of challenging economic conditions.
The next 12 months will bring further challenges, which we will face head on alongside Fiji and our other pacific and global partners. One incredibly important challenge I would like to mention is Climate Change.
The UK is at the vanguard in the battle to prevent dangerous climate change. We are alive to the vulnerability of countries in the Pacific, including Fiji. The impacts of rising sea levels, shifting weather patterns and changes in oceanic acidity are being felt now, economically, environmentally and socially.
That is why the UK has joined the Secretariat of the Pacific Regional Environment Programme (SPREP) – the region's leading body on climate and environmental issues – so we can work directly with governments in the Pacific and help them to cope with the consequences of climate change.
And in the UN, together with our allies from the Pacific and other vulnerable regions, we are pushing for a global deal on climate change, to limit global temperature rise to 2oc. Bonded by a common sense of purpose our alliance is a crucial one, which is helping to drive up ambition and deliver more progressive outcomes. Over the next 12 months we will intensify our efforts to reach our goal.
We recognise too that there must also be a financial commitment to address the risks posed by climate change. The UK is playing its part. We have allocated £2.9bn to an International Climate Fund; money which is helping to reduce emissions and to assist at risk countries in adapting to the realities of climate change, and UK climate finance also reaches the Pacific via the UN, the EU, the World Bank, and the Asian Development Bank.
Another challenge close to Fiji's heart is your progress along the road towards the restoration of democracy. Half a million voters and four political parties have been registered, the political space has widened to allow for debate and campaigning, and the constitutional process, though not always smooth, is coming we hope to a final conclusion very soon. Key building blocks for successful elections in 2014.
And not only do we all hope for fair play on the pitch at the upcoming Rugby World Cup Sevens in Moscow but also in politics here. We sincerely wish the people of Fiji the very best for a successful free and fair election and look forward to welcoming Fiji back into the Commonwealth family – where she belongs - upon their conclusion. The UK as a friend and partner to Fiji stands ready to help deliver the inclusive and credible elections you are striving towards.
So, there has been a lot to celebrate, and there is plenty to look forward to besides that which I have outlined this evening.
Several thank yous:
First, to my High Commission and Residence teams who are wonderful, professional, hard working and smiling friends and colleagues not just this evening but every day of the year (and particularly to say Happy Birthday to Miri, my Residence Manager who is demonstrating that hard work ethic here tonight on her Birthday – thank you Miri).
Second, to the 25 Students from the School of Hospitality and Tourism, National University of Fiji and the bar staff from Victoria Wines who are serving us all tonight.
Third, to you President Nailatikau for honouring us with your presence here this evening.
And finally, I would like to thank everyone for the warm welcome you have extended to me, indeed the friendship shown towards the United Kingdom, since my arrival 5 months ago.
Ladies and Gentlemen, please raise your glasses to Her Majesty "The Queen".
See photos on our Facebook page.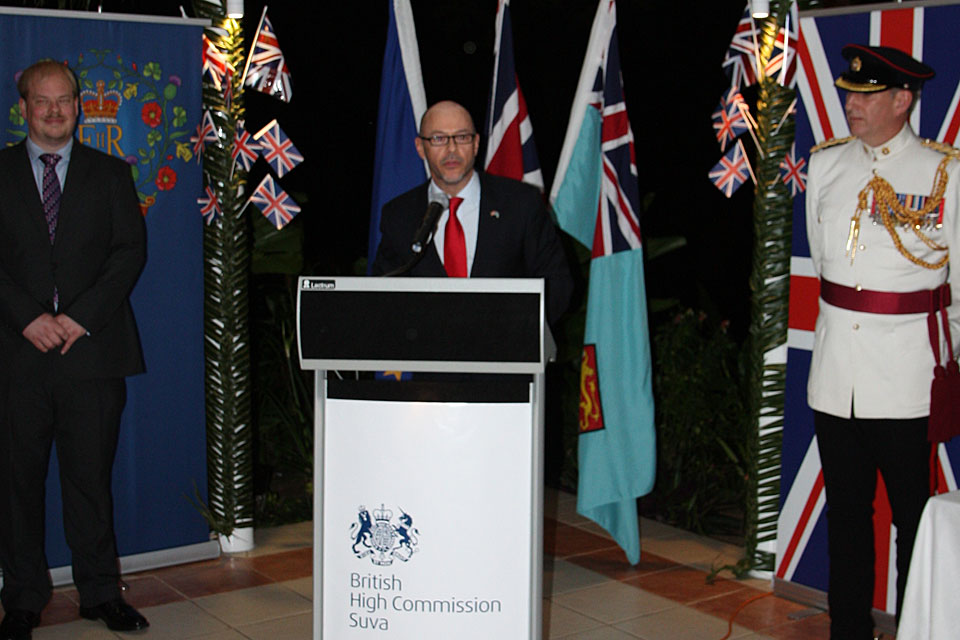 Published 11 June 2013
Last updated 12 June 2013
+ show all updates
added link to facebook
Included link to image.
Added photo.
First published.