Speech
A South West that works for everybody
Speaking at his old university, Sajid Javid calls for a locally-led drive to grow the economy of South West England.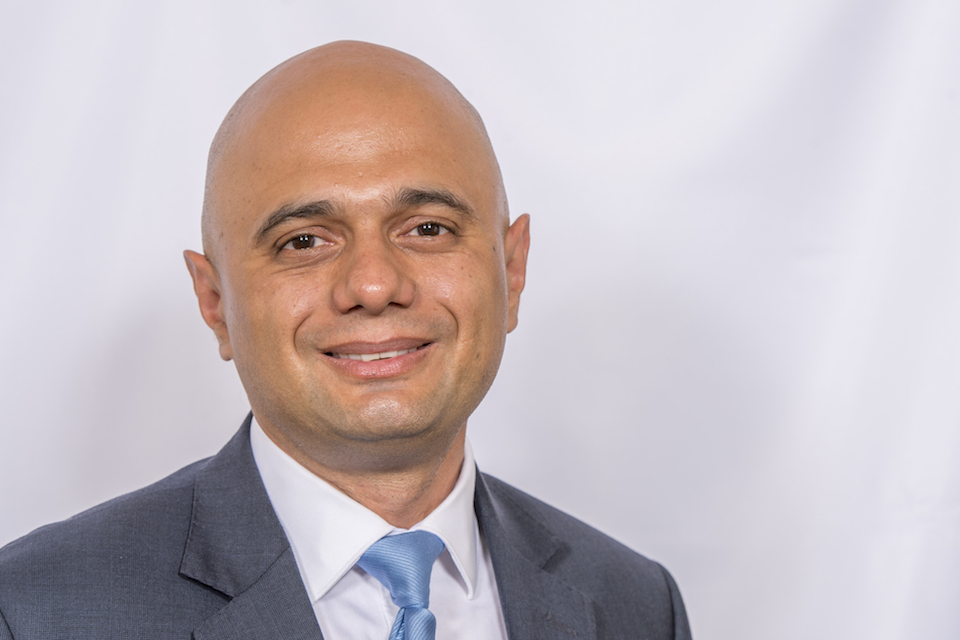 Thank you, Bill, and good afternoon everyone.
I'm delighted to be back here in the South West.
I was born in Lancashire.
I represent Bromsgrove.
But I grew up in Bristol.
So whenever I come back to the South West, it feels like I'm coming home.
Of course, by Cornish standards, Bristol is practically a suburb of London!
And defining what the South West is, where it begins and ends, is one of the big challenges of events like this!
But I do know that the West Country means a lot to me.
Not least because I spent 3 years right here at the University of Exeter.
I was actually here at the exact same time as a slightly more famous alumnus, Thom Yorke from Radiohead.
I don't think our paths ever crossed.
He was studying English.
I was studying economics.
He was writing era-defining music.
I was campaigning against UK membership of the Exchange Rate Mechanism.
He was one of the cool kids on campus.
I… Well, let's just say I wasn't!
That was 25 years ago.
A lot has changed here since then.
One, on the way in this morning I couldn't help but marvel at the new Forum building, just over the road.
And two, last weekend, when I dug out my old Guild of Students ID card, it had a picture of some fresh-faced, bright-eyed young man with a full head of hair!
I don't know what happened to him…
One thing certainly hasn't changed, though.
I was looking through a university guide with my eldest daughter recently, she's in the middle of her A-levels.
And the entry for Exeter said that it has "one of the most beautiful campuses in the country, in one of the most beautiful counties in Britain".
I'm not going to argue with either statement.
It really is great to be back.
So thank you to everyone who has made today's event possible.
That magnificent scenery may have secured Devon a place on UNESCO's world heritage list.
But the county doesn't have a monopoly on natural beauty in the South West.
This is a truly stunning part of the world.
And that's one of the reasons tourism has been such a bedrock of the local economy for many years now.
But, as Bill has noted, that success is a double-edged sword.
It provides plenty of jobs, but many are low paid.
It brings in plenty of money, but it can all too easily price locals out of the housing market.
And it supports the economy, but perpetuates the idea of the South West as an area of low skills and part-time work.
We all know the region has much, much more to offer.
It's not just some seasonal playground for the rest of the country.
Nor is it a giant retirement community for Britain's pensioners.
Between them, Cornwall, Devon, Somerset and Dorset, the counties represented here today, are home to 3 million people.
That's bigger than every city in the UK outside London.
The region is home to world-class universities and highly skilled workers.
It's home to hundreds of thousands of growing businesses, from aerospace to creative industries.
It has almost unlimited potential just waiting to be tapped.
I know that.
You know that.
The question is how we take that message to the rest of the country and the rest of the world.
How we turn all that potential into solid economic success.
The answer comes in 2 parts.
The first is at my end, central government.
And it starts with total honesty.
For too long successive governments have not done enough for the South West.
There's not been enough investment in people, in infrastructure or in institutions.
And the region has suffered as a result.
The inadequacy of traditional infrastructure was thrown into stark relief in 2014, when the rail line at Dawlish was washed away.
It meant 8 weeks of isolation.
A billion pounds lost to the economy.
But 21st century connectivity is also lacking.
Average broadband speeds for the whole South West look pretty respectable on paper.
But I know that in homes and offices across the region, the day-to-day reality is very different.
The same is true of mobile phone coverage.
In 2016, you shouldn't be shocked to get a 4G signal in Somerset or Devon.
Yet sure enough, on the journey down today I kept checking my phone, and all too often there was no signal to be found.
This really matters.
Modern business is digital and mobile.
If you don't have 21st century infrastructure, you can't create 21st century jobs.
But things are changing.
When I was Secretary of State for Culture, Media and Sport, I negotiated a £5 billion binding deal with Britain's mobile operators to improve coverage and eradicate "not-spots".
By the end of next year, the 4 biggest operators will guarantee voice and text coverage across 90% of the UK.
The "not-spots" that plague places like the rural South West will be cut by two-thirds.
Meanwhile, we're investing a billion pounds to bring superfast broadband to every corner of the country.
In the 21st century, a fast, reliable internet connection is as important to most businesses as electricity.
And, thanks to this government, by the end of next year, 95% of the UK should have access to one.
We're also plugging the South West's skills gap.
By the end of this Parliament we will have created 3 million apprenticeships right across the country.
They give young people vital training.
And they give local businesses the workforce they need in order to grow.
And I'm totally committed to building new homes for the South West.
Too many people here are forced to turn their backs on the region in order to find secure, affordable housing.
If the South West's economy is to grow, it needs homes for South West people to live in.
And as Secretary of State for Communities and Local Government, I'm determined to get those homes built.
All of these are national programmes that will really benefit people here in the South West.
But I want to take things to the next level.
I want to tackle the challenges that are unique to the region.
I want to make the most of the many opportunities it offers.
But central government can't do that alone, we need your help.
And that's the second half of the equation I mentioned earlier.
We've heard from Chris Loughlin a couple of times today.
He recently wrote an excellent opinion piece for the Western Morning News.
And the only bit I really disagreed with was the headline!
It said: "Forget the Northern Powerhouse, back the South West".
Well, sorry, Chris.
Contrary to some press reports, we're not forgetting about the Northern Powerhouse.
Nor are we forgetting our other well-established regional strategy, the Midlands Engine.
That's because, under our new Prime Minister, this government has a single, overarching aim.
To make Britain a country that works for everyone.
Not just the privileged few.
Not just London.
Everyone.
And "everyone" includes in the South West.
I would dearly love to see a South Western equivalent of the Northern Powerhouse or Midlands Engine.
I'm more than willing to work with you, speak for you, and stand by you to make it happen.
But it has to start here, with you.
The Midlands Engine and Northern Powerhouse are both locally led.
Yes, central government is highly involved.
But they were conceived, gestated and delivered by people and businesses in the regions themselves.
Local leaders putting aside parochial politics and co-operating for the greater good.
And I don't think it's controversial to say that, historically, that kind of co-operation hasn't always been the south west's strong point.
Part of the problem is simply geographical.
The sheer size and rural nature of the region makes it physically difficult to connect disparate communities.
After all, there are parts of Gloucestershire that are closer to Scotland than they are to Land's End.
Part of the problem is political.
Some in Cornwall see their county as distinct from the rest of the region, a special case that should be handled separately from everywhere east of the Tamar.
Some in Poole and Bournemouth associate themselves more closely with Southampton, Portsmouth and the M3 corridor than with rural Dorset.
And then there the traditional, often historic, rivalries and tensions that you find in any region.
One county looking down on another.
A smaller one mistrusting a larger neighbour.
Urban areas versus rural ones.
And so on.
If we're going to make a success of the South West, that whole attitude has to change.
And that's why today's conference is so important.
It's about recognising that this region can achieve more together than apart.
About long-term strategic thinking and planning that benefits everyone – not promoting one area at the expense of another.
I don't want a return to the days of Regional Development Agencies and failed plans for regional assemblies.
The devolution agreements we've secured for the North and the Midlands aren't about region-wide control, asserting some bland artificial identity on a diverse population.
There's no "northern assembly", no "Mayor of the Midlands".
These devolution deals give power back to local people.
They give communities the power to negotiate between themselves to secure investments and infrastructure that will make a real difference.
They give regions the tools they need to work together and get on.
And that's what I want to see here in the South West.
Not a political union of several very different counties, but an economic coming together of several million people.
Not a single region with no local identity, but local people and local businesses working together to achieve clear, strategic goals.
I'm not saying for one moment that all decisions should be made at a regional level.
Where something is best looked at by a county, or a community or even just a single neighbourhood, that's exactly what should happen.
I'm currently passing legislation that will do just that, giving an even greater voice to neighbourhoods in the planning process.
But projects and investments and infrastructure should be delivered based on where they can make the most difference for the people of the South West, not dictated by centuries-old lines on a map.
Where region-wide collaboration and co-operation can make a difference, it has to happen.
Just look at international trade.
In the past 12 months I've led overseas trade missions from both the North and the Midlands.
Few of the companies involved would ever have made it onto a traditional national delegation, dominated by big names from the capital.
Individual cities and towns would struggle to secure the attention of overseas investors.
But by taking the regions on tour, we've opened foreign eyes to a whole new world of opportunities.
I'm preaching to the choir.
The LEPs and various local networks are already showing how well this region can work together.
I know that a lot more work has already been going on behind the scenes.
And I welcome the creation of the South West Growth charter, agreed in principle here today.
It's positive, it's proactive, and it's exactly the kind of thing I want to see more of.
It's a concrete first step towards a strategy that will help every corner of the South West achieve its full potential.
In my second year as an Exeter student I got together with a friend, journalist Tim Montgomerie, and founded what we called the Exeter Enterprise Forum.
The EEF.
It was basically an amateur think-tank aimed at supporting local growth through free enterprise economics.
Like I said, I wasn't one of the cool kids on campus!
The EEF was certainly well-intentioned.
But I'm not sure we ever actually did much to create jobs and opportunity in south Devon!
Twenty-five years later, I find myself much better-placed to support this part of the world that I love so much.
I grew up here, I came of age here.
But when it was time to go out and earn a living, the South West had little to offer.
I wasn't the first or the last to leave the South West in search of opportunity.
Too many have been forced to do the same.
Today, thanks to people like you, that is beginning to change.
The prospects here are much brighter.
But there is much more to do and I'm determined to get on and help you do it.
The South West helped deliver this government.
And this government will deliver for the South West.
In Cornwall, in Devon, in Dorset, in Somerset and beyond…
I'm looking forward to working with all of you to build a South West that works for all of us.
A South West that offers opportunity to everyone, not just the privileged few.
And a South West that is truly greater than the sum of its many great parts.
Thank you.
Published 24 October 2016