International armoured vehicles conference for defence
Speech by Peter Luff, Minister for Defence Equipment, Support and Technology.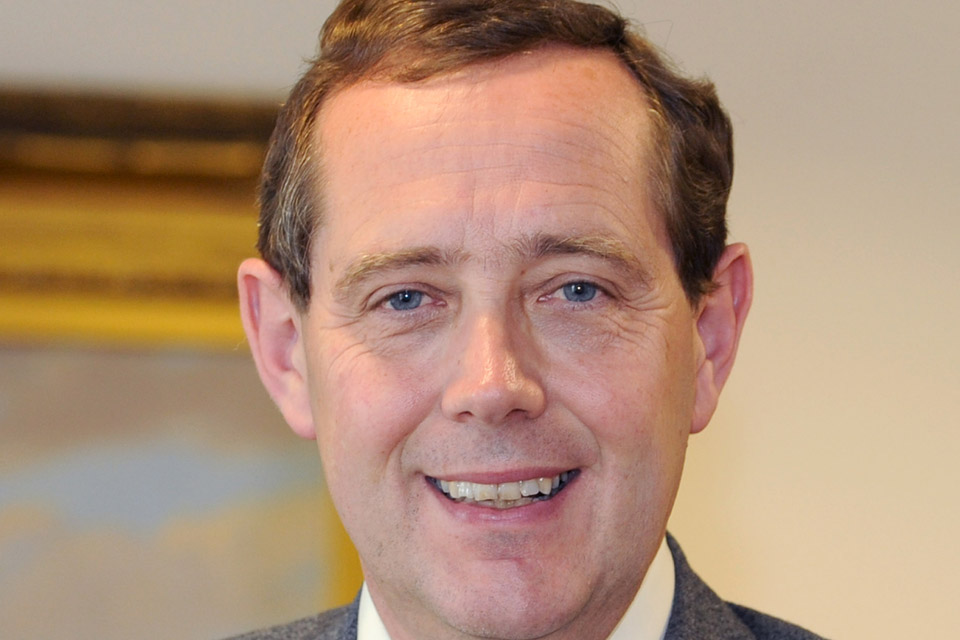 Ladies and gentlemen. Good morning. I'm delighted to be here.
This is a major event in the industry calendar, and an important forum for sharing knowledge and expertise.
I know that for many of you here today this conference is also an opportunity to explore some of the common challenges we all face. As we seek to secure and fund the best defence solutions for our armed forces.
And the great work being done by 'Help for Heroes', as we just heard, brings that effort into sharp focus. And I endorse everything that Mark just said.
It is a reminder that our servicemen and women often carry out their duties at great personal risk.
And that when they are placed in harm's way their lives will depend on the protection of the vehicles that we provide. And which are manufactured by those of you in industry here today.
Of course that goes for all our equipment on the front line.
There was a great story in the news last week about Lance Corporal Denis Larubi, from 2nd Battalion The Mercian Regiment, or as I still think of them, the Worcestershire and Sherwood Foresters. In a period of just 48 hours he was twice shot at by insurgents while on sentry duty at a check point in Helmand.
The Sun newspaper reported that the on the first day a shot struck ballistic glass in the guard tower right in front of his face, but could not penetrate the toughened window.
And the next day, when he was shot at again, the bullet hit the shoulder of his body armour.
The Corporal emerged unscathed from both incidents. His verdict on two lucky escapes and I quote was pretty succinct. "Thank God for decent equipment" he said.
This is the kind of testimony I often hear on my visits to theatre.
I know, as your commitment demonstrates, just how aware industry are of this responsibility. I also know that for many it is a very personal effort and commitment.
As the Minister responsible for Defence Equipment, Support and Technology I share that sense of responsibility and commitment. Supporting our people with the very best protection and battle winning capabilities is the essence of my job.
And looking ahead, our people on the ground will continue to need high tech, cutting edge armoured vehicles. It is an enduring requirement. What will change, however, is the way we acquire them.
Today, I want to talk about these changes. About this new approach to the way we'll be procuring these vehicles and other military equipment.
Our recent white paper 'Defence through Technology' sets this out. I'll be talking about the implications and opportunities, for industry a little later on.
The white paper has been launched during a period of tremendous change as we work to shape our military effort in the coming decade.
Change which will also have ramifications for our relationship with you, our industry partners.
I want to start by talking about some of these.
About the change taking place in the Ministry of Defence as the Department of State which supports and equips our armed forces.
And also throughout our armed forces which are also undergoing transformation through the Defence Reform Programme.
Let me start briefly with the armed forces, and the army in particular.
This is currently reviewing its structure as it seeks to evolve into a yet more integrated force, making greater use of Reservists.
An agile force with the right capabilities. A robust contingent capability. A capacity for major combat operations. Together with an ability, for example, to contribute to overseas capacity building and security sector reform.
Change is already underway. Crucially, the Chief of the General Staff is gaining more autonomy when it comes to the allocation of resources and generating capability.
This demands, in turn, a new relationship with our Defence, Equipment and Support organisation. Or DE&S as it is more commonly known.
A Joint Forces Command has also been set up as part of this process of reform.
It will improve the planning and execution of joint operations. Managing and delivering joint capabilities will be an important part of this.
It means key joint enablers, like intelligence, cyber and training, will have a stronger voice than ever before.
Air Chief Marshall Sir Stuart Peach took up his post as the first Commander of Joint Forces Command in December. The JFC Initial Operating Capability, with a Command HQ, will begin at the start of April.
You'll be hearing more about this work on Future Force 2020 from the Chief of the General Staff himself in his closing address tomorrow afternoon.
And now a word about some of the reforms taking place at the Ministry of Defence.
These will underpin the structural changes across the military. And, it's probably fair to say, change the way we work with industry.
In the case of acquisition this means the MOD becoming a more intelligent and demanding customer. An end to what's been referred to as a 'conspiracy of optimism'.
It means we have to be more disciplined when it comes to costing programmes before we are committed to them.
As well as making sure you, industry, deliver. To order, on time, and within budget.
Defence transformation also means taking a long hard look at our processes, and the way we do business. It means upping our game when it comes to having the right skills in areas like financial and project management.
This means change for DE&S and the way it operates.
The Materiel Strategy, as it is called, is being taken forward by Major General Chris Deverell on behalf of Bernard Gray, the Chief of Defence Materiel.
General Deverell will be telling you more about it later today.
Five options have been considered. However, we have pretty well already ruled out the status quo. And we will not be going down the privatisation route.
This leaves three options.
Option one: DE&S becomes a government-owned, contractor-operated set up a GoCo, along the lines of the Atomic Weapons Establishment.
Option two is for an Executive non-departmental public body with a Strategic Partner, similar to the Olympic Delivery Authority.
Or, option three; it becomes a trading fund along the lines of DSTL, the UK's Defence Science and Technology Laboratory.
Whatever the final decision, the review will need to factor in the need to improve skills and processes. And ensure a more disciplined relationship between DE&S and MOD customers, including Front Line Commands.
We're determined to make some pretty bold decisions. And we'll be as radical as we need to be, no more, no less.
I've talked a lot today about the need for change. And this is where the white paper comes in. It sets out how this change will be delivered.
It sets out our approach to purchasing equipment, support and technology. An approach which I am confident will also drive forward a new culture.
An approach which I believe will be good for British industry.
When it comes to our support of technology; for SMEs and for exports. A commitment to open procurement. And clear direction on where we stand when it comes to ensuring we have operational advantage. And maintaining freedom of action.
I know that a number of you in industry have welcomed the write paper.
Take Thales, for example. They have said, and I quote: 'We …welcome the clarity that the white paper brings, and support the use of 'Off the Shelf acquisition'.
It took some time to finalise the white paper as you will know, we wanted to make sure we had consulted widely across all our stakeholders.
ADS, one of our leading trade associations representing the industry, have acknowledged the value of this process of deliberation.
In their view, this had in fact and I quote again 'allowed for meaningful dialogue' and resulted in 'deeper understanding of industries' concerns within government."
The white paper gives direction on our policies and priorities. And it puts technology and innovation back as the main driver of our equipment programme.
We may have inherited an equipment programme in freefall and a gaping deficit exceeding £38 billion.
But I can categorically state here and now that spending on a vital area like technology and science will no longer be the first target when it comes to cutting costs.
I wonder how many of you are aware that one of the last acts of the previous government was to remove a further £100 million from the science and technology programme?
In fact, the S&T budget more than halved as a proportion of the MOD's total budget between 1997 and 2010.
So I have drawn a line in the sand on this. The proportion of spending on S&T is to be baselined at its current level of 1.2% of the overall defence budget, currently a sum of over £400 million a year.
I hope it will be possible for this figure to grow as a result of a well planned and sensibly managed overall equipment programme.
Our policy of open procurement commits us to actively seeking out what the global market has to offer our forces in terms of cutting edge, high quality kit. At the right price for the British taxpayer.
Wherever possible, we'll be looking to meet our defence requirements through open competition in both the domestic and global market.
However, the strength of British industry means our companies should not fear this competition.
In the five year period between 2006 to 2011 the MOD awarded nearly 40,000 new contracts with an approximate total value of just over £67 billion.
And out of that figure, the number of new contracts placed where the majority of work occurred within the UK remained consistent at around 85% to 95%.
If British industry is as competitive as I believe it to be and its export record suggests, then I see no reason why these figures needs to decline significantly.
After all, in reality the policy on open procurement under EU competition rules haven't changed that much.
If necessary though, we will protect those areas where the UK either needs advanced technology. Or particular products to maintain our operational advantage or freedom of action. Particularly during operations.
We will help sustain the necessary skills, infrastructure and intellectual property we need to allow us to build and safeguard our national security.
This open procurement approach is particularly good news for those of you here today from SMEs, that is Small and Medium Sized Enterprises, rather than subject matter experts.
And I'm delighted to say this approach is already working. Tarian Quickshield is a great example of new battle winning capability developed in partnership with an SME.
In this case DSTL worked with AMSAFE in Bridport to develop a new form of RPG netting.
Incredibly light, it's been described as 'band aid' for bar armour, but it actually does the job more effectively and at less cost.
It's already in service with the army in Afghanistan. And Singapore Technologies Kinetics have signed a memorandum of understanding with AMSAFE so that it is available to the customers of their armoured vehicles.
This is the kind of innovative technology which I am sure will do well in the export market.
We're going to make sure the MOD is more accessible. The new SME forum which I chair is a realisation of that pledge.
We will also do this by ensuring individual procurement strategies maximise the potential for SMEs and I commend those exhibiting here today, at prime and sub contract level.
And we'll be making sure there's an emphasis on 'open systems' factored in to our requirements. So there's scope for you to offer the kind of 'add on' systems which enhance major weapons and platforms.
In 2010 to 2011 the MOD placed 42% of its contracts with SMEs, that is, direct contracts. You offer innovation and flexibility. We're keen to do a lot more business with you.
And I want to see more of the bigger names harnessing this potential.
Some are already seizing the initiative. Take General Dynamics.
Last year I visited their site in South Wales which has a dedicated technical facility known as The Edge.
The Edge searches out new ideas from across the supply chain and academia. And it also works with organisations such as the MOD sponsored Centre for Defence Enterprise.
This isn't about duplication of effort.
It's about partnership working which means that across the board we are all maximising our research and technology spend.
As I have already indicated, boosting our export market is another principle of the white paper.
Defence exports leverage influence with our allies and boost interoperability with their armed forces.
And, in these straitened times, exports can also reduce the cost of long term programmes and remove some of the associated risks.
Exportability will therefore be integral to our future equipment requirements.
I'm confident this is the kind of measure which will help companies reach new markets. And again I'm thinking here of the potential of a capability like Tarian.
The UK is already the second largest defence exporter in the world, with £6 billion of sales and a 22% share of the market.
In parallel with this drive to boost the chances of UK industry abroad, we will also be continuing to develop the collaboration and partnership we have with close allies.
Allies such as the US and France. And allies in Nato, and indeed beyond.
Working with other countries offers significant economies of scale which enable us to spread the cost and the risk.
I'm confident that effective collaboration will enhance our status as a global partner of choice.
As I have said, we're still reviewing our equipment programme. But we are close to a conclusion.
I can confirm however that across the board we will be investing more than £150 billion in military equipment over the next decade.
Last year Philip Hammond, the new Secretary of State, announced a £1 billion upgrade to the Infantry's Warrior fighting vehicle.
As well as the intention to proceed with a separate £400 million package of protected vehicles and Counter IED technology.
A package which will include an additional 100 Foxhound light protected vehicles. A vehicle with great export potential.
The department plans to spend £5.5 billion on its core armoured vehicle programme over the next decade. And we're reviewing just how we'll achieve this.
This will involve managing the legacy of Afghanistan as we draw down our operations there.
Making some decisions about which Urgent Operational Requirement vehicles, over 2,000 of them approved at a cost of £2.8 billion, will now be brought into the MOD's core equipment programme.
I believe the success of our UOR process pretty much encapsulates our new approach when it comes to off the shelf purchase and innovation.
Vehicles based on the US Cougar fleet and the Bronco from Singapore were purchased as off the shelf base vehicles and then adapted here in the UK, often by SMEs. And then shipped out to Afghanistan as new battle winning capabilities.
This process of high tech adaptation and integration calls for cutting edge skills in the UK. These are exactly the kind of projects which will help to develop and sustain our skills base here in this country.
The servicemen and women I've met on my visits to theatre speak very highly of the agility and protection provided by these vehicles which they know by their new, adoptive names.
Names like Mastiff; Ridgback; Wolfhound and Warthog which have now entered the military vernacular.
This pragmatic and innovative approach is definitely the way forward.
We are committed to more simplified and realistic acquisition strategies across our equipment programme, and particularly when it comes to armoured vehicles.
To reduce cost. Mitigate risks. And to make sure that adaptability is factored in from the outset, as opposed to rigid over specification at the drawing board stage.
However, as I have already said, there are no hard and fast rules.
And we will not be prescriptive when it comes to making sure we have the best solutions.
The new Foxhound is a UK design and 90% of the companies involved in its production are UK based.
In common with all recent UORs, it exploits state of the art technology. In this case, that includes the UK's world leading motorsport industry.
This is an amazingly agile piece of kit, with an engine which can be removed and replaced in just 30 minutes.
It's an ideal vehicle for our partnering and mentoring role we'll be taking on as the process of transition gathers pace in Afghanistan.
Foxhound is on schedule to be operating in Afghanistan this summer. The soldiers I have spoken to are genuinely excited by the prospect of its arrival. And they should be. I have driven it. I know just how good it is. And just how easy it is to drive.
Whatever the size of our future vehicle fleet, the decisions we make will need to make sure our forces are ready and prepared.
We live in a dangerous world, and the future remains uncertain. Our people must be properly equipped and well supported if they are to meet these emerging challenges.
However, the bottom line is that we will retain the capability to project power abroad and meet our Nato obligations. And we'll do that supported by the world's fourth largest defence budget.
Thank you. I look forward to hearing your views on some of these and other issues. The floor is yours.
Published 21 February 2012