Guidance
Water quality information at swimming beaches and lakes
Updated 1 July 2016
© Crown copyright 2016
This publication is licensed under the terms of the Open Government Licence v3.0 except where otherwise stated. To view this licence, visit nationalarchives.gov.uk/doc/open-government-licence/version/3 or write to the Information Policy Team, The National Archives, Kew, London TW9 4DU, or email: psi@nationalarchives.gsi.gov.uk.
Where we have identified any third party copyright information you will need to obtain permission from the copyright holders concerned.
This publication is available at https://www.gov.uk/government/publications/water-quality-information-at-swimming-beaches-and-lakes-eu-regulations/water-quality-information-at-swimming-beaches-and-lakes
Councils only provide information at 'designated bathing waters'. These are areas:
where the Environment Agency expects a large number of people to bathe in the water
where the Environment Agency tests the water every year
that are listed in the Bathing Water Regulations
Display information
Councils must provide information during the bathing season, which runs from 15 May to 30 September.
The sign must include a website address for people to get further information on water quality and any pollution problems. It can be the Environment Agency's website address or the local council's.
You must provide a summary of the quality of the bathing waters, including factors that can affect the water like nearby sewage overflows or rivers.
The Environment Agency provides this text to local councils from its national database of bathing water profiles.
You can adapt the text to fit your sign, as long as you include all essential information.
Pollution advice
Councils must display additional information about any 'abnormal situations' that affect bathing waters, for example a breakdown at a sewage pumping station or a slurry spill.
An 'abnormal situation' is according, to the EU Bathing Water Directive (2006/7/EC), "an event or combination of events impacting on bathing water quality at the location concerned and not expected to occur on average more than once every 4 years".
If pollution counts as an abnormal situation, the Environment Agency will tell the local council. The Environment Agency will provide information on the nature of the problem and how long is it expected to last.
If pollution could affect people swimming or paddling, you must display information on the nature of the problem and how long it's expected to last.
Councils participating in the Environment Agency's pollution risk forecasting system must display information on how many days bathing was advised against during the previous bathing season.
Classification system
From 2015 there is a classification system for bathing waters. Bathing waters are classified as:
If you can't open Adobe Illustrator files you can download a zip file of the images in PNG format.
Each classification has a symbol that councils must put on their signs. The classifications are based on sampling data taken over 4 years.
You must start using the new symbols from the 2016 bathing season.
'Poor' bathing waters
If a bathing water is classified as 'poor', a council has to display an 'advice against bathing' symbol. Councils must also display information on the causes of pollution and measures to clean it up.
Download the Adobe Illustrator image for 'advice against bathing'.
Classification symbols
The symbols for different bathing water classifications and advising against bathing are below.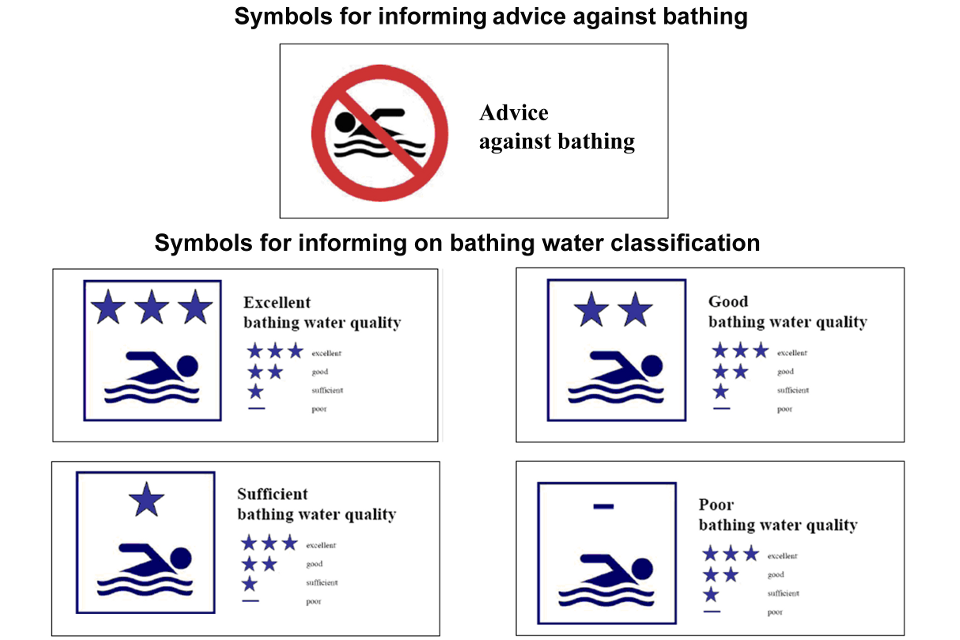 Bathing water quality widget
You can use the bathing water quality widget to show up-to-date bathing water quality information on your website.
Contacts
Contact the Environment Agency
Telephone: 03708 506 506
Minicom: 03702 422 549
Email: enquiries@environment-agency.gov.uk
Address: National Customer Contact Centre, PO Box 544, Rotherham, S60 1BY
Contact the Department for Environment, Food and Rural Affairs
Telephone: 08459 33 55 77
Text phone: 0845 300 1998
Email: defra.helpline@defra.gsi.gov.uk or bathingwater@defra.gsi.gov.uk
Customer Contact Unit
7th Floor
Nobel House
17 Smith Square
London
SW1P 3JR