3. The digital sectors - making the UK the best place to start and grow a digital business
Published 1 March 2017
© Crown copyright 2017
This publication is licensed under the terms of the Open Government Licence v3.0 except where otherwise stated. To view this licence, visit nationalarchives.gov.uk/doc/open-government-licence/version/3 or write to the Information Policy Team, The National Archives, Kew, London TW9 4DU, or email: psi@nationalarchives.gsi.gov.uk.
Where we have identified any third party copyright information you will need to obtain permission from the copyright holders concerned.
This publication is available at https://www.gov.uk/government/publications/uk-digital-strategy/3-the-digital-sectors-making-the-uk-the-best-place-to-start-and-grow-a-digital-business
Digital sectors contributed £118 billion to the economy in 2015: over 7% of the UK's gross value added (GVA),1 and exports of digital goods and services now amount to over £50 billion.2 Tech City UK estimates that the digital sectors are creating jobs 2.8 times faster than the rest of the economy.3 The UK is home to growing digital clusters across the country, including Reading and Bracknell, Bristol and Bath, Manchester and Birmingham, as well as emerging clusters in Southampton, Cornwall and Dundee.4 As well as the 'core' digital sectors, technology is transforming other sectors across the economy to create emerging fields such as EdTech, FinTech and HealthTech where the UK is already leading the way.
Our ambition is for the sector to continue growing so that by 2025 its contribution to the economy rises to £200 billion. To achieve this, we must create the right conditions for the digital sectors to continue to thrive and to ensure the benefits are spread throughout the UK. Although this will be led by the private sector, government has a key role to play in supporting innovation and the commercialisation of ideas, and helping all digital businesses take advantage of opportunities for growth.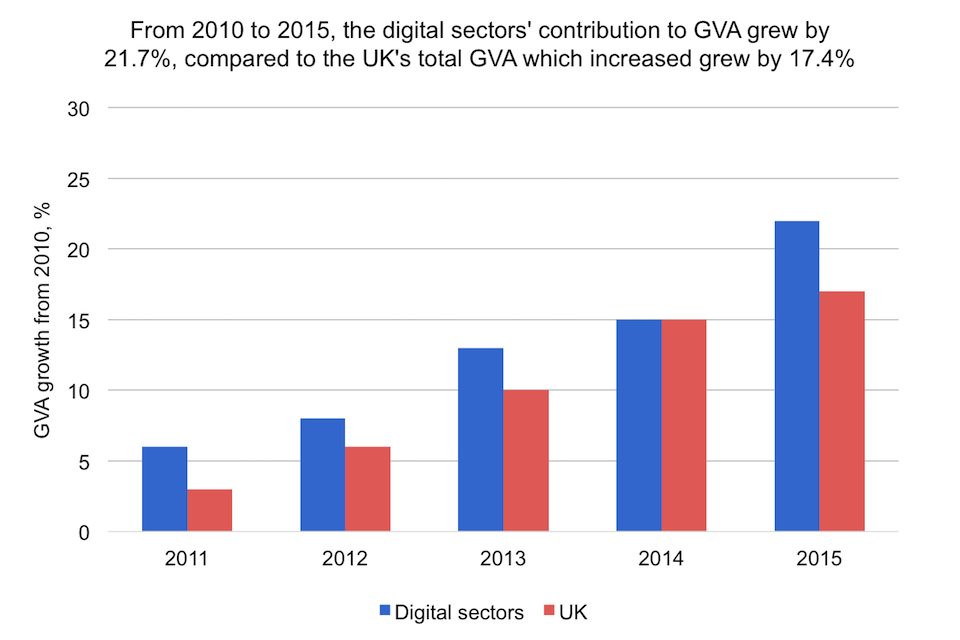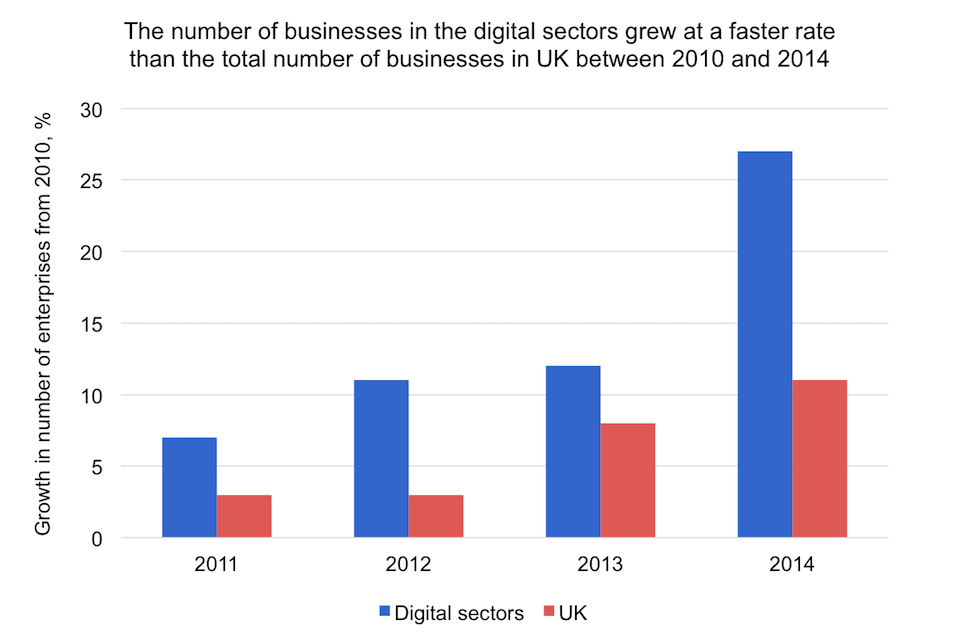 Supporting innovation
The Industrial Strategy green paper set out the government's ambition to create the conditions for competitive, world-leading businesses to prosper and grow right across the UK. The following outlines the steps we are taking to create this environment for digital sectors.
An effective tax structure
We have already created one of the most innovation and entrepreneur-friendly tax systems in the world. The government has delivered highly competitive headline corporation tax rates and introduced a range of initiatives to further support innovative businesses. This includes the Patent Box, which enables companies to apply a reduced 10% rate of corporation tax to profits earned from patented inventions.
Support is also in place to help small, early stage companies raise equity finance through the Seed Enterprise Investment Scheme (SEIS), which offers tax reliefs to individual investors who purchase new shares in those companies. It complements the Enterprise Investment Scheme (EIS), which offers tax reliefs to investors in high risk and growing companies. SEIS is intended to recognise the particular difficulties which very early stage companies face in attracting investment, by offering tax relief at a higher rate.
We are currently undertaking a review of the tax environment for R&D to examine whether there is more we could do to stimulate private sector investment and make the UK an even more competitive place to innovate.
A strong supply of skilled workers
Digital businesses need a supply of employees with the right digital skills if they are to flourish. This means developing the skills we need domestically, and Chapter 2 covers how we will develop a strong pipeline of digital skills within the UK.
Digital sector companies employ around 80,000 people from other European Union countries, out of the total 1.4 million people working in our digital sectors. The government has been clear that it wants to continue to attract the brightest and best to study and work in Britain after we leave the EU. The Prime Minister has said that she wants the UK to be a magnet for international talent and a home to the pioneers and innovators who will shape the world ahead, and that openness to international talent must remain one of this country's most distinctive assets. We recognise the importance which the technology sector attaches to being able to recruit highly skilled staff from the EU and around the world. As one part of this, we have asked the Migration Advisory Committee to consider whether the Tier 1 (Entrepreneur) route is appropriate to deliver significant economic benefits for the UK, and will say more about our response to their recommendations soon. We also recognise that digital businesses are concerned about the future status of their current staff who are EU nationals. Securing the status of, and providing certainty to, EU nationals already in the UK and to UK nationals in the EU is one of this Government's early priorities for the forthcoming negotiations. We continue to support Tech City UK's key role in attracting world class talent into the UK's digital sectors through the Tech Nation Visa Scheme.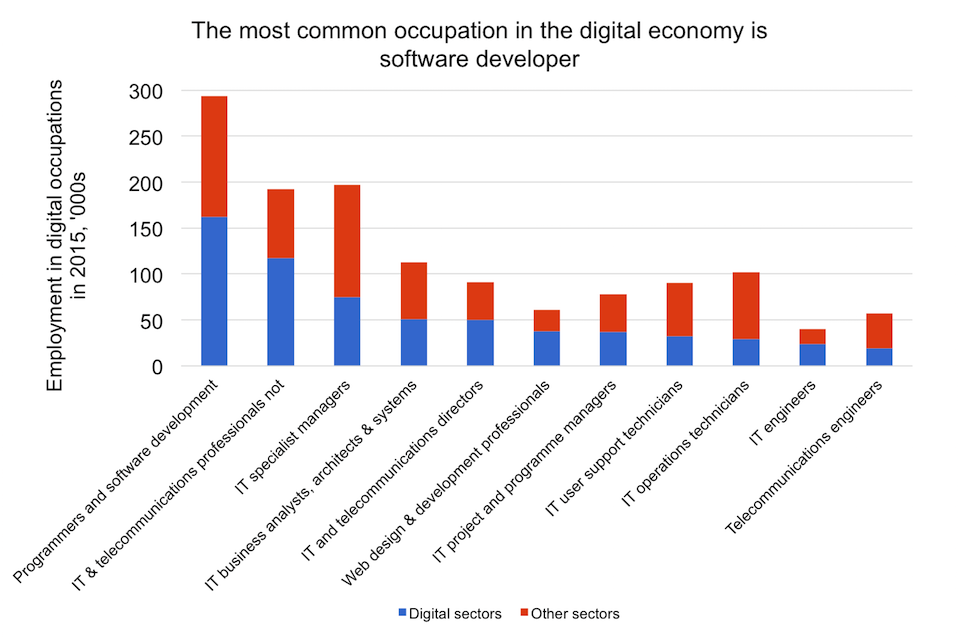 Regulation that keeps pace with technological change
An innovation-friendly regulatory environment is crucial to allowing university researchers and digital companies to develop, test and sell their ideas, goods and services. The quality and agility of regulation can often make or break disruptive innovation, which rarely fits neatly into existing regulation.
We will work with the independent regulators to ensure that regulation across sectors is open to realising the benefits of new and disruptive digital innovations, while continuing to protect the public. Companies developing new technology will be able to get a fair hearing from government on any regulatory or competition issues that they feel are impeding their businesses.
The Challenger Business Programme has also helped establish an environment in which innovative businesses can thrive, and is another channel for businesses to alert government to regulatory barriers to growth. It has helped 400 businesses since its launch in 2013 and will now be expanded as part of the government's Industrial Strategy. We want to undertake more deep dives into emerging sectors, and are keen to hear from industry about new areas the programme could look to explore. We also want to intensify our efforts on driving through the recommendations from previous Challenger Business reviews.
If innovation is to flourish, a dynamic and flexible intellectual property (IP) regime is also vital. We need to make sure that the IP rules keep up with technological change. We will, for example, conduct research to look at 3D printing technology and how IP rights apply to 3D files and products. We will legislate through the Digital Economy Bill to give designers a new way of giving the public notice of their IP rights with a web address. And the Intellectual Property Office will make sure that UK digital businesses can easily find the advice on IP they need.
Ultimately, businesses rather than the government are best placed to identify what companies need to enhance their competitiveness as a sector. That is why our Industrial Strategy green paper proposes to set an 'open door' challenge to industry to come to the government with proposals to transform and upgrade their sector through sector deals. As part of these deals, sectors will be able to identify how companies within a sector and government could take action to increase their prospects of success, and this could include addressing a regulatory issue or deregulating.
---
FinTech: a UK success story supporting access to financial services for all consumers
The UK is the global capital for financial technology, or 'FinTech', which generated £6.6 billion in revenue and raised over £500 million of investment in 2015 alone. It is disrupting established processes and changing the ways that consumers interact with financial services.
In doing so, it is radically reducing the cost of accessing financial services and broadening the range of services available. This is allowing those who may previously have struggled to access financial services to do so, and providing consumers with the tools they need to manage their finances well.
The government and regulators are taking a significant number of actions to support the UK FinTech industry:
supporting the banks to deliver Open Banking through a fully open application programming interface (API), providing ongoing access to authorised third parties by Q1 2018. Third-parties will then be able to access consumers data in real-time, thereby allowing them to offer budgeting tools to support individuals in managing their finances
supporting industry to design and deliver a pensions dashboard by 2019 – a digital interface where an individual can view all their pensions in one place, enabling consumers to make more well-informed decisions about their pensions
working with Tech City UK on a FinTech delivery panel to set out a long-term strategy for UK FinTech, identify key industry initiatives to deliver this, and drive forward progress. This panel comprises key representatives from the FinTech sector, existing financial services sector, and the Financial Inclusion Commission, given the significant potential of FinTech in supporting financial inclusion
appointing regional FinTech envoys to ensure the continued growth of FinTech across the UK. To date, regional FinTech envoys have been appointed for the Northern Powerhouse and Scotland
launching a professional services information hub
showcasing the best of British FinTech to investors at the annual International FinTech Conference, to take place on 12 April 2017
The Bank of England is also supporting the FinTech sector by:
establishing the New Bank Start-up Unit in January 2016 (in partnership with the Financial Conduct Authority). Nine new UK banks have been authorised in this parliament
expanding access to central bank money to non-bank payments service providers, allowing them to compete on a level playing field with banks
being open to providing access to central bank money for new forms of wholesale securities settlement, such as those based on Distributed Ledger Technology
proactively seeking contributions from a wide range of perspectives and disciplines to feed into its long-term research into the impact of a digital currency on monetary and financial stability and whether new technology has the potential to be used to provide wider access to central bank money, via a Central Bank Digital Currency
partnering with FinTech companies through a Bank of England FinTech Accelerator to help harness FinTech innovations for central banking
---
Increasing the level of research and development
The UK supports on average £1.3 billion a year in digital R&D, through the private sector, public investment by the Research Councils and Innovate UK, and research carried out by the government itself. We have world-class universities and laboratories, whose excellence is one of the key guarantees of our global tech leadership. Business expenditure on digital R&D exceeded £3.2 billion in 2015 - 15% of all business R&D expenditure.5
Government provides approximately £600 million of support each year through Innovate UK's programmes and competitions. This support has been instrumental to the success of some of the UK's leading digital start-ups, including Swiftkey and Magic Pony. In 2015, we launched the Alan Turing Institute, a joint venture of leading UK universities to undertake research using advanced mathematics, computer science, algorithms and big data. With £42 million from the government, it has already secured £35 million from private and partner organisations. The Digital Catapult and the Hartree Centre also continue to help researchers and businesses develop technologies and bring them successfully to market.
We will also award £17.3 million in Engineering and Physical Sciences Research Council (EPSRC) grants to support the development of new Robotics and Artificial Intelligence (RAI) technologies in UK Universities. One project, led by the University of Manchester, will develop robotics technologies capable of operating autonomously and effectively within hazardous environments such as nuclear facilities, while researchers at Imperial College London will look to make major advances in the field of surgical micro-robotics.
This funding also includes £6.5 million capital investment to support further collaboration within the UK Robotics and Autonomous Systems (UK-RAS) Network. This will enable the UK's robotics and artificial intelligence researchers to accelerate the translation of fundamental research into enabling technologies and promote cross-sector growth.
---
The Digital Catapult
The Digital Catapult Centre is a space for technologists, creatives from business and academia to collaborate and develop their new ideas and showcase their products to the UK and the rest of the world. It enables UK digital businesses to innovate at speed, and with less risk, so new products and services can be accelerated to market.
Its new strategy outlines the key technologies it will focus on moving forward:
data-driven: new ways to work with personal data with more control and trust, applications of blockchain and smart contracts, cybersecurity particularly for emergent threats
connected: the Internet of Things, and associated enabling networking technologies such as Low-Power Wide-Area Networks (LPWAN) and 5G
intelligent: artificial intelligence and machine learning
immersive: augmented, virtual and mixed reality, haptics and related new forms of human machine interface
It will initially apply these in three market sectors through large scale programmes:
Digital Manufacturing - accelerating adoption of digital technologies to increase productivity and the creation of new value in UK manufacturing
Digital Health and Care - enabling people to live longer, happier, healthier lives through digital technology
Creative Industries - creating new markets for the UK's Creative Industries using emerging digital technologies; making the UK the best place in the world to create content for immersive systems
---
In the Chancellor's Autumn Statement the government announced a further £4.7 billion in R&D funding to enhance the UK's position as a world leader in science and innovation, and we need to make sure we are getting the most from this investment. As a key part of this, we are taking forward the recommendations of the Nurse Review, and creating UK Research and Innovation (UKRI), in order to ensure that the UK continues to support world-leading research and innovation, investing public money in the best possible way.
---
Industrial Strategy Challenge Fund
We are creating an Industrial Strategy Challenge Fund to help the UK capitalise on its strengths in science and innovation. This new funding stream will enable UKRI to back technologies at all stages, from early research to commercialisation, where the UK has the potential to take an industrial lead.
The Industrial Strategy Challenge Fund will focus on challenges where:
the global market is potentially large, or fast growing and sustainable
the UK has capabilities to meet market needs in terms of research strength and business capacity
there are significant social and economic benefits
there is evidence that government support will make a difference
The Industrial Strategy green paper initiated a consultation on the first set of technologies which the Fund could support, which included:
smart, flexible and clean energy technologies (such as storage, including batteries, and demand response)
robotics and artificial intelligence (including connected and autonomous vehicles and drones)
satellites and space technologies
leading edge healthcare and medicine
manufacturing processes and materials of the future
bioscience and biotechnology
quantum technologies
transformative digital technologies including supercomputing, advanced modelling, and 5G mobile network technology
These are early suggestions for potential challenge areas and there may be more opportunities - for example, in the creative industries.
---
---
Supporting early-stage digital companies and innovators in universities
The UK is home to many top academic and research institutions, which act as excellent ecosystems to cultivate the next generation of future founders and employees in the digital sectors. The government is committed to supporting institutions to have the right structures for students to pursue entrepreneurial activities.
There are examples around the world which demonstrate the importance of an educational institution acting as a pipeline for talent. For example, California's Stanford University runs 145 education courses on enterprise6 which feed into Silicon Valley employment opportunities.
There are fantastic examples in the UK too, for example the University College London Innovation and Enterprise creates a bridge between UCL's computer science departments and practical enterprise modules and training; Durham University combines their career services with an enterprise incubator to embed the idea of being a founder as a viable postgraduate career; and Cambridge Enterprise was formed by Cambridge University to specifically focus on spinning out start-ups from academics and students, including creating successful tech and data companies by providing seed funding.
We believe that every computer science student should have the space and support to explore building tech start-ups that will shape their digital employment prospects and to become tech founders. Building on the government's creation of over 200 enterprise societies and clubs through the National Association of College and University Entrepreneurs, we will work with partners to develop a more unified approach to encourage students to become digital entrepreneurs. This will include recognising computer science students who are spinning out promising start-ups and linking their companies to funders and other opportunities.
---
Supporting digital businesses
Commercialising ideas
Government can play an important role in helping entrepreneurs and early-stage digital companies turn ideas into viable businesses through interventions such as accelerators, mentoring, and export assistance. While the UK has a world-leading track record in research and innovation, we have a challenge in translating our leadership in global research into commercial outcomes. While the UK produces a similar number of spin-off companies as US universities, we register far fewer patents. From the development of medical imaging technologies to biotechnology, the UK has too often pioneered discovery but not realised the commercial benefits.
Our Industrial Strategy green paper outlined a number of actions to address this. As part of this we have commissioned independent research on approaches to commercialisation in different institutions, including how they approach licensing intellectual property and taking equity in spin-outs. BEIS's Chief Entrepreneurial Advisor, tech entrepreneur Tim Dafforn, will also lead a review to take stock of the support currently available to entrepreneurs and consider international best practice, with the aim of identifying any potential gaps in current policy. The review will examine the entire entrepreneurial journey, focusing on the motivations and opportunities for those embarking on business ventures, from education to business development and growth.
Supporting emerging technologies
From the Internet of Things and connected and autonomous vehicles, to artificial intelligence and virtual reality, the UK already has world-leading businesses developing and using new technologies.
Government can support the growth of these emerging technology sectors through strategic interventions. The following boxes look at two technologies where we are already playing an active role.
---
Connected and Autonomous Vehicles
Connected and autonomous vehicle technologies are set to transform our roads and could offer huge benefits including improved road safety, traffic flow, efficiency and mobility, together with significant opportunities for UK industry. We want to ensure the UK is at the forefront of these developments and we will work with industry and road network managers to understand the changes necessary to make this a reality, including improved connectivity on the road network.
Our regulatory framework already supports real-world testing of automated vehicle technologies, and our world-leading 'test anywhere' approach, which encourages co-operation between a variety of organisations, is helping to attract international companies to test their vehicles on our roads. We are keen to ensure that we are acting at speed to put in place the necessary regulatory framework to enable the safe sale and use of this technology, and will be taking forward a rolling programme of reform, engaging with industry and international partners to identify where to focus our efforts.
We have also provided over £100 million of funding to support research, development and real-world demonstrations of connected and autonomous vehicles, matched by industry. Our driverless car trials have commenced public demonstrations in Milton Keynes, and projects in Bristol, Greenwich and Coventry will go live soon. In February 2016 we awarded £20 million to 21 new collaborative research and development projects, and in August 2016 we launched a further £35 million research competition, one part of which involves a grand challenge demonstration of a highly autonomous vehicle operating in a variety of conditions on public roads.
We are consolidating this effort to assert a world leadership position in the demonstration and deployment of connected and autonomous vehicle technologies. In his 2016 Autumn Statement, the Chancellor announced £100 million for new connected and autonomous vehicle testing infrastructure. The funding will be used to develop a high impact programme (to be matched by industry up to £200 million) over four years to provide a globally competitive testing ecosystem for these technologies by strengthening and integrating our existing centres of excellence.
---
---
The Internet of Things and Smart Infrastructure
The Internet of Things enables connected objects and devices containing sensors to share data, information and insights - from industrial machines, infrastructure, buildings and vehicles, to consumer electronics and clothing. The benefits for industry, the public sector and citizens could be huge. For example: wearable monitors can improve personal health care; smart water pipes can warn of falls in pressure; street-level data can improve traffic flows and planning.
We want the UK to remain an international leader in R&D and adoption of IoT. We are funding research and innovation through the three year, £30 million IoT UK Programme, including:
the large-scale Cityverve smart cities demonstrator in Manchester to show how IoT technologies and services can improve the quality and efficiency of services in transport, energy, health and culture
NHS test beds, using IoT and health and care innovations to help people with dementia in Surrey and people with diabetes in the West of England
the IoT Research Hub led by University College London and partners, to develop UK interdisciplinary research excellence, focusing on privacy, ethics, trust, reliability, acceptability and security (PETRAS)
help for IoT entrepreneurs and innovators from the Digital Catapult and Future Cities Catapult; and specialist accelerator schemes for IoT hardware businesses, R/GA and Startupbootcamp.
Increasingly, new infrastructure is also smart: connected, and operated with data to achieve maximum efficiency and effectiveness. To provide leadership in the roll out of smart infrastructure, the EPSRC has announced £138 million of funding for the UK Collaboratorium for Research in Infrastructure and Cities (UKCRIC) to create a coordinated and coherent national infrastructure research community, spanning at least 14 universities. UKCRIC stated aims are to:
build on existing capabilities to establish a network of state-of-the-art large-scale experimental facilities supporting world-leading research in cities and infrastructure
establish a unique, national network of local 'urban laboratories' to sense, capture, monitor and evaluate new and existing infrastructure in UK towns and cities
establish world-leading computation and big data infrastructure for the modelling, simulation, and visualisation of cities and infrastructure
we have also asked the National Infrastructure Commission to undertake a new study on how emerging technologies can improve infrastructure productivity
---
Sector deals offer another important channel to support specific industries. They offer an opportunity for important players to join together and address shared challenges and opportunities they face. We are therefore pleased to support reviews into the following important and rapidly growing sectors, which could inform potential sector deals.
Professor Dame Wendy Hall, Regius Professor of Computer Science at the University of Southampton, and Jerome Pesenti, Chief Executive of BenevolentTech, will conduct a review of how industry and government can create the conditions for the artificial intelligence industry to continue to thrive and grow in the UK. The review will consider the core challenges such as skills and access to talent, access to data, and access to finance and investment. This review will build on the work on machine learning by the Royal Society, and it will complement, but remain separate from, the ongoing work by the British Academy and Royal Society on data ethics and governance, which will also cover ethical issues around AI.
As outlined in the Industrial Strategy green paper, Sir Peter Bazalgette will conduct an independent review into how the UK's creative industries, such as our world-leading music and video games industry, can help underpin our future prosperity by utilising and developing new technology, capitalising on intellectual property rights, and growing talent pipelines.
In addition to these reviews, government will consider how it can further support the virtual reality (VR) and augmented reality (AR) sectors in the UK, considering how these industries could seize opportunities for growth. The UK is home to a number of innovative firms working in this sector, including Blippar, Improbable.IO, Ultrahaptics, and a host of world-leading production houses specialising in VR or AR content. As an international hub for the cultural and creative industries, and with our strengths in research and computer science, the UK is well placed to take advantage of global growth in these sectors.
The Digital Catapult is already helping advance next generation virtual and augmented reality businesses. Earlier this month, it launched Augmentor, an equity free 10-week programme to provide technical and business mentorship to start-ups in this space. Successful applicants will have access to the Digital Catapult Centre in London as a space to work and collaborate, as well as the state-of-the-art Immersive Lab at the centre.
Supporting new and growing businesses
Digital start-ups are a core part of the success of our digital sectors. In 2014, there were almost 200,000 digital enterprises in the UK, 90% with fewer than five employees. Central to our ambition for the growth of digital sectors is therefore to make the UK the best country to start and scale a digital business.
As with our support of new technologies, we will identify those where government can play an effective role in helping specific sectors to grow. For example, we will:
continue to support the growth of the UK video games industry. In 2015 we launched our £4m four year UK Games Fund to accelerate the growth of games clusters around the UK by helping creative young businesses develop new games ideas and by supporting talent. The Fund is helping companies become more diverse and innovative, create IP and grow in strength and size and has helped over 50 companies to date to become investor-ready. Additionally, six graduate teams have formed new games business after taking part in the first round of the Fund's separate Tranzfuser talent programme
increase support for new businesses in cyber security, where - with the support of the National Cyber Security Programme - we have launched a series of inter-locking initiatives including two innovation centres, a Cyber 20 programme of intensive business support, a GCHQ-sponsored accreditation programme for new technologies, and programmes to help universities to turn their research into businesses. We will then look at scaling up the elements of this programme that have proven most effective, and which might translate to the wider digital sectors, such as a Future 50 of the top UK scale-ups to receive intensive support and mentoring
Those businesses that successfully establish themselves and begin to grow rapidly face a particular set of challenges. The Minister for Small Businesses will take on an additional role as the Scale-up Champion, working to coordinate support across the UK specifically aimed at these businesses, which are so crucial to our future prosperity. The government will also work with the ScaleUp Institute and other partners, including Local Enterprise Partnerships and Growth Hubs and their network of strategic partners to build peer-to-peer business networks specifically for fast-growing firms. And we will use data that only government has – such as VAT returns – to help identify fast-growing firms at an early stage. This will enable the efficient offer of advice and support to catalyse business growth and support scale-up businesses in cooperation with the Behavioural Insights Team and the ScaleUp Institute.
Increasing the level of investment
The UK is already a world centre for finance, and home to a great deal of investment finance. Overall, investment in UK technology businesses is buoyant. Analysis by the British Business Bank using data from Beauhurst shows a record £1.57 billion of equity finance was invested in the digital sectors in 2015, more than four times the level of investment in 2011. Investment in the sector has remained high over the first three quarters of 2016.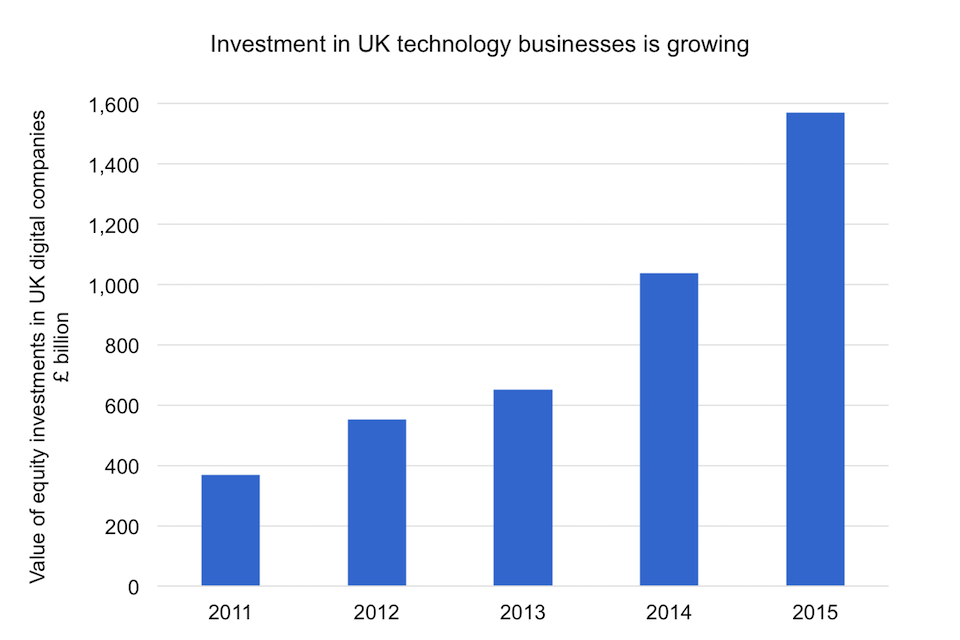 We want to make sure that the UK remains the best place in the world to do business. As well as encouraging home-grown digital companies to start and grow, we need to attract innovative digital companies to come to the UK. This work will be led by the Department for International Trade, working closely with the National Technology Adviser and our network of embassies around the world.
Over four hundred inward investment projects were secured in the UK in 2014/15 with DIT/UKTI assistance - including both companies new to the UK, and expansions from companies already located here. Government works to encourage overseas technology companies to expand internationally into the UK to strengthen our technology clusters and enhance the UK's competitive edge. Both here in the UK and overseas, we strongly promote the message that the UK is not only the best place to internationalise, but that we have the clusters that make us the best place in the world to find innovative technology solutions, products and services.
---
International investment in the UK's digital sectors
The UK's digital sectors have had a number of investment success stories in the past year.
The UK Tech sector drew more investment than that of any other European country in 2016,7 with a number of major investments in UK digital businesses:
There have been a number of substantial investments from leading international tech companies:
There have been several acquisitions of world-leading companies that were founded in the UK:
Leading technology investors have chosen to locate in the UK or raised further investment funds, including:
There have been major investments in cloud data centres, which will help UK firms work smarter and faster:
Amazon - announced its first data centre region in London, bringing faster cloud computing to the UK25
IBM - announced four new UK data centres, tripling the number of facilities in the region26
Microsoft - announced its first UK cloud computing data centres are up and running, in London, Durham and Cardiff27
---
To boost our impact in emerging digital economies around the world, we are working to establish a network of UK Tech Hubs in five developing countries to work alongside the key existing hub in Israel. Tech Hubs are small, expert teams based inside the UK embassy tasked with driving UK economic growth by partnering British companies with innovative local start-ups. They enable local digital sectors to go global through British businesses, and help provide British businesses with a global competitive edge. They also drive collaboration on R&D, skills, innovation and technology between countries, leading to more trade and investment in the longer term, and forging a deeper, more strategic commercial and research relationship between the two countries.
This new network of Tech Hubs will be modelled on the successful UK Israel Tech Hub. Since its creation in 2011, it has enabled over 80 innovation partnerships between the UK and Israel28 with a deal value of £62 million.
As part of our wider industrial strategy, we are taking a number of other actions which will support the availability of finance to all businesses, including start-ups and scale-ups in the digital sectors. These include:
a Treasury-led review of Patient Capital, to understand better where there are barriers to the growth of long-term investment. The review will publish a consultation document in the Spring and make its final recommendations ahead of the Autumn Budget 2017
increasing our investment in venture capital by the British Business Bank by £400 million – to unlock £1 billion of new finance. This will act as a catalyst for the creation of larger funds to support follow-on investments in promising scale-up companies across the UK. The BBB will invest in funds alongside private investors, helping more late-stage venture capital funds to be created
Widening procurement
The Industrial Strategy green paper sets out how we will take a more strategic approach to government procurement to drive innovation and value across public and private sector supply chains. This offers a significant opportunity to support digital sectors, particularly for start-ups and scale-ups. A contract from government can transform the prospects of a small business, giving it credibility, income and the crucial first customer.
We will continue to procure through the Digital Marketplace - the platform that is helping the public sector buy what it needs to deliver great digital services. So far it has supported UK public sector organisations to spend over £1.7 billion with digital and technology suppliers. 56% of that (almost £1 billion) has been with small and medium-sized enterprises (SMEs). This has already significantly exceeded the government's ambitious target that £1 in every £3 spent will be with SMEs by 2020. Moving forward we will promote the use of the Digital Marketplace by local government and wider public sector bodies, to improve efficiency of procurement and lower barriers for digital and technology suppliers. Our target is for the proportion of the total sales to SMEs in the Digital Marketplace to rise by 10% year-on-year reaching at least £750 million a year by 2020.
Alongside this we will look at procurement across government, drawing in expertise from the digital sector itself, to see what changes can be made to help more British digital and technology suppliers benefit from government's own spending. Building on the Digital Marketplace's approach, we will embed user-centred, design-led, data-driven and open approaches in procurement and contracting across government by 2020.
The Small Business Research Initiative (SBRI), which connects public sector challenges with innovative ideas from industry through funding competitions, will continue to be a key route for this. Since its introduction in 2009, the SBRI has already had a number of notable successes in bringing innovative solutions from digital SMEs into government. For example, StepJockey Ltd developed its app for discouraging sedentary behaviour with a £200,000 SBRI contract from the Department of Health. StepJockey is now set to grow its business after securing £600,000 in private investment. In her speech to the CBI in November 2016, the Prime Minister announced that David Connell would lead a review to consider how to improve the UK SBRI in light of the equivalent US scheme, looking at how we can increase its impact and give more innovators their first break
Spreading the growth across the whole country
Supporting and growing digital clusters
London and the South East is now widely regarded as Europe's leading tech cluster, with incubators, accelerators and innovation centres creating an environment in which tech businesses can thrive. However, we will measure this Strategy's success not just by the national performance of the sector, but also by its strength right across the UK. This supports the government's broader objective, set out in the Industrial Strategy green paper, of rebalancing the economy across the whole country to create stronger and more resilient cities and regions.
Tech City UK's Tech Nation 2016 report shows that there are already a growing number of viable tech clusters across the UK. For example, Edinburgh has a thriving FinTech sector; Belfast's strengths include app and software development; and Manchester boasts a world-class digital media cluster.
Tech City UK's Tech North programme is helping to catalyse the development of the tech ecosystem around the seven northern cities of Hull, Leeds, Liverpool, Manchester, Newcastle, Sheffield and Sunderland. The Northern Powerhouse's tech businesses produce £9.9 billion GVA,29 with Manchester identified as the biggest cluster outside of the South East.30 Meanwhile there are similar programmes underway in other parts of the country, such as Tech East, and Croydon Tech City. Government will work with Tech City and other partners across the country to ensure the learning and best practice from these programmes are shared and reapplied to develop the tech ecosystem across the UK.
---
Tech City UK
Tech City UK, launched in 2010, has grown from supporting the East London tech cluster to accelerating the digital sectors across all regions of the UK through a number of different programmes:
FutureFifty - a network to support 50 of the UK's most pioneering late stage tech companies. Its members have created over 23,000 jobs and raised over £2 billion since starting the programme; four companies, including FarFetch, are now valued at $1 billion and others, such as Just Eat and Zoopla, have listed on the London Stock Exchange
Upscale - a six month mentoring programme to help the most promising early stage start-ups to scale-up. Previous participants include Improbable, Kano and Administrate. In January 33 new companies from across the UK joined Upscale31
Digital Business Academy - a free online platform providing training on how to start, grow or join a digital business. The Academy has so far attracted 17,000 active users since its launch and includes access to work and start-up opportunities
Tech City UK will be a crucial partner in delivering our ambition to grow the tech sector right across the country.
---
Encouraging innovation in digital for social good
The use of digital technologies to generate positive social impact ('social tech'), has emerged in a number of fields, from the provision of healthcare to addressing financial exclusion. The UK is a world leader for social tech. Programmes such as Bethnal Green Ventures in London and Dotforge Impact in Manchester are the first of their kind in the world and have now supported over a hundred new social tech businesses. The government has supported projects such as these through the £10 million Social Incubator Fund, and we will continue to support the UK's social tech ecosystem.
Some people in the UK struggle to access and engage with the financial system. This can make it difficult for them to manage their finances, access the best value goods and services, absorb financial shocks and plan and provide for the future. Digital solutions can play an important role in helping with some of these issues. For example, the government has supported a pilot of Affordable Loans, an online portal that makes it easier for consumers to access loans from responsible lenders.
In order to support digital innovation that helps people better manage their money, we will launch a competition to encourage the development of digital approaches to support financial inclusion. This will be run by Tech City UK, as part of its wider role on FinTech, with external support from both charitable and financial service providers.
Outside of financial inclusion, the Council for Science and Technology will undertake a number of studies considering the opportunities for society from emerging technologies, including how technology can help extend healthy and independent living for ageing populations.
Digital technology also offers opportunities to engage citizens in social action in new ways, from providing platforms to facilitating mass movements. That is why during the last Parliament we supported a range of innovative social action projects that use digital technology, helping them develop and grow, including as part of a £10 million Innovation in Giving Fund. We have provided support for tools and platforms that make it easier to find opportunities to volunteer and give, such as Do-it and Localgiving. We will continue to look for ways that digital technology can promote and support social action, providing government support where it can make a difference.
---
Maximising the impact of our specialist digital sectors
Many of the developments in digital technology and innovation are transforming our public services as well as the experiences we all have as users of those services. Some examples of these are set out in the sixth chapter of this strategy. The benefits of these developments are not just for the end users, but for the economic prospects of the sector creating them.
HealthTech
Across England, National Health Service clinicians are working to improve patient outcomes through innovation, with initiatives such as:
the work of the National Information Board to deliver the Personalised Health and Care 2020 agenda, including support for the Code4Health initiative, which has delivered innovative apps such as Open Eyes, an electronic medical record for eye care, and the DIADEM tool to improve diagnosis of advanced dementia in care homes
the NHS Test Bed programme, which explores the potential of technologies such as mobile and wearable health self-management tools and monitoring devices
putting patients in the driving seat for managing their own care using telehealth, apps and digital tools, for example through the NHS.UK platform with increased online patient services and patient access to personal health records
We will facilitate improved access to the health and care services for the right products through:
addressing the barriers that inhibit the delivery of innovative digital health products to NHS patients, by taking forward the recommendations from the Accelerated Access Review (AAR)
accelerating the uptake of new innovation, including devices and apps to help patients with chronic health conditions, by guaranteeing reimbursement for the use of approved innovations
NHS England will commission the approval of clinical apps by the appropriate regulator by March 2017, offering support to patients, including those with long-term conditions, in managing their health. They will create a developer ecosystem giving access to standards, sandbox, kite marking and technical assessment to allow patient led access to records and other data from trusted services
The NHS produces a wealth of data with huge potential to improve decision making, clinical pathways and efficiencies. Access to this will be improved for both patients and professionals, whilst ensuring security and privacy:
through the implementation of the recommendations of the National Data Guardian's Review of data security and consent
real-time digital information will be available to patients and clinicians by ensuring health and care records are digital by March 2020
the MyNHS website will give better data on how NHS services are performing, developing to provide maps, graphs and tools so patients can see how the performance of their local services has changed over time
This work programme will have the dual benefit of helping innovators in the digital health sector, by clarifying and accelerating the access pathway and evidence requirements for digital health products through the AAR and app assessment process.
The UK is also home to a number of innovative digitally-focused health enterprises, including Babylon (who offer virtual consultations with doctors and are bringing AI to digital healthcare), Big White Wall (who have created a safe online community for people to share what's troubling them and support each other with the help of trained professionals), and many others.