About the cartel screening tool
Updated 15 December 2017
This guidance was withdrawn on
The screening tool has been withdrawn from use.
© Crown copyright 2017
This publication is licensed under the terms of the Open Government Licence v3.0 except where otherwise stated. To view this licence, visit nationalarchives.gov.uk/doc/open-government-licence/version/3 or write to the Information Policy Team, The National Archives, Kew, London TW9 4DU, or email: psi@nationalarchives.gov.uk.
Where we have identified any third party copyright information you will need to obtain permission from the copyright holders concerned.
This publication is available at https://www.gov.uk/government/publications/screening-for-cartels-tool-for-procurers/about-the-cartel-screening-tool
About the tool
Together with Spend Network, the Competition and Markets Authority (CMA) has developed a 'Screening for Cartels' tool to help procurers screen their tender data for signs of cartel behaviour. Cartels are where suppliers work together to avoid competing for customers or contracts. One way they do that is to 'fix' tenders for contracts by agreeing what each bidder will bid.
Having a cartel in your supply chain can raise prices 30% or more. Using this tool could help you spot potential illegal cartel activity and save money for your organisation and the taxpayer.
The UK anti-corruption strategy 2017 to 2022 encourages procurers to use the tool to help them in their fight against illegal cartel behaviour and to investigate and report such activity to the CMA.
The free tool is digitally signed with Microsoft Authenticode certification and has been awarded a statement of digital quality assurance from the Government Digital Service (GDS). The tool is available for download on GitHub, an open source development platform. To receive log in details to access the GitHub site, please email screeningforcartels@cma.gsi.gov.uk. You will be able to download the tool, where you can test your procurement data. This data will not be seen by anyone unless you choose to share it. The tool user guide will be sent with the GitHub log in details and includes advice on what to do if your tests flag suspicious results.
The tool is available under The Open Government Licence (OGL), which is a simple set of terms and conditions that facilitates the re-use of a wide range of public sector information free of charge.
We do ask that you give us some feedback in terms of how you have used the tool. Get in touch at screeningforcartels@cma.gsi.gov.uk
Using the tool
To use the tool, you will need the following documents which will need to be saved in the file structure set out in the user guide:
invitation to tender document
bid submissions from all bidders
the identity of the winning bidder
you will also need to create a 'bidinfo' file for the pricing information contained in each bid
The data from each tender is scored against each test, and each test is weighted.
The tests
Working with Spend Network, we identified indicators of cartels, prioritised the indicators and developed algorithms. These algorithms allow the tool to test for suspicious signs in 3 key areas:
the number and pattern of bidders
pricing patterns
document origin and low endeavour submissions
Any of these, or combinations of them, could be a sign of bid-rigging.
We used the data from over 100 tenders involving nearly 500 bids to refine the tests.
The results
The combined and weighted total gives a 'suspicion score' for the tender exercise. Your results might look like this: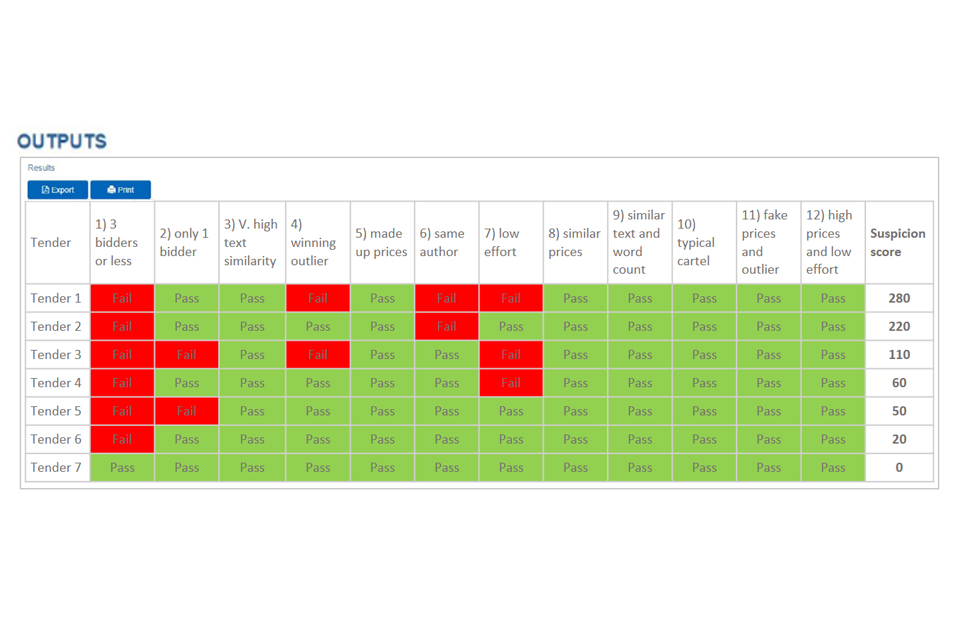 The pass/fail threshold and weighting of each test can be adjusted to more closely reflect your knowledge of the market, suppliers and bids or the value you place on a test. For example, if you have a procurement framework that might make three bidders or less (test 1) inevitable, you might adjust the weighting down to zero.
The suspicion scores highlight which tenders are more likely than others to be suspect. So, a high score doesn't prove the existence of a cartel nor mean procurers should immediately contact the CMA, but could be cause to go back to the bid documents and look again and ask questions.
Some ideas for possible next steps are set out in the tool's user guide.
Sharing suspicious results with the CMA
If the tool finds nothing, you can be more confident that your procurements are free of collusion. And if you do find something, better to know about it and put a stop to it, including by sharing your evidence with the CMA.
Cartels hotline
To report where you suspect, or have evidence of, businesses engaging in price-fixing, bid-rigging, market-sharing or sharing sensitive information call 020 3728 6888 or email cartelshotline@cma.gsi.gov.uk
The CMA has a collection of information on bid-rigging detection and prevention, including:
Case study: Cornwall Council
Steve Sandercock, Commercial Governance and Development Manager, Commercial Services, Cornwall Council, on how they made the cartel screening tool work for them:
We heard about the tool at a CMA workshop on the dangers of bid-rigging. We were keen to get involved and saw the tool as an easy to use, practical way of giving us additional assurance.

When we discussed it with our IT team we were faced with some firewall issues. We recognised the tool's value and pushed them to come up with a solution. And they did – we have now integrated the tool into our systems.

Our next step is to determine how we best exploit it. We need to agree what particular triggers should prompt us to use it.

Our advice to other local authorities would be to take the time, at the start, to resolve technical issues. Don't be put off by them! You will need IT support, flag this to them as soon as possible so they are primed and ready to help you as necessary – they may come up with another solution that suits your organisation better.