Corporate report
PHE research 2017 to 2018: annual review
Updated 16 January 2019
© Crown copyright 2019
This publication is licensed under the terms of the Open Government Licence v3.0 except where otherwise stated. To view this licence, visit nationalarchives.gov.uk/doc/open-government-licence/version/3 or write to the Information Policy Team, The National Archives, Kew, London TW9 4DU, or email: psi@nationalarchives.gsi.gov.uk.
Where we have identified any third party copyright information you will need to obtain permission from the copyright holders concerned.
This publication is available at https://www.gov.uk/government/publications/phe-research-annual-review/phe-research-annual-review-2017-to-2018
Public Health England: a leader in public health research
During 2017 to 2018, Public Health England (PHE) continued to enhance its status as an excellent research organisation, undertaking a very wide range of studies, and publishing findings in 910 peer reviewed papers, many in the world's most acclaimed scientific and clinical journals.
This report profiles research carried out by PHE, often in partnership with academics, clinicians and field researchers from across the globe which was supported by funding from the public and other sectors. It shows how this research has yielded evidence that underpins the development of programmes to protect and improve public health. It also shows how PHE discharges its responsibilities as a public health organisation.
PHE also offers a very rich learning and training environment which offers a step-up for public health researchers towards a rewarding career. PHE contributes significantly to training the next generation of researchers, with just over 70 PhD students from institutions across the globe spending a significant portion of their training time in PHE.
These students, while bringing their expertise to the UK, in return gain insights into how research informs practice and policy, either in national or local public health programmes or in mitigation of the impacts of outbreaks, disasters and other emergencies globally.
Key findings published by PHE and collaborators during the year came from work done during the response to the 2013 to 2016 West African Ebola virus outbreak. PHE staff undertook critical roles by being directly deployed overseas to front line diagnostics laboratories and treatment centres. The ongoing Ebola outbreak in the Democratic Republic of Congo (DRC), which is now the second largest in history, highlights the continued threat from this pathogen.
Whether for Ebola or Zika, immunization or antibiotics, radiation or physical activity, research is essential for a public health organisation to move forward, allowing it to develop and apply its evidence base and expertise. Every health improvement programme, every emergency response is a learning opportunity but only if we apply appropriate research methodologies with scientific rigour so that the knowledge we gain document and disseminate is reliable.
The following case studies provide just a few key highlights from the wide range of activities that PHE are involved in. We are proud to be among the world's most research active health agencies.
1.

Case study 1
1.1

How do we know if vaccine programmes are effective?

PHE provided early analysis of vaccine effectiveness for the teenage MenACWY vaccination programme, instigated as an emergency response to the rapid increase in cases of meningitis and septicaemia caused by a highly virulent group W meningococcal (MenW) strain in healthy children and adults. The UK experience has served to aid decision-making in other countries across Europe and Australia where the same hypervirulent MenW strain emerged.
The challenge
In February 2015, the UK expert Joint Committee on Vaccination and Immunisation recommended that teenagers and new university entrants should be offered MenACWY vaccine as an emergency response to an outbreak of MenW disease with a high case fatality rate.
The programme was announced by the (then) Department of Health in June 2015 and immunisation of the oldest teenage cohort began in August that same year. The timeline was critical for offering protection to new university entrants during their period of highest risk.
There were challenges in motivating older teenagers to take up the offer of MenACWY vaccination despite PHE previously describing the serious consequences of MenW disease in this age group.
The approach taken in the UK was different from that employed in Chile, where children under 5 years were targeted for the same vaccine and disease reduction was observed only in the vaccinated age groups. The UK programme offered the vaccine to teenagers who have the highest meningococcal carriage rates, meaning that the programme would not only provide direct protection for the teenagers but broader population protection through interruption of carriage.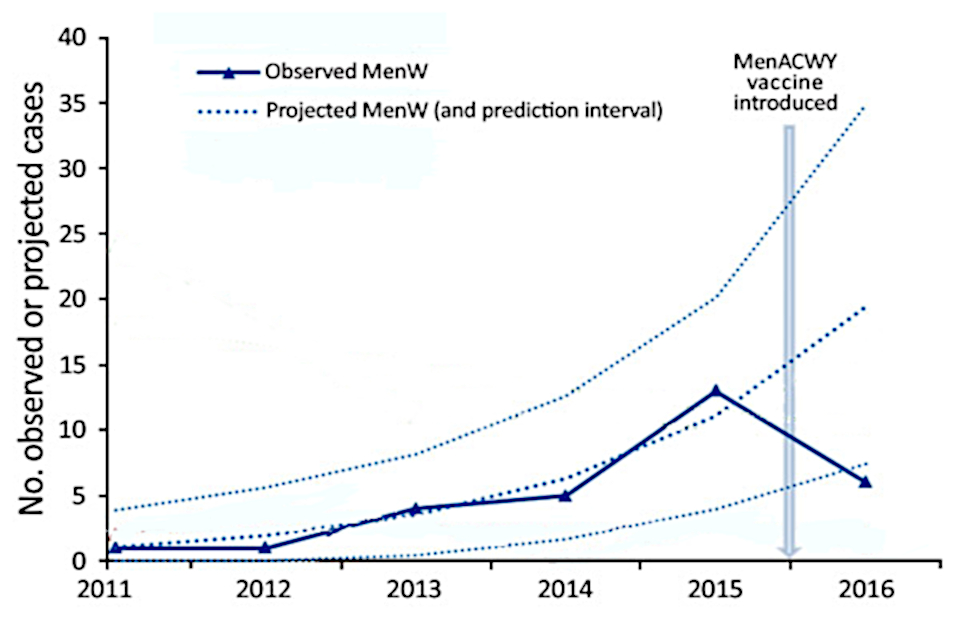 Impact
This early analysis of the MenACWY programme in England provided clear evidence of the direct impact on the first cohort of teenagers to be offered vaccination: cases were 69% lower compared to the predicted numbers of cases in 2015 to 2016 (see figure below). So far, there have been no cases of group A, C, W or Y meningococcal disease in teenagers who were vaccinated under the programme, providing evidence of high vaccine effectiveness. The acceleration in MenW cases across all age groups has also declined, which is consistent with population protection predicted by the teenage immunisation programme.
The experience in the UK has been important in informing other countries where this hypervirulent strain later emerged. Western Australia has recently initiated a MenACWY vaccination programme and the Netherlands has agreed that an adolescent MenACWY programme should be implemented.
Source: DOI: 10.3201/eid2307.170236
2.

Case study 2
2.1

Predictors of self and parental vaccination decisions in England

PHE, in collaboration with University College London, investigated the predictors of vaccination decisions during the 2009 influenza pandemic.
The challenge
During the 2009 H1N1 influenza pandemic (commonly known as swine flu), UK uptake of the pandemic influenza vaccine was very low. The vaccination programme aimed to achieve 75% vaccine uptake among priority groups but, in England, an overall uptake of 34% was attained including just 23% in children under 5.
Influenza remains the most significant civil emergency risk to the UK. Given the threat posed by a future influenza pandemic and the low uptake of vaccination in the prior pandemic (particularly among young children), further understanding of vaccine uptake among all ages of the UK general population during the H1N1 pandemic is critical.
Flu Watch was a study of households in England run between 2006 and 2011 to help improve understanding of influenza burden and the factors (demographic, social, and behavioural) associated with influenza transmission.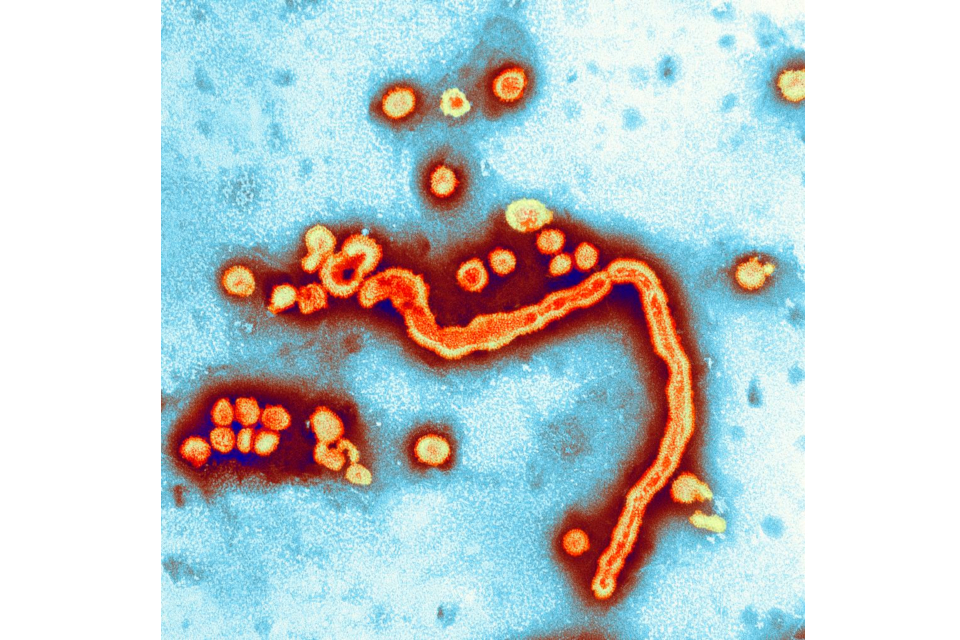 Impact
This research represents the first attempt to explicitly consider predictors of both adult self-vaccination and parental vaccination among the UK general population during the H1N1 pandemic. The central findings suggest that concerns over the efficacy and safety of the vaccine, as well as concerns regarding the perceived risk of pandemic influenza, are critical determinants in both self-vaccination and parental-vaccination. Future development of pandemic influenza plans should consider the potential for multicomponent interventions that specifically target perceptions of vaccination effectiveness and safety, as well as the perceived risk of contracting influenza, to increase uptake of a pandemic influenza vaccination.
Source: DOI: 10.1016/j.vaccine.2017.05.061
3.

Case study 3
3.1

Engaging people to combat antimicrobial resistance: a process evaluation of the UK-wide Antibiotic Guardian campaign

PHE developed and led a new UK-wide pledge campaign aiming to improve behaviours around the use and prescription of antibiotics.
The challenge
Both healthcare professionals and the public have a role in preventing the spread of drug-resistant infections. In the past, antibiotic awareness campaigns in the UK have used posters and leaflets in GP surgeries and pharmacies and adverts in newspapers.
PHE developed the Antibiotic Guardian campaign to move from raising awareness to increasing engagement, knowledge and stimulating behaviour change. Antibiotic Guardian is an intervention to improve knowledge and behaviours regarding antibiotic prescribing and use through an online action-based pledge system.
The objective for the first year of the campaign was to engage with 10,000 healthcare professionals and members of the public to pledge on AntibioticGuardian.com.
Impact
The campaign achieved over 12,000 pledges on AntibioticGuardian.com, and although 95% of pledges came from the UK, the campaign secured pledges from 81 different countries.
This study demonstrates, for the first time, measurable engagement in an antimicrobial resistance public health campaign. Demonstrating direct impact of the campaign on prescribing behaviours and antibiotic use was not possible due to other on-going efforts to optimise prescribing and promote prudent use of antibiotics in the UK. As an 'always on' campaign aiming to build sustainable behaviour change in the UK, Antibiotic Guardian will continue to be updated in light of the feedback and evaluation studies undertaken. More detail on pledges to the campaign, including peer-reviewed publications stemming from the campaign, may be found here at becoming an antibiotic guardian.
Source: DOI: doi:10.1093/pubmed/fdw059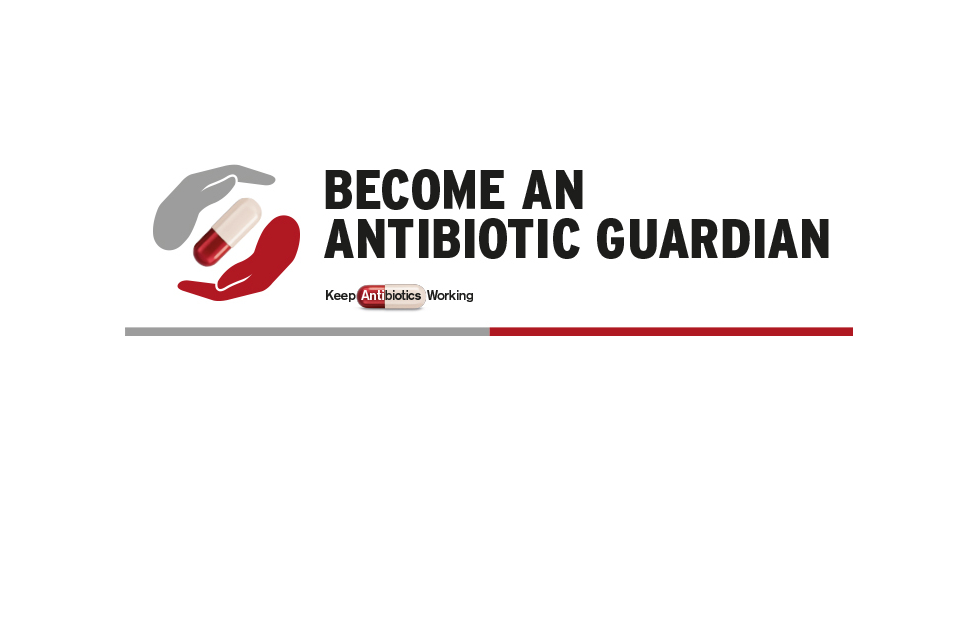 4.

Case study 4
4.1

Ebola Virus research

Though PHE has supported the clinical evaluation of the most advanced vaccine in development, there is an urgent need to perform further research to ensure licensure of vaccines and improve the response to control future Ebola incidents.

PHE staff co-authored 30 research papers on Ebola virus in 2017 concerning vaccine assessment, diagnostics, host immunity and infection, and response evaluation to the 2013 to 2016 outbreak. In addition, to support continuing global research efforts to prevent or prepare for future Ebola outbreaks, PHE is working with the Sierra Leone Ministry of Health and Sanitation to operate a biobank of biological samples from people who presented at clinics with symptoms suggestive of Ebola virus disease (EVD).

With funding from the Wellcome Trust, biobank samples are being shared with researchers who have been awarded funding from prestigious organisations. Their findings will be shared with PHE and collated in an openly-accessible resource to inform other researchers and public health colleagues, ultimately to the benefit of people potentially at risk from future Ebola outbreaks, whether in Sierra Leone or elsewhere.
4.2

Asymptomatic EVD and transmission
The challenge
Several articles, including those authored by PHE, have highlighted the existence of asymptomatic EVD but little is known about the potential of such individuals to transmit the disease. In 2016 the death of a 9-month-old baby in Guinea was associated with Ebola virus infection. Interviews with the parents revealed no prior experience of EVD however analysis of the mother's breast milk and father's semen, supported by PHE staff within the European Mobile Laboratory, revealed the presence of Ebola virus. Subsequent in-field sequencing using the mobile MinION device revealed that the asymptomatic father had infected his wife who subsequently transmitted the virus her to baby resulting in a lethal outcome.
Impact
These 2 key studies provide additional evidence of asymptomatic EVD infections and provide the first report that such individuals can transmit Ebola virus. This work builds on our collaborative revolutionary application of mobile sequencing to provide real-time molecular epidemiological capability in outbreak settings.
4.3

EVD co-infections and predictors of clinical outcome
The challenge
Is it possible to identify the people most likely to be susceptible to EVD?
Using data from an earlier PHE collaborative study, to assess the rate of mutations occurring the Ebola virus, the cellular immune response of EVD patients could be assessed at a very precise, genomic level. This study, in association with the National Institute for Health Research (NIHR) Health Protection Research Unit for Emerging and Zoonotic Infections, revealed 10 genes that were significantly upregulated in individuals with a lethal outcome.
Impact
The highlighted genes were associated with blood coagulation and liver damage, and could be used to rapidly and accurately identify patients at EVD treatment centres during triage to assist in determining the most effective use of resources and treatment pathways. In an associated study, the details of co-infections experienced by individuals with EVD were revealed. Importantly, the prior reports of malaria co-infection associated with improved survival were not supported. Additionally, the existence of several bacterial species associated with normal GI tract flora, in the blood of EVD patients, suggested translocation from the gut at the early stages of disease. These studies performed in collaboration with the EMLab and MSF should improve patient care during future outbreaks.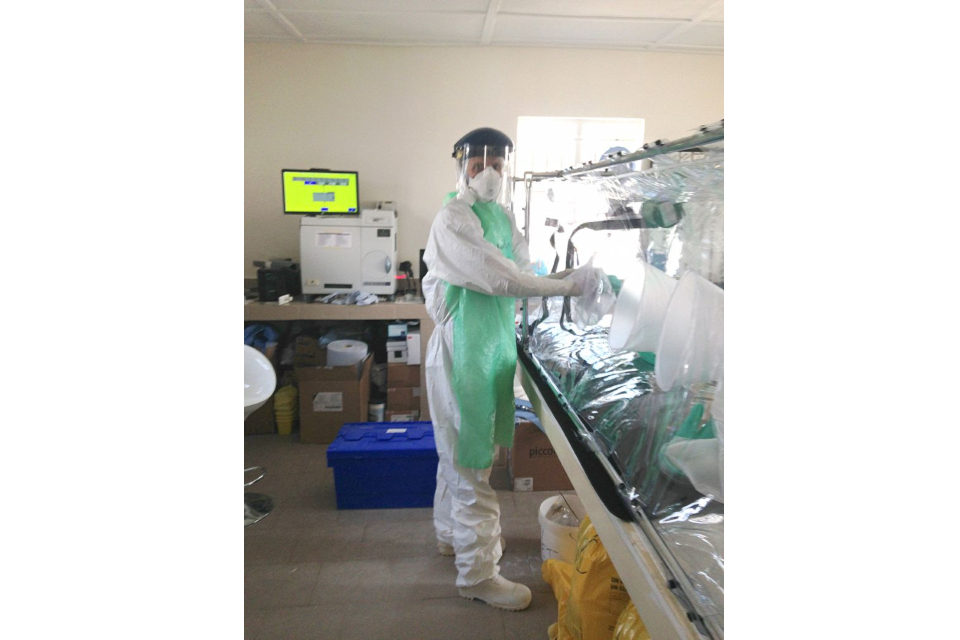 4.4

Ebola exposure and illness experience in volunteer responders

The international response to the Ebola epidemic resulted in the deployment of emergency teams to Liberia, Guinea and Sierra Leone. Volunteers included water, sanitation, hygiene and laboratory workers, epidemiologists, engineers, logisticians, and operations staff as well as clinicians. The World Health Organization (WHO) reported that 40 organisations from 19 countries sent volunteers to West Africa, with over 3,000 individuals deployed by the US Centers for Disease Control and Prevention alone.
The challenge
Only a small number of international staff were diagnosed with EVD, but as asymptomatic or unrecognised infections can occur, it is possible that some infections in volunteers were missed.
PHE, in collaboration with the London School of Hygiene & Tropical Medicine, carried out an online survey and testing of oral fluid samples from 268 individuals who returned to the UK and Ireland after working in West Africa during the Ebola outbreak. Of the 268 who were tested for antibodies (as an indicator of exposure to the Ebola virus), 2 had initial positive test results. Further testing suggested this was a false-positive result, perhaps due to molecular interactions within the test, and neither exhibited any symptoms of the illness. A high number of other near-miss events were reported, and less than a third of individuals who experienced illness whilst in West Africa or soon after return were tested for Ebola virus while they were unwell.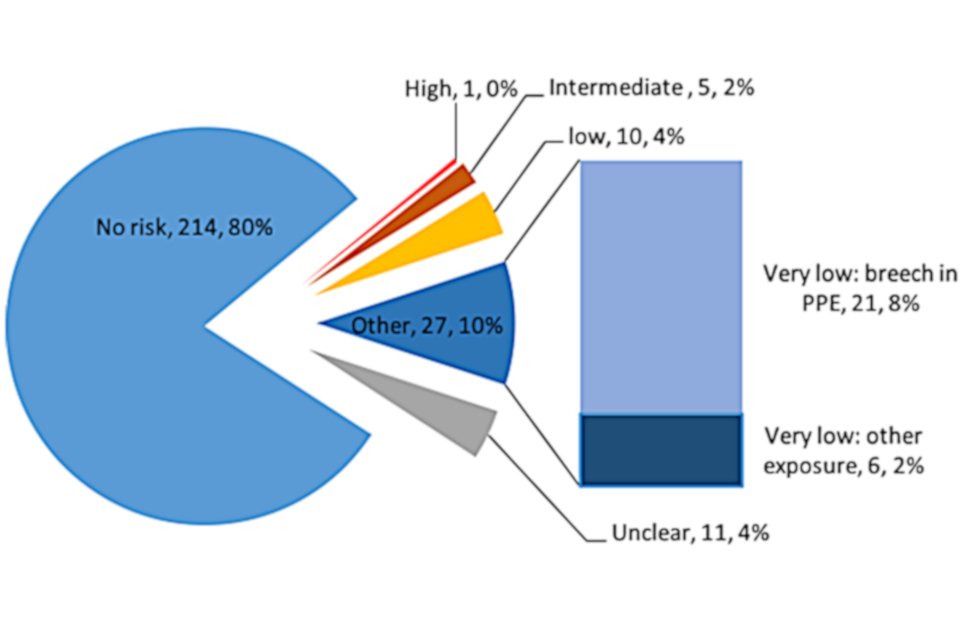 Source: journals.plos.org/plosmedicine/article?id=10.1371/journal.pmed.1002300
Impact
This was the first study of the prevalence of Ebola virus infection in international responders. It demonstrated that asymptomatic Ebola virus infection was rare in international healthcare and other workers who responded to the epidemic in West Africa. There was no evidence of infection with Ebola in individuals who were considered to have had a risk of transmission, such as who had experienced a near-miss or exposure event.
The descriptions of near-miss events and the finding that many of those who experienced illness were not tested at the time suggest that protocols for the management of possible exposure to Ebola virus and for the management of illness should be reviewed and standardised across organisations that deploy staff to outbreaks.
Sources for case study 4 Ebola Virus research:
5.

Case study 5
5.1

Lessons from an international public health emergency

PHE has examined the reasons why Zika was declared a Public Health Emergency of International Concern, why it stopped being one and what we can learn from this for the future.
The challenge
The association of Zika infection with clusters of microcephaly and other neurological disorders was originally declared a Public Health Emergency of International Concern (PHEIC) by the World Health Organization on 1 February 2016 and was in place for 9 months until November 2016.
Zika was first identified in Uganda in 1947 and was considered a mild illness with clinical similarities to dengue and many other tropical infectious diseases. The first large human outbreak was in Micronesia in 2007.
An outbreak in French Polynesia between November 2013 and February 2014 was the first associated with increased incidence of neurological complications, including Guillain-Barré syndrome.
Zika appears to have arrived in Brazil by early 2015 and by October 2015 an increase in notifications of microcephaly in newborn babies were reported. This escalated so rapidly that on 11 November 2015 microcephaly was declared a national public health emergency in Brazil. The rise in microcephaly was linked by time and place with a rise in Zika infection.
The original Public Health Emergency of International Concern declaration was based on the increase in microcephaly notifications in Brazil, and the possibility of this being linked to Zika infection in pregnancy.
Impact
The purpose of the PHEIC declaration was to stimulate global action to define the nature of the relationship between Zika and microcephaly, as well as to identify appropriate public health actions to mitigate the risk, particularly for pregnant women. The declaration was not primarily declared to stop the spread of the outbreak (unlike the earlier Ebola emergency).
Despite global efforts to predict future outbreaks, the link between Zika infection and microcephaly was an unexpected finding. In the absence of a vaccine, public health agencies, governments and doctors had little to offer women, apart from advice on avoiding mosquito bites, delaying pregnancy or avoiding travel to areas with active Zika transmission. Although better planning for an emerging infection might not have increased the options available for patients, it could have facilitated the development of better risk communication strategies.
The response to Zika highlighted differences in approaches between countries and public health agencies and the challenges of maintaining a 'pure' public health approach to advice. One example was the use of insecticide (disinsection) to decontaminate planes travelling from Zika-affected countries. Although disinsection of planes is routinely practiced in many countries as part of a malaria control strategy, the Zika response illustrated that the evidence base for this approach is not robust.
The Zika outbreak demonstrated again the challenges in maintaining a clear evidence-based approach to outbreak response and the challenge to ensure that advice is not contrary to the evidence.
Source: DOI: 10.1016/j.puhe.2017.05.008
6.

Case study 6
6.1

Understanding knowledge, skills and confidence gaps to move the nation

PHE undertook primary research to understand GPs' knowledge, confidence in and use of national physical activity and health guidelines, in order to develop a new, whole-system approach for embedding brief advice on physical activity into routine clinical practice.
The challenge
In 2011, the UK Chief Medical Officers issued age-specific guidelines on physical activity for the general population. Inactivity is among the top 10 risk factors for disease and disability in England.
One in 4 people say they would be more active if advised by a GP or nurse. Health professional-led physical activity interventions are very effective, with brief advice for physical activity up to 10 times more effective than brief advice about smoking. Advice about physical activity as a routine part of healthcare services has been identified as one of the best investments for increasing physical activity levels in patients. Behaviour change is best supported by repeated routine advice, supplemented by assessment tools to reinforce progress and achievement.
The aim of this study was to assess GP knowledge, confidence in physical activity guidelines and assessment tools.
Impact
The research elicited over 1000 responses. As shown in the figure below, only 20% of respondents were 'broadly or very familiar' with the national physical activity guidelines. While many GPs were aware of the recommended physical activity questionnaire for use with patients, a significant proportion was not aware of the associated assessment tools. Over half of respondents reported that they had not undertaken any training about how to encourage physical activity.
This study highlighted the need for significant improvement in knowledge, skills and confidence to maximise the potential for physical activity advice during GP consultations. PHE used this work to develop a multi-strand approach to closing this gap through the Moving Healthcare Professionals Programme.
The Moving Healthcare Professionals Programme is a partnership programme with Sport England about embedding physical activity teaching resources in medical undergraduate education for doctors. The programme has delivered face to face training to over 4,000 doctors, embedded undergraduate resources in 17 out of 35 medical schools and seen over 80,000 e-learning modules completed.
Source: bjgp.org/content/67/663/e668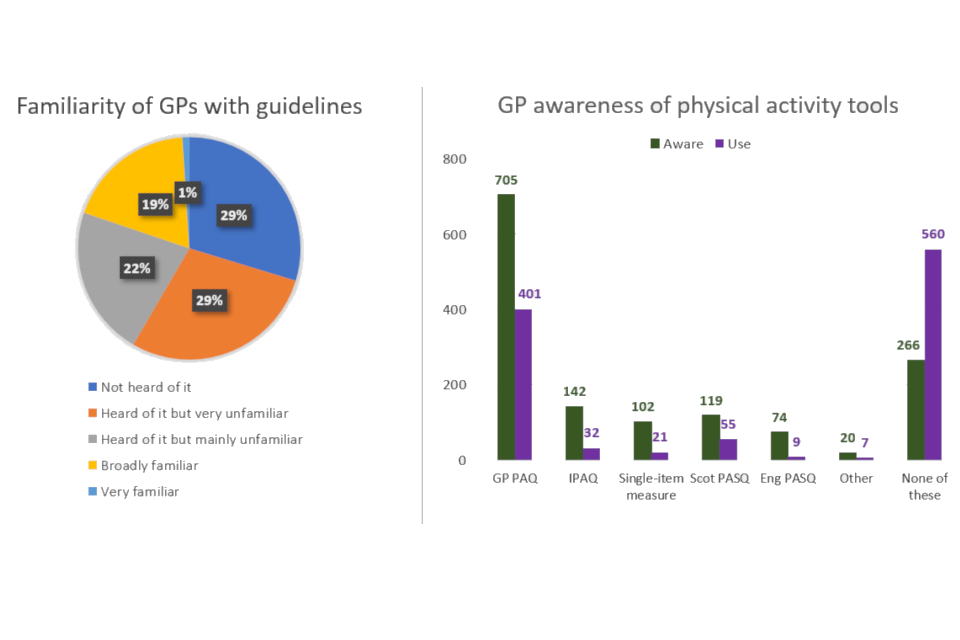 Source: doi.org/10.3399/bjgp17X692513
7.

Case study 7
7.1

Prison-based opioid substitution treatment and risk of death

PHE, in collaboration with King's College London, University of Bristol, University of New South Wales and the University of Manchester investigated the effectiveness of prison-based opioid substitution treatment (OST) in reducing the risk of death after release from prison.
The challenge
Illicit heroin is associated with a high risk of death (particularly among people who inject drugs) and this increases with age especially among men. The leading cause of death in this population is accidental poisoning (overdose). Prisoners with opioid use disorder face an acute risk of death on their release to the community, particularly in the first month. In this large-scale national study we investigated whether prison-based OST at release reduced post-release mortality and whether OST improved engagement with community-based treatment services.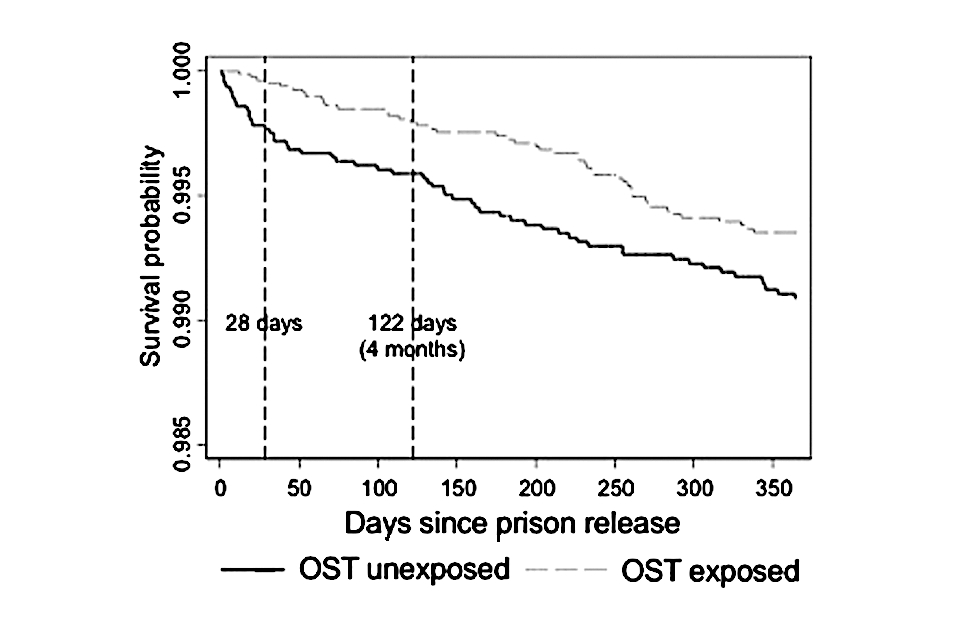 Impact
PHE research observed that OST was associated with a 75% reduction in all-cause mortality and an 85% reduction in drug-related poisoning mortality in the month following release. The strengths of our study include: findings based on a large sample of prisoners with opioid use disorder (OUD); the use of administrative databases for recording OST exposure; outcome estimates subject to confounder control; and clinically important findings which apply to both the prison and community drug misuse treatment systems in England and elsewhere. Our study shows that prison-based OST is a highly effective means of reducing the risk of death in the first 4 weeks after release.
This study was awarded the 2018 European Monitoring Centre for Drugs and Drug Addiction scientific award for demand reduction interventions research.
Sources:
8.

Case study 8
8.1

Is cancer the only significant health risk from occupational radiation exposure?
The challenge
Radiation protection legislation is primarily focused on protecting against excess risks of cancers however at therapeutic dose levels there is good evidence that radiation can damage the heart and circulatory system. Recent papers have also shown evidence of radiation related risks of heart disease mortality in Japanese atomic bomb survivors. Do excess risks occur among occupationally exposed workers and the public who are exposed to much lower chronic doses?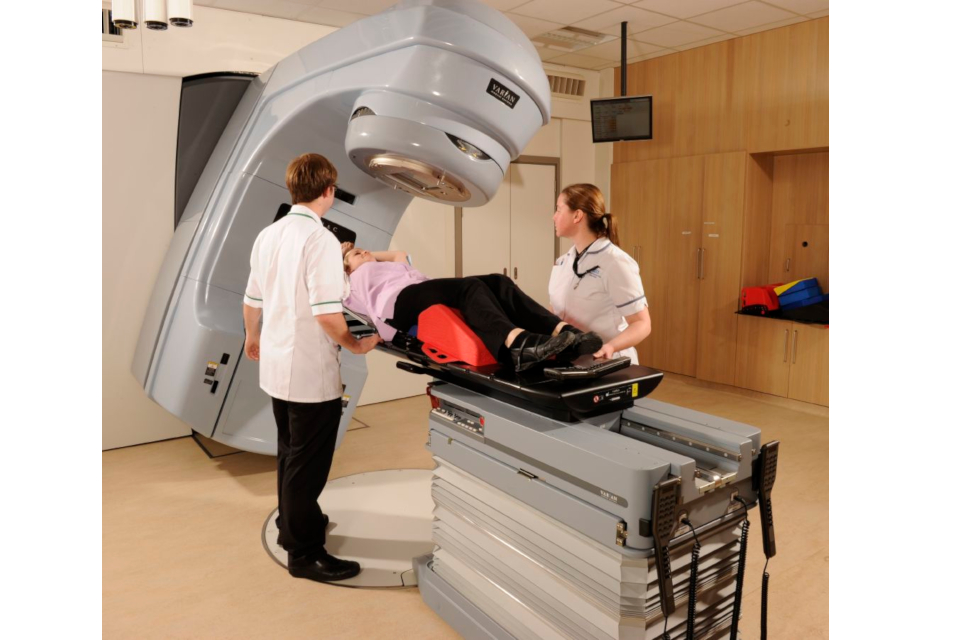 Impact
The INWORKS project is a collaboration between PHE, the International Agency for Research on Cancer and several other leading research groups in France and the USA. Its aim is to investigate and provide evidence of radiation risks based on the pooling of data from occupational cohorts in the UK, France and the USA. The UK component is based on the National Registry for Radiation Workers that is run by PHE.
PHE has led on the part of the work investigating the effects of radiation on non-cancer disease risk. This research published at BioOne Complete has identified a significantly raised risk of circulatory disease risk that appears to be driven by raised risks from cerebrovascular disease and ischemic heart disease. The estimates are generally consistent with those observed in studies on atomic bomb survivors. These earlier studies have been the main source of evidence upon which the UK radiation protection regulations are based. However, the current study also provide evidence that the risks are not well defined and that further research is needed to better characterise non-cancer risks.
9.

Case study 9
9.1

Benefits of sunlight on blood pressure

Research at PHE confirms the ability of sunlight to cause skin cells to produce chemicals that can relax blood vessels and reduce their pressure
The challenge
Elevated blood pressure is a major contributory factor for many diseases and in the UK, it is the third biggest risk factor for disease after smoking and poor diet. Over 12.5 million people in the UK have high blood pressure, and over 7 million have been diagnosed with cardiovascular disease, a common consequence of high blood pressure. Measures that can mitigate high blood pressure even to a modest level would have a very significant overall national impact. Further, cardiovascular disease alone costs the NHS over £8 billion a year, a significant part of which is for medication that relaxes blood vessels.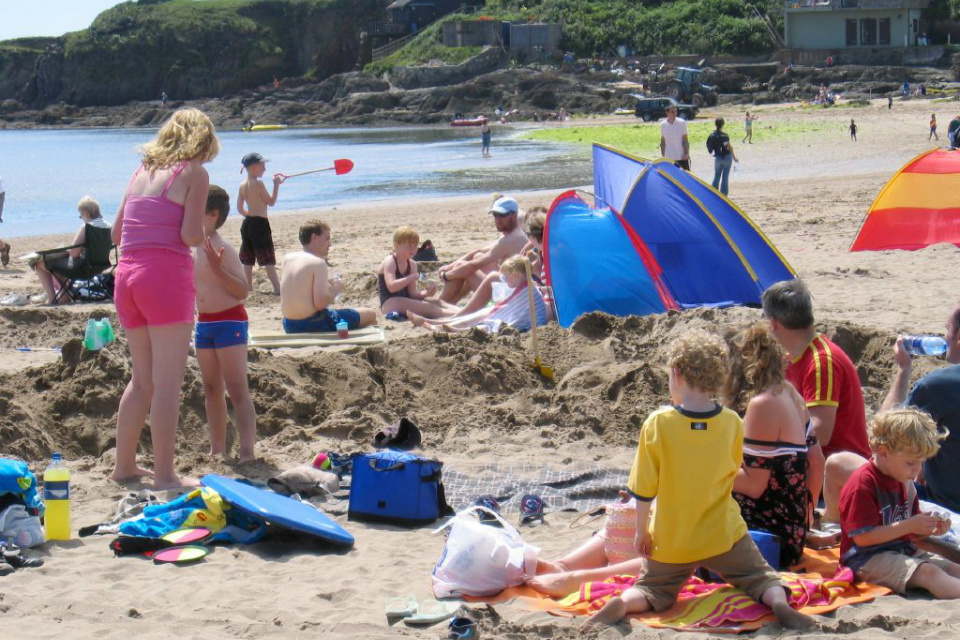 Impact
Research in PHE demonstrated that some parts of the sunlight spectrum can stimulate skin cells to produce chemicals such as nitric oxide (NO) which is highly effective in relaxing blood vessels, thereby enabling blood pressure to decrease. This beneficial feature of sunlight has to be balanced against the known risk of skin cancer, including melanoma. Researchers filtered out the harmful portions of sunlight that are linked with melanoma development and demonstrated that the far less harmful parts of sunlight were still highly effective in stimulating NO release from skin cells. Further investigations are continuing in order to understand the practical applications of this knowledge such as the optimal amount of sunlight exposure, the duration of effectiveness, the variations with seasons and the potential influence of diet on the observed effect of sunlight. This information will be used to formulate new guidance on how we can stay safe and benefit from healthy sun exposure.
Source: DOI:10.1038/s41598-017-11567-5
10.

Case study 10
10.1

Controlling Tuberculosis

Tuberculosis (TB) is the leading cause of death globally due to an infectious disease and despite major international efforts this disease remains a major threat to public health.

In 2017, PHE reported that sustained progress in the control of TB in the UK was being made with a 30% decline in incidence between 2011 and 2015. This decline was attributable to a combination of global and national initiatives and in particular, action taken as a part of the national tuberculosis strategy, developed by PHE and NHS England between 2013 and 2015. The collaborative strategy identified areas for action and priorities such as addressing latent TB in new entrants to the UK and the identification and management of cases in vulnerable groups and those with social risk factors.

The WHO End TB strategy requires a 10% annual decline in cases globally by 2025 and the promising data from PHE and its partners indicate that this is achievable by combining expertise, knowledge and political commitment. Such levels of effort and commitment must be maintained in the UK and other countries, but the more ambitious WHO target to achieve an annual decline in cases of 17% from 2025 to 2035 will only be achieved by the introduction of new tools, including better diagnostics and drugs and new vaccines.
10.2

Promising new vaccines on the horizon

PHE researchers are key partners in collaborative projects aimed at identifying novel vaccination strategies, including prophylactic and post-exposure vaccines. The TBVAC2020 project is the latest of a series of EU-funded consortia which bring together a breadth of expertise in vaccine discovery and development in order to identify potential candidates for clinical testing.
The challenge
The current vaccine, BCG, is effective at protecting infants against severe forms of TB but it has variable and globally insufficient efficacy against pulmonary TB in adults. There is therefore an urgent need for a safe and efficacious vaccine that is superior to BCG with regards to preventing infection or disease in the various at-risk populations. Given the complexity and variability of the disease in these different populations and geographical settings, a multi-pronged approach is required, with a single vaccine being unlikely to be suitable for all forms of TB.
Impact
PHE provides specialised, pre-clinical testing that enables the identification of the most efficacious vaccines and which supports their progression to the clinic. The vaccines are tested in an un-biased manner and often in studies where several candidates are tested head-to-head, enabling prioritisation. Many of the vaccines currently in clinical trials were previously screened by PHE researchers who are now supporting the development of several promising new candidates and concepts. This includes 1 vaccine, MTBVAC, an attenuated version of Mycobacterium tuberculosis which was shown to offer strong protection when used in a re-vaccination approach with BCG.
10.3

Studies of BCG vaccination in the UK informs new vaccination strategies
The challenge
Whilst progress is being made in identifying novel and promising vaccine candidates, the pace of their clinical development is slow. This is due to many factors including the nature of the disease which may develop months or years after initial infection, limited resources and the lack of a correlate of protection. Gaining information from clinical studies involving the existing BCG vaccine could be highly informative for the testing of new vaccines.
Impact
A study involving PHE aimed to assess the duration of protection of infant and school-age BCG vaccination against TB in the UK. The conclusion was that vaccination of infants in a high-risk population provided protection for at least 10 years, whereas BCG given to school-age children gave protection for at least 20 years. This evidence may indicate a benefit of vaccinating with BCG or a novel vaccine at school age in order to extend the duration of protection into adulthood.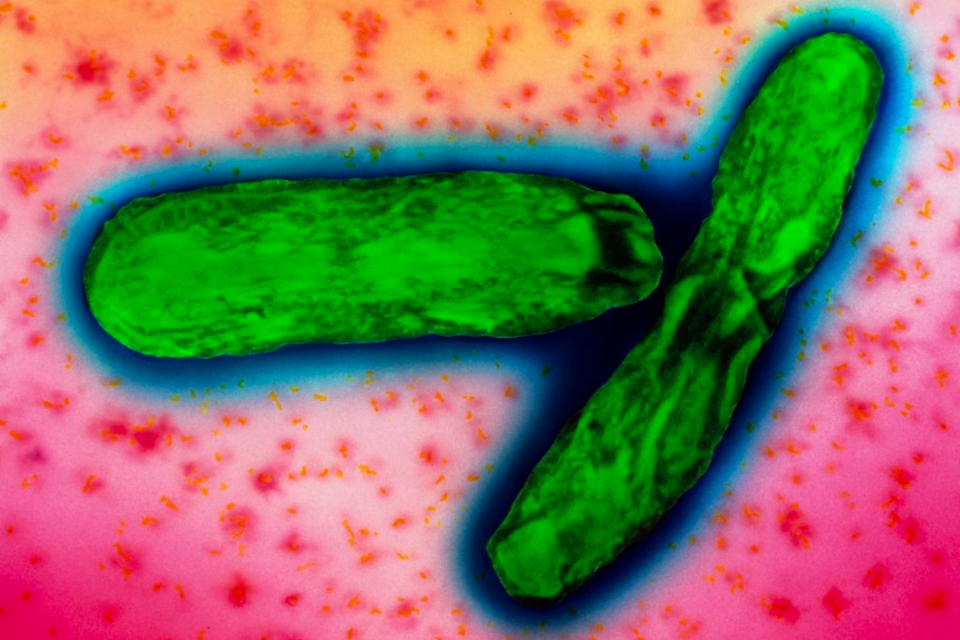 10.4

A tool to measure vaccine-induced functional immune responses
The challenge
There is no single validated indicator with which to measure the efficacy of new TB vaccines in stimulating protective immune responses. Thus, the only way to demonstrate efficacy is to conduct studies which show that the vaccine protects against challenge with the pathogen. These are lengthy and costly studies and therefore the number of candidates and parameters that can be tested is limited by resources. Development of an assay to measure a vaccine-induced functional biological response representative of protection against infection or TB disease would represent a major advance in the effort to develop TB vaccines. Mycobacterial growth inhibition assays (MGIAs) represent 1 such clinically relevant approach.
Impact
The MGIA Project brought together an international group of scientific experts, including PHE researchers, to work on growth inhibition assays. Using whole blood or peripheral blood mononuclear cells (a type of white blood cells), the MGIA provides an unbiased measure of the vaccine-induced antigen-specific immune response. The results indicated that the MGIA has promise as a functional assay for the assessment of TB vaccines and is a potential model for investigating the mechanisms involved in anti-mycobacterial immunity.
11.

Reflection: impact through training
11.1

by Faye Lanni, PhD student

Tuberculosis is currently the leading cause of death worldwide by an infectious disease. PHE has a world class TB research group at Porton which I joined, after completing my MSc, to work in a team developing improved tools to accelerate the development of new anti-TB drugs.

PHE offers an opportunity for staff to register for part-time PhDs via the Open University. So, when I had the idea for my PhD studies I approached Dr. Ann Rawkins who supported me through writing the proposal and establishing a supervisory team.

The idea behind my project is to improve the accuracy and relevance of pre-clinical studies by using microdialysis to quantify the concentration of drugs over time and at the target site of action. This technique has never been used for anti-TB drugs and if successful would significantly improve the ability to optimise complex dosing schedules and reduce drug toxicity; factors that are very important in TB treatment.

This technique and the skills needed to develop it were new to the site and this posed many challenges. The enthusiasm of the Biological Investigations Group, the Supervisory Team as well as PHE colleagues both within and outside of the TB group is unrivalled. I have been fortunate enough to present this novel and exciting project both at national and international conferences.

A part time PhD is often thought to be a very daunting task, and although I am not denying it is difficult, there are many advantages to completing a PhD whilst being in full time employment such as career development and progression, improving generic laboratory skills, developing a publication record not dependant on PhD results, and having more opportunities for collaborations, not to mention flexibility with funding and time scales.

PHE have given me a wonderful opportunity to conduct a part time PhD and the very best start to what I hope will be a long and exciting career.