Guidance
Overview of MOT changes from May 2018
Published 29 March 2018
© Crown copyright 2018
This publication is licensed under the terms of the Open Government Licence v3.0 except where otherwise stated. To view this licence, visit nationalarchives.gov.uk/doc/open-government-licence/version/3 or write to the Information Policy Team, The National Archives, Kew, London TW9 4DU, or email: psi@nationalarchives.gsi.gov.uk.
Where we have identified any third party copyright information you will need to obtain permission from the copyright holders concerned.
This publication is available at https://www.gov.uk/government/publications/mot-changes-from-may-2018-guidance-for-mot-testers/overview-of-mot-changes-from-may-2018
Overview
The way that the MOT test works in England, Scotland and Wales will change from Sunday 20 May 2018.
The changes will affect cars, vans, motorcycles and other light passenger vehicles.
Watch a video of Neil Barlow, Head of MOT Policy at the Driver and Vehicle Standards Agency (DVSA), briefly explaining what's changing, or read the video transcript1.
MOT changes from 20 May 2018: overview for testers
1.

Defect categories

You will categorise defects you find during the MOT as either:

You must record all dangerous, major and minor defects. DVSA can take disciplinary action against you if you don't.

The MOT inspection manual tells you which defect category to use, depending on the type of problem and how serious it is.

You will still be able to give 'advisories'.
Item result
What it means about the item
How it affects the MOT result
Dangerous
A direct and immediate risk to road safety or has a serious impact on the environment.

Do not drive the vehicle until it's been repaired.
Fail
Major
It may affect the vehicle's safety, put other road users at risk or have an impact on the environment.

Repair it immediately.
Fail
Minor
No significant effect on the safety of the vehicle or impact on the environment.

Repair as soon as possible.
Pass
Advisory
It could become more serious in the future.

Monitor and repair it if necessary.
Pass
Pass
It meets the minimum legal standard.

Make sure it continues to meet the standard.
Pass
2.

MOT inspection manual

The MOT inspection manual will change from 20 May 2018.

There will be more sections and the order of the sections will change.

The inspection manual has all the details of:
new, changed or removed failures
new, changed or removed checks
improved or changed information
The draft of the new MOT inspection is currently available in PDF format. However, by the time the changes are introduced on 20 May 2018, it will have changed to a browsable webpage format. This will be easier for you to use and navigate.
3.

MOT certificates and MOT history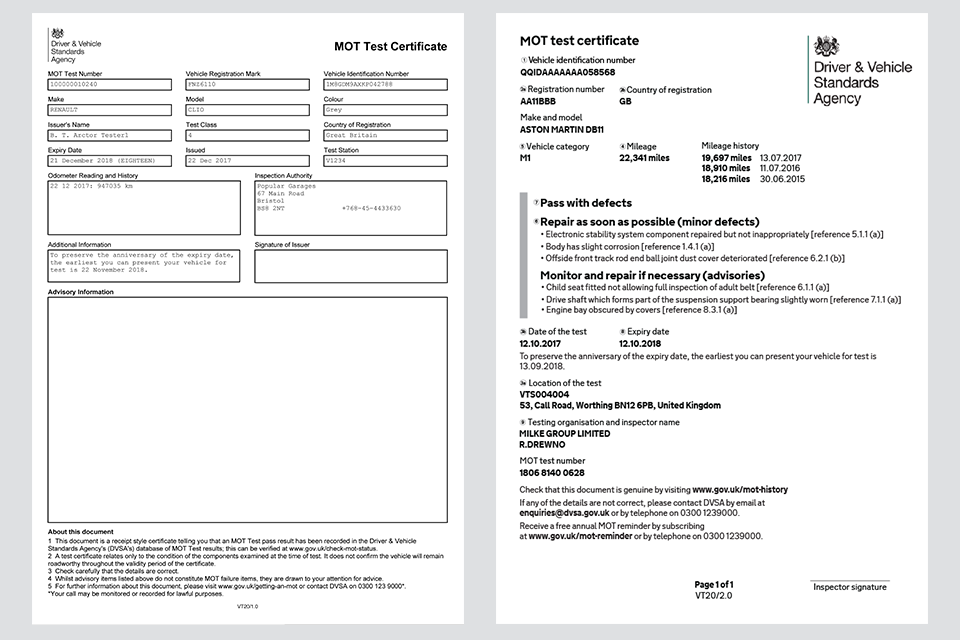 The design of the MOT certificate will change.
It will list any defects under the new categories, so they're clear and easy for drivers to understand.
You can view samples of the:
Contingency testing certificates
The 'contingency testing' certificates will also be updated.
Nearer the time, you'll have to download the updated certificates from the MOT testing service. This is because they're automatically filled in with your MOT centre details.
You can then save a copy on your PC or tablet and print them as you need them, or print one set and photocopy them.
You must not use the current-style contingency testing certificates from 20 May 2018.
Replacement certificates
When the new-style certificate has been introduced, any replacement certificates you issue will be printed in this style. This includes replacements for tests that were carried out before 20 May 2018.
Welsh versions of the certificates
At the moment, MOT centres in Wales print an MOT certificate with both English and Welsh on it (bilingual).
When the new certificates are introduced, you'll have the option of printing in either English-only or Welsh-only.
Contingency testing certificates are only available in English.
Check the MOT history of a vehicle
The service to check the MOT history of a vehicle will be updated to reflect the new defect categories, and to mirror the certificates.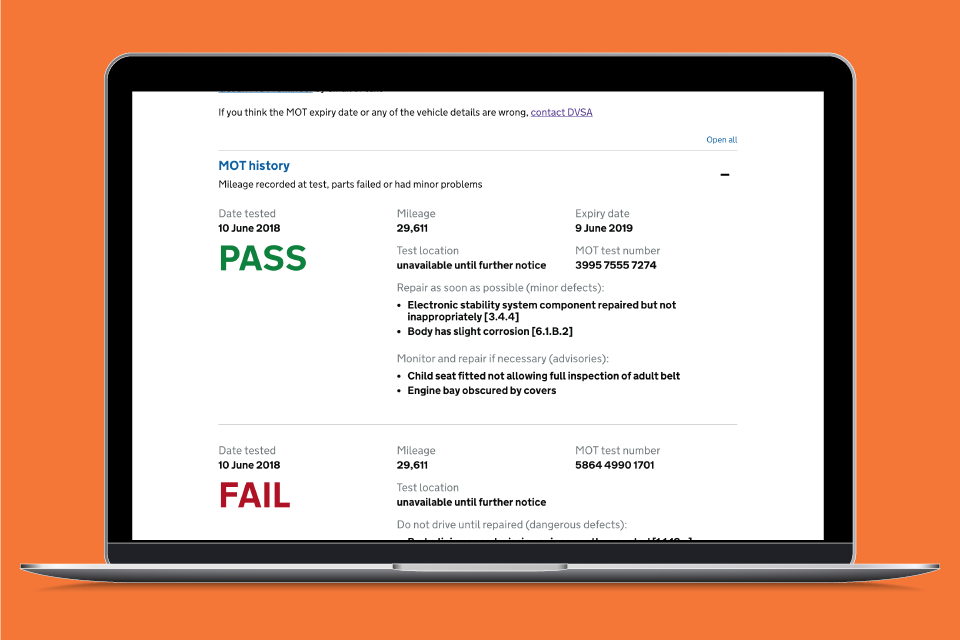 4.

Diesel vehicle emissions

There will be stricter limits for emissions from diesel cars with a diesel particulate filter (DPF).

You'll test vehicles to the manufacturer's plate value (when present), or a new lower default limit for newer vehicles.

You'll also give a major fault if you:
can see smoke of any colour coming from the exhaust
find evidence that the DPF has been tampered with
5.

Vehicle classifications

Vehicle categories will align to the European type-approval categories, and these will appear on the MOT certificate.

The old classes will also be used for the time being.

All cars will be 'M1' and all goods vehicles in scope of the MOT test will be 'N1' - that is up to 3,500kg design gross weight (DGW).

This table sets out some the main types of vehicles.
Vehicle type
Vehicle class
European type-approval categories
Three-wheeled vehicles not exceeding 450kg unladen weight (ULW) (excluding motorcycle combinations)
Class 3
L2 or L5
Three-wheeled vehicles more than 450kg ULW
Class 4
L5
Quadricycles
Class 4
L6 or L7
Cars and taxis
Class 4
M1
Minibuses, motor caravans, dual-purpose vehicles and ambulances up to 12 passenger seats
Class 4
M1 or M2
American pickups up to 6,500kg DGW
Class 4
-
Goods vehicles not exceeding 3,000kg DGW
Class 4
N1
Private passenger vehicles, ambulances and motor caravans with 13 or more passenger seats
Class 5
M2 or M3
Goods vehicles between 3,001kg and 3,500kg DGW inclusive

Note: if a goods vehicle is presented with a manufacturer's plate and a 'ministry plate', use the weights on the 'ministry plate'
Class 7
N1
You'll still only be able to test goods vehicles over 3,000kg and up to 3,500kg DGW if you and your MOT centre are authorised to test class 7.
The full details for all vehicle types, including motorcycles and 3-wheelers, are in the introduction of the MOT inspection manual.
Dual-purpose vehicles
The definition of dual-purpose vehicles (see page 12 of the MOT testing guide) stays the same. The unladen weight must not exceed 2,040kg.
However, 4×4 pickup vehicles with a DGW over 3,000kg up to and including 3,500kg are considered dual-purpose vehicles for test purposes if information about the unladen weight isn't available.
Large class 4 vehicles
A 'large class 4 vehicle' is a class 4 vehicle (M1 or N1) with a DGW greater than 2,500kg.
You'll need to carry out extra checks set out in the various sections of the inspection manual.
American pick-ups
Check the MOT inspection manual for the definition of an American pick-up manufactured in the USA or Canada.
If the DGW is between 3,000kg and 6,500kg, test it as class 4 passenger vehicle (M1).
Only test vehicles that can be safely tested on the authorised equipment. You must not test them if they're too large.
Any pickup vehicles with a 5th wheel shouldn't be considered an articulated vehicle. Test them as normal.
6.

Historic vehicles

Cars, vans, motorcycles and other light passenger vehicles won't need to have an MOT if they're over 40 years old and have not been substantially changed in the previous 30 years.

At the moment, only vehicles first built before 1960 are exempt from needing an MOT.

When the rules change on 20 May 2018, vehicles meeting the criteria won't need an MOT from the 40th anniversary of when they were registered.
Example
If a car was first registered on 31 May 1978, it won't need an MOT from 31 May 2018.
What drivers will need to do
Drivers won't have to apply to stop getting an MOT for their vehicle.
However, each time they tax their historic vehicle (even if they don't pay a fee), drivers will have to declare it meets the rules for not needing an MOT.
Drivers must still keep their vehicle in a roadworthy condition. They can be fined up to £2,500 and get 3 penalty points for using a vehicle in a dangerous condition.
Why the changes are being made
The changes are being introduced as part of EU Directive 2014/45, which comes into force on 20 May 2018.
The UK voted to leave the EU in the 23 June 2016 EU referendum. The government is now preparing to leave the EU in the best possible way for the UK's national interest.
However, the UK will still be an EU member on 20 May 2018 when the directive comes into force. The UK government could get ongoing substantial fines if it doesn't introduce the changes.
There's also a risk that vehicles without a compliant EU MOT would not be allowed into other EU countries.
Video transcript:

So from the 20 May this year, the MOT test is changing in several ways.

So there'll be some changes to the content of the MOT, although the basic essence the MOT is staying the same, there will be some changes to content.

There'll also be changes to the defect categories, that vehicles pass and fail for, and the documentation that we issue at the end of an MOT will be changing to reflect that.

So there's now going to be three defect categories; dangerous, major and minor. So for dangerous and major defects the vehicle will fail, for minor defects the vehicle won't fail and of course, you'll still be able to issue advisories for those components that aren't yet defective but are wearing or on their way out.

So all of the new defects are described there in the MOT inspection manual and also in the MOT testing service. So as a tester you need to pick the defect that matches the defect on the vehicle and that will be set out as to whether it is either dangerous, major or minor.

The MOT documentation will be changing to reflect the new defect categories and also try and explain things much more clearly to motorists about what they need to do in their vehicle.

So if a vehicle fails the defects will be categorised on the failure documentation as dangerous, major or minor. If a vehicle passes any minor defects will also be shown on the pass certificate, together with any advisories.

You'll be able to find out more detail about the changes to the MOT on GOV.UK. ↩