Promotional material
HS2 Phase 2b: Manchester Piccadilly factsheet 2013
Information regarding the proposed Manchester Piccadilly station that would serve HS2 Phase 2b.
Documents
Details
The proposed station would be constructed alongside and immediately north of the existing main line station at Manchester Piccadilly. Four High Speed Two (HS2) platforms would lie alongside platform 1 of the existing station. They would be elevated with concourse facilities located at ground level beneath the platforms and to the west side of the metrolink light rail facilities.
Creating jobs, houses and accessibility
HS2 Ltd's analysis suggests that the Manchester Piccadilly station could support between 29,700 and 42,900 jobs, and between 3,100 and 4,100 houses. Journey times to London will be 1hr 8 minutes and Birmingham will be 41 minutes away.
Connecting with the region
HS2 services at Manchester Piccadilly station would benefit from excellent connectivity. The existing station is served by several train operating companies on routes across the region, the metrolink, taxi services and bus services.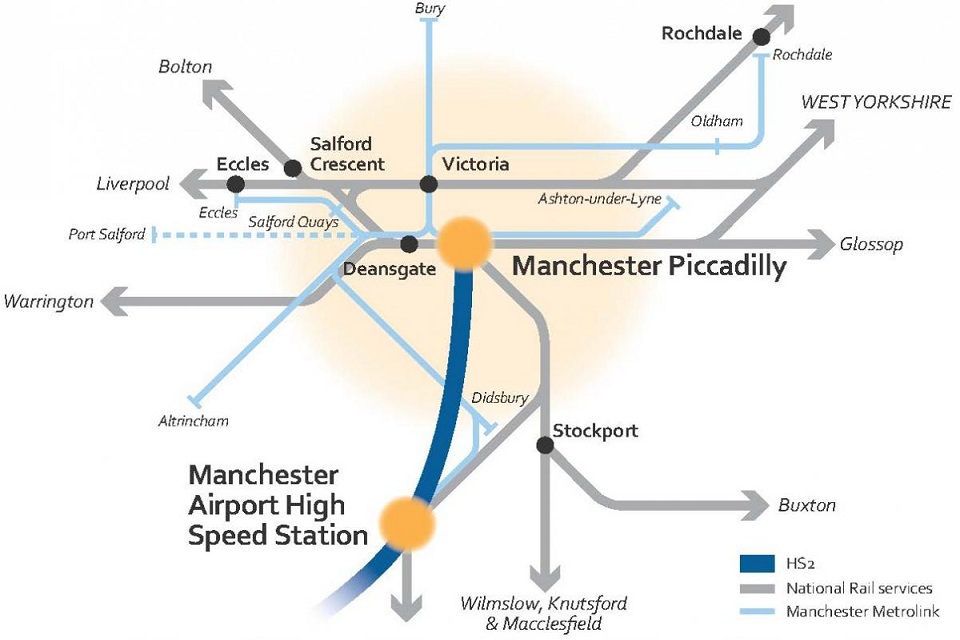 Published 28 May 2014