Health matters: midlife approaches to reduce dementia risk
Published 22 March 2016
© Crown copyright 2016
This publication is licensed under the terms of the Open Government Licence v3.0 except where otherwise stated. To view this licence, visit nationalarchives.gov.uk/doc/open-government-licence/version/3 or write to the Information Policy Team, The National Archives, Kew, London TW9 4DU, or email: psi@nationalarchives.gov.uk.
Where we have identified any third party copyright information you will need to obtain permission from the copyright holders concerned.
This publication is available at https://www.gov.uk/government/publications/health-matters-midlife-approaches-to-reduce-dementia-risk/health-matters-midlife-approaches-to-reduce-dementia-risk
Summary
Public Health England (PHE) wants to reduce the prevalence and incidence of dementia.
Dementia is not an inevitable part of ageing. This resource for health professionals and local authorities makes the case for action in midlife to promote healthy lifestyles that can reduce the risk of dementia.
The scale of the challenge
Dementia is an umbrella term that describes the symptoms that occur when the brain is affected by certain diseases or conditions. Symptoms may include memory loss and difficulties with thinking, problem-solving or language.
Dementia is a global issue. There are 47.5 million people worldwide living with dementia. This is predicted to rise to more than 150 million by 2050.
The estimated numbers will become a reality unless additional public health interventions are put in place.
Already an estimated 21 million people in England have a close friend or family member living with dementia. Directly or indirectly, it will soon affect every one of us.
Dementia is the most feared health condition for people over the age of 55 according to a survey by Alzheimer's Research UK. More feared than any other major disease, including cancer and diabetes.
The Prime Minister has highlighted tackling dementia as a key priority. He describes the condition as one of the biggest global health and social care challenges, as big as those posed by cancer, heart disease and HIV or AIDS.
Dementia is recognised in The NHS 5 Year Forward View in relation to getting serious about prevention, supporting those with dementia, supporting carers and developing new care models.
Women and dementia
In the UK, 62% of people with dementia are female and 38% are male. This is likely to be a consequence of the fact that women live longer than men and age is the biggest known risk factor for the condition.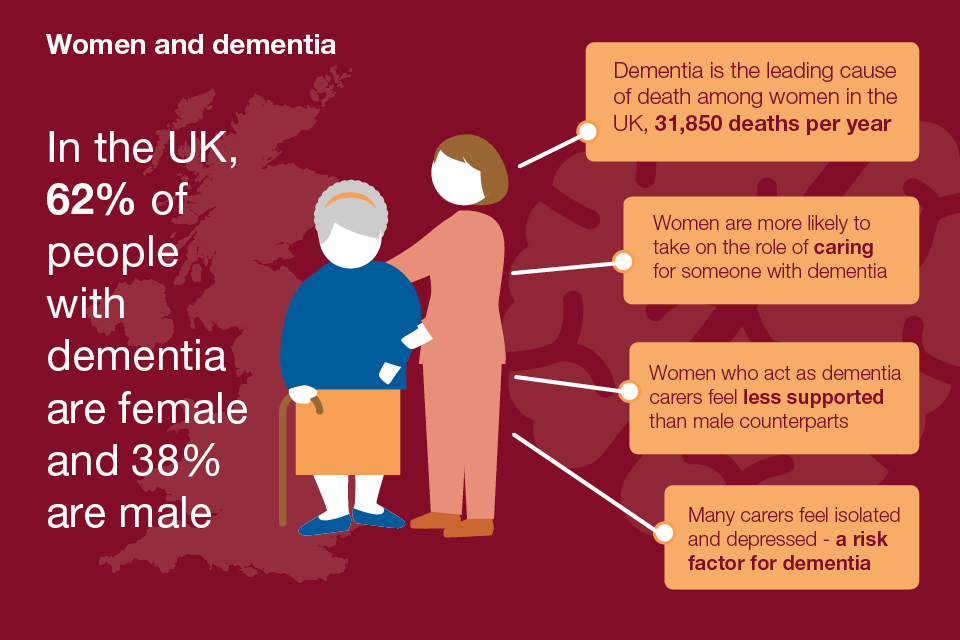 Ethnicity
There is greater prevalence of dementia among black and South Asian ethnic groups.
In 2011, there were 25,000 people with dementia from black, South Asian and minority ethnic groups in England and Wales, according to the Alzheimer's Society.
This number is expected to double to 50,000 by 2026 and rise to over 172,000 by 2051.
This amounts to a sevenfold increase over 40 years, compared to just over a twofold increase in the numbers of people with dementia across the whole UK population.
These groups are more prone to risk factors such as cardiovascular disease, hypertension and diabetes, which increase the risk of dementia and contribute to increased prevalence.
Use PHE's dementia profile tool to see the prevalence of dementia in your local area.
Why invest in dementia prevention
Dementia imposes a huge emotional and financial cost. As the number of people with dementia rises so too do the costs.
Local authorities and NHS organisations are under pressure to cut costs within reduced budgets, making the case for investment of any kind difficult.
It might seem impossible to make the case for investment in activity that can't always guarantee immediate cost savings and may not reap a return for a number of years. But that doesn't mean it isn't the right thing to do.
Dementia risk reduction will
save the health and social care system money by reducing the prevalence and impact of dementia across the population
support people to live longer, healthier lives
impact on costs associated with non-communicable diseases such as heart disease or stroke
The benefits of dementia prevention reach far beyond the health system.
The annual cost of dementia to society in the UK is estimated at £26.3 billion by Alzheimer's Society. This is higher than the cost of cancer, heart disease, or stroke.
This corresponds to an average cost per person of £32,250 annually. This is made of a cost of £5,300 in healthcare and £12,500 in social care costs.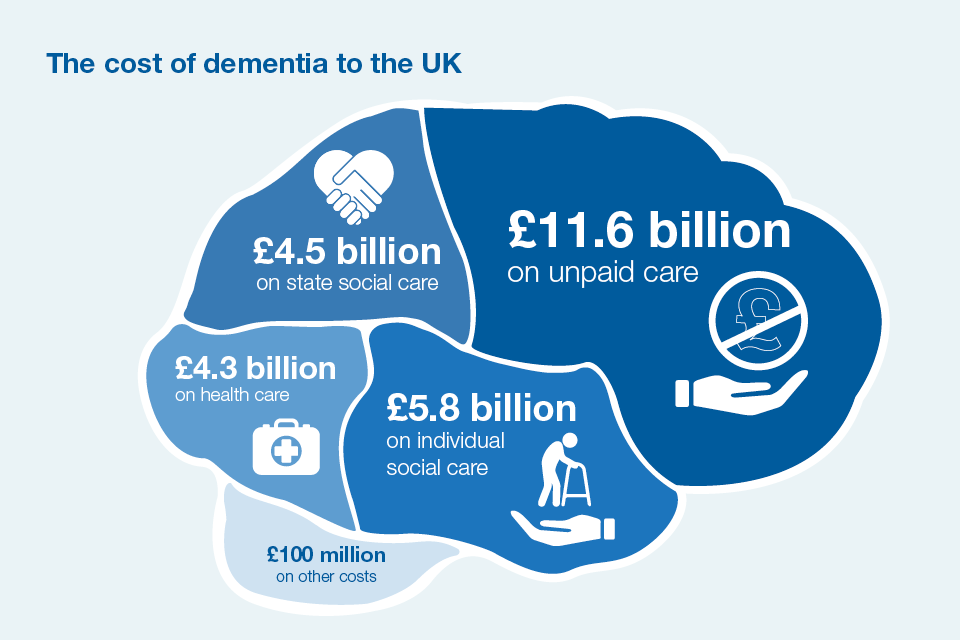 What are the risk factors that can lead to dementia?
The most common cause of dementia is Alzheimer's disease. More than 520,000 people in the UK have Alzheimer's disease.
Vascular dementia is the second most common type of dementia, affecting around 150,000 people in the UK.
However, there is increasing evidence that individual cases of dementia are often a mixture of Alzheimer's disease and vascular dementia. Vascular dementia has the same risk factors as cardiovascular disease and stroke, and so the same preventive measures are likely to reduce risk.
Age is the biggest risk factor for dementia
This increased risk may be due to factors associated with ageing, such as:
higher blood pressure in midlife
an increased incidence of some diseases
changes to nerve cells, DNA and cell structure
the weakening of the body's natural repair systems
changes in the immune system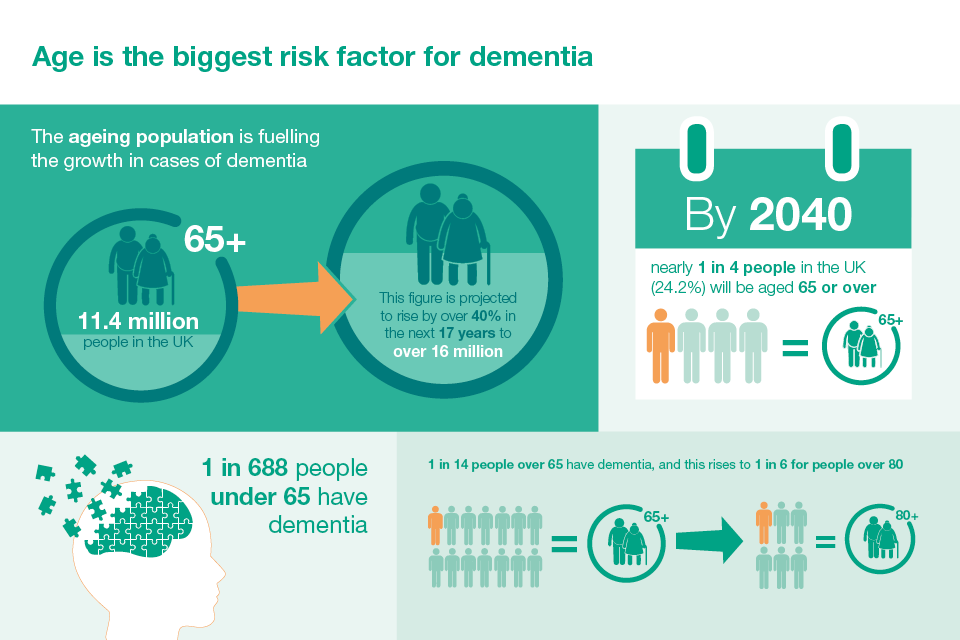 Dementia is not always associated with ageing.
Early-onset dementia, also known as younger people with dementia, affects people in their 30s, 40s, 50s and early-60s.
In the UK, at least 40,000 people under 65 have dementia.
Lifestyle factors
There are a number of lifestyle factors that can increase the risk of dementia, as outlined in this booklet by Alzheimer's Research UK and PHE.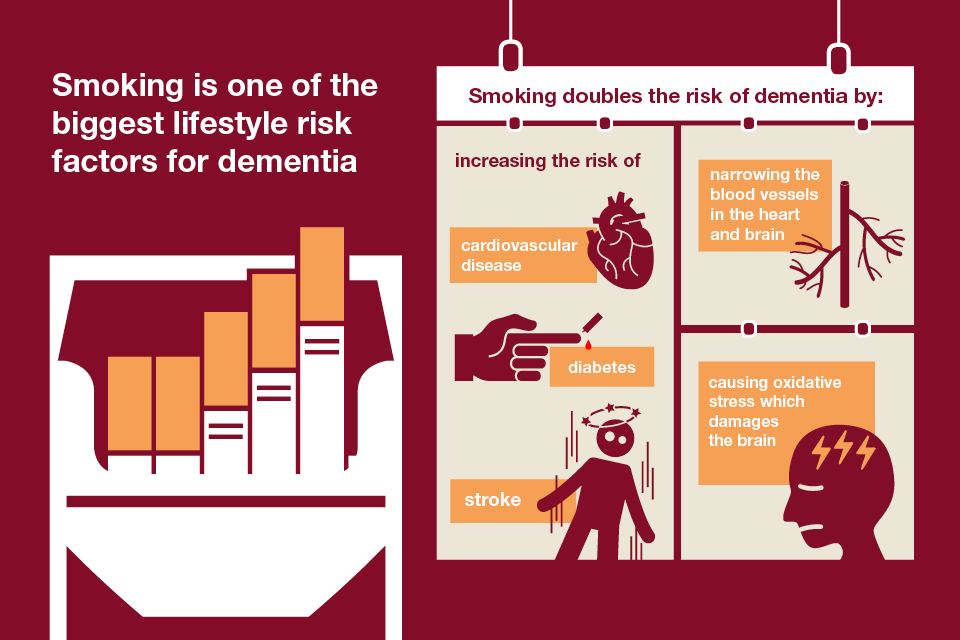 Other lifestyle factors that may increase the risk of dementia are:
a lack of regular physical activity along with a sedentary lifestyle
excessive alcohol consumption
eating a poor diet high in saturated fat, sugar and salt and obesity in midlife
Pre-existing medical conditions
There are a number of pre-existing medical conditions that can also increase the risk of dementia including:
Parkinson's disease
stroke
type 2 diabetes
high blood pressure
Genetics only cause dementia in a small proportion of cases. In most people, lifestyle factors play a role in determining how likely they are to develop the condition.
What steps can be taken to lower the risk of dementia?
The scientific evidence is evolving rapidly and, while more research is needed in this area, there is enough evidence to justify considered action on dementia risk reduction.
PHE and the UK Health Forum have issued the Blackfriars Consensus Statement which calls for a national focus to reduce the risk of developing dementia.
Public health measures to modify cardiovascular risk factors have contributed to a large decline in deaths from heart disease and stroke over the past 50 years.
It is now believed that what's good for the heart is also good for the brain.
This is supported by national guidance on midlife approaches to delay or prevent the onset of dementia, disability and frailty in later life from the National Institute for Health and Care Excellence (NICE).
The guideline recommends reducing the risk of or delaying the onset of disability, dementia and frailty by helping people to:
be more active
reduce their alcohol consumption
improve their diet
lose weight if necessary and maintain a healthy weight
A major study published in the Lancet Neurology found that around a third of Alzheimer's disease cases worldwide might be attributable to potentially modifiable risk factors.
The study found that, in the UK, physical activity was estimated to have the greatest influence of the risk factors studied.
The study found that 21.8% of the Alzheimer's cases were estimated to be attributable to physical inactivity. These could potentially be prevented if people were more active.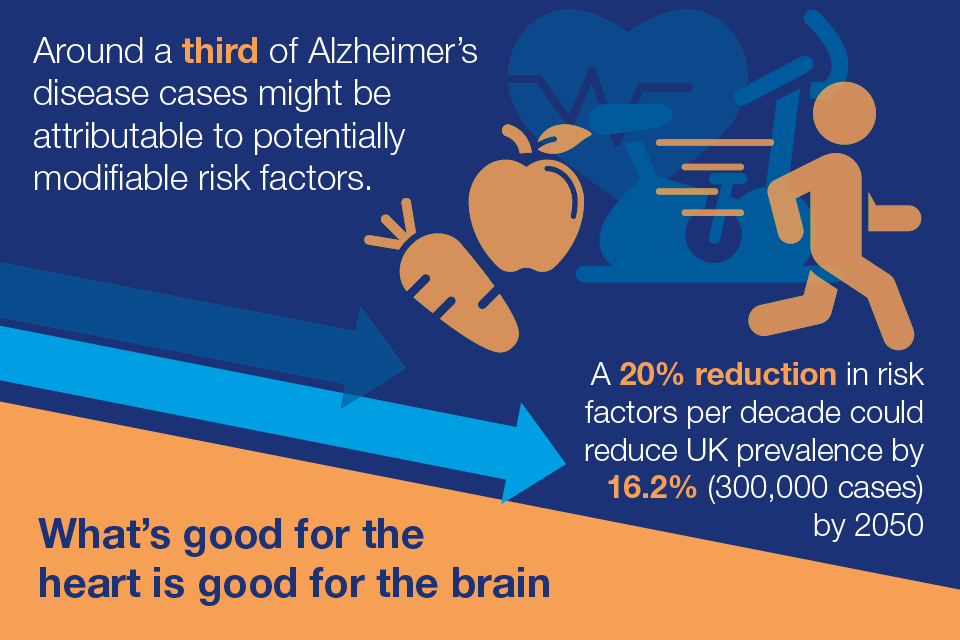 Protective factors
Keeping your brain active and challenged throughout life may help reduce your dementia risk.
Research shows that a lower risk of developing dementia is associated with:
higher levels of education
more mentally demanding occupations
cognitive stimulation, such as doing puzzles or learning a second language
A review of brain reserve and cognitive decline, combining the data from 22 studies and over 29,000 participants, found a 46% lower risk of dementia in those with high levels of mental activity than those with low mental activity.
Being socially active can help to reduce dementia risk by:
improving your mood
relieving stress
reducing the risk of depression
reducing loneliness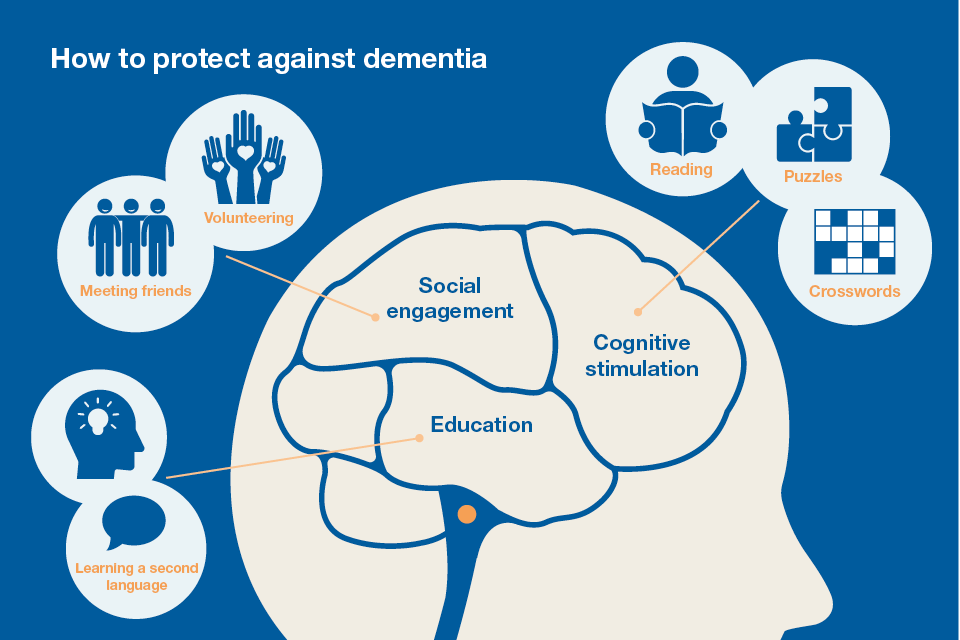 NHS Health Checks
It is common in midlife to have 1 or more of the 7 health risk factors identified by the Chief Medical Officer:
smoking
binge drinking
low fruit and vegetable consumption
obesity
diabetes
high blood pressure
raised cholesterol
The NHS Health Check, for adults in England aged 40 to 74, is an ideal opportunity for GPs and other healthcare professionals to offer advice to promote a healthier lifestyle. NHS Health Check also offers an opportunity to take regular measurements of cholesterol levels, blood glucose, and blood pressure.
The NHS Health Check includes a dementia component which aims to increase awareness of dementia among people aged 65 to 74. An e-learning training resource on the dementia component is available for those who deliver the health checks.
PHE is piloting an approach to expand this element to include 40 to 65 year olds.
The role for Clinical Commissioning Groups (CCGs)
CCGs can play a key role in promoting dementia risk reduction. To do this they need access to high quality and relevant dementia data to act now.
PHE's Dementia Intelligence Network (DIN) has launched the first dementia profile. This is a tool that enables bespoke comparison and benchmarking for local authorities and CCG's against other areas in England using one, easily accessible online platform.
CCGs should use the data to look at local risk factors for dementia such as smoking prevalence, physical inactivity, excess weight and alcohol-related hospital admissions. This will help to prioritise efforts to reduce such risk factors. The data also shows local uptake of the NHS Health Checks.
The role for local authorities
The NICE guideline on midlife approaches to delay or prevent the onset of dementia, disability and frailty in later life recommends a major role for local government and Health and Wellbeing Boards.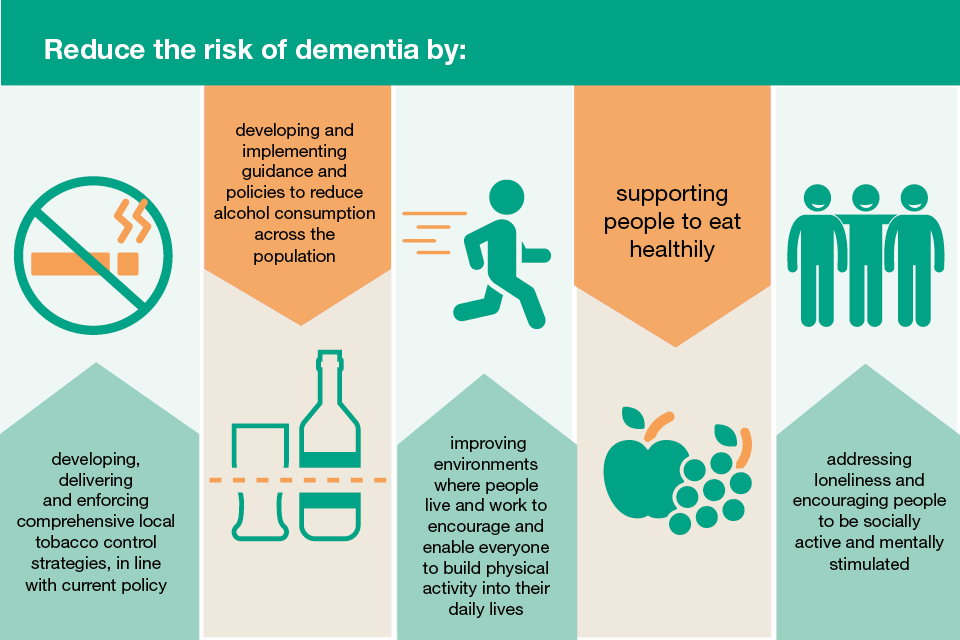 Loneliness has a major impact on physical and mental health. The Local Government Association guide for combating loneliness recommends that councils should consider addressing this, as an outcome measure of council strategies – including the Joint Strategic Needs Assessment (JSNA) and the Joint Health and Wellbeing Strategy (JHWS).
Collaborative approach
Health and social care providers and public and third sector providers, such as local authorities, leisure services, emergency services, should all:
use routine appointments and contacts to identify people at risk of dementia
promote healthy behaviours during times in people's lives when substantial change occurs, such as retirement, or when children leave home
give people advice on how to reduce the risk factors for dementia whenever the opportunity arises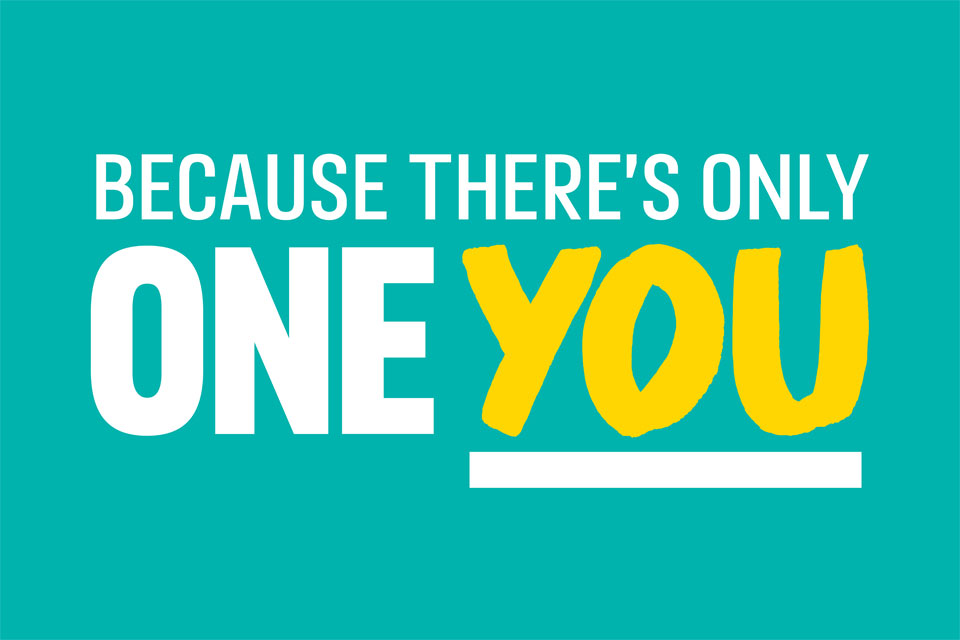 PHE has launched the One You campaign aimed at people aged 40-60. It aims to motivate people to take steps to improve their health, through action on the main risk factors such as smoking, inactivity, obesity, alcohol consumption, all of which are relevant to reducing the risk of dementia.
One You provides a practical way for adults to reappraise their lifestyle in the form of a new online health quiz called 'How Are You'. The free quiz indicates which areas people should look to change and provides encouragement and tools to help them do so.
Local authorities and NHS organisations have a crucial role to play in making sure One You meets the needs of communities across the whole of England.
We've created a whole host of assets and materials, which are free for you to use in your own work and distribute to commissioned services and partners.
Please visit the Campaign Resource Centre for more detailed information. Some areas of the site are restricted for use and will therefore require an account with the appropriate level of access.Please email partnerships@phe.gov.uk to request this type of account.