Health matters: harmful drinking and alcohol dependence
Published 21 January 2016
© Crown copyright 2016
This publication is licensed under the terms of the Open Government Licence v3.0 except where otherwise stated. To view this licence, visit nationalarchives.gov.uk/doc/open-government-licence/version/3 or write to the Information Policy Team, The National Archives, Kew, London TW9 4DU, or email: psi@nationalarchives.gov.uk.
Where we have identified any third party copyright information you will need to obtain permission from the copyright holders concerned.
This publication is available at https://www.gov.uk/government/publications/health-matters-harmful-drinking-and-alcohol-dependence/health-matters-harmful-drinking-and-alcohol-dependence
Summary
Public Health England (PHE) wants to prevent and reduce the harms caused by alcohol.
This resource provides information on the harmful impact of alcohol dependency. It supports the commissioning and delivery of evidence based treatment interventions to address harmful drinking and alcohol dependence in adults.
The following guidance is for:
local authorities
NHS services
the voluntary sector
public health policymakers
The scale of the problem
The effects of harmful drinking on individuals, their families and communities are wide-ranging and require a response at a national and local level.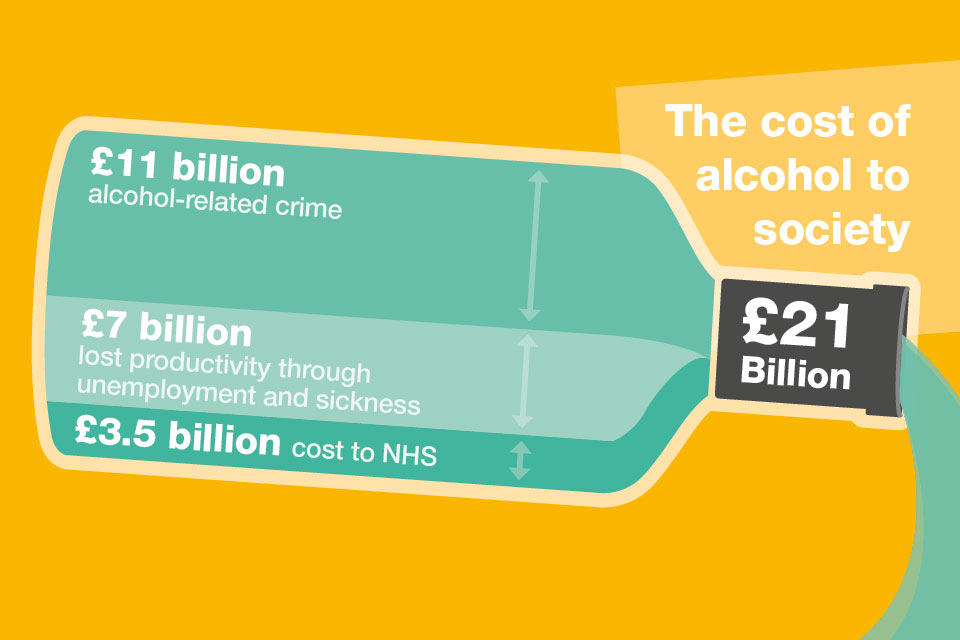 The costs illustrate the scale of the problems caused by alcohol and the challenge we face as a nation.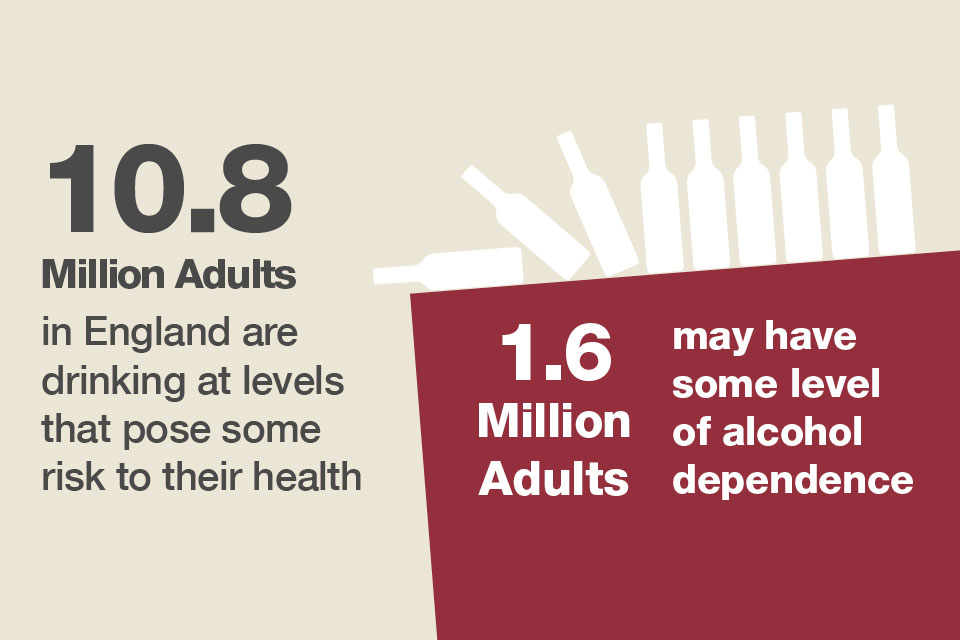 There are an estimated 1.6 million adults in England who may have some level of alcohol dependence, although not all of these need specialist treatment. A proportion of these will benefit from a brief intervention.
National Institute for Health and Care Excellence (NICE) defines harmful drinking as a pattern of alcohol consumption that causes health problems, including psychological problems such as depression, alcohol-related accidents or physical illness such as acute pancreatitis.
Harmful drinkers can become alcohol dependent, which NICE defines as characterised by craving, tolerance, a preoccupation with alcohol and continued drinking in spite of harmful consequences.
Alcohol misuse damages health
The Chief Medical Officer (CMO) published new alcohol guidelines that state drinking any level of alcohol regularly carries a health risk for everyone. Men and women should limit their intake to no more than 14 units a week to keep the risk of illness like cancer and liver disease low.
An analysis of 67 risk factors and risk factor clusters for death and disability found that alcohol is the third leading risk factor for death and disability after smoking and obesity.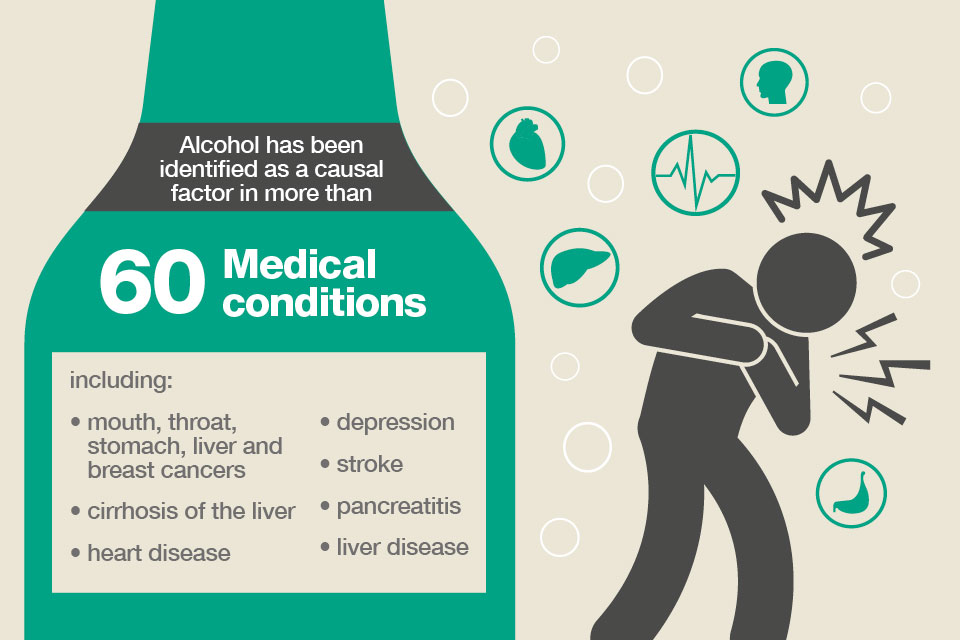 All types of alcohol can cause cancer
The new guideline on alcohol consumption produced by the CMO warns that drinking any level of alcohol increases the risk of a range of cancers including:
mouth
bowel
stomach
liver
breast
This is supported by a new review from the Committee on Carcinogenicity (CoC) on alcohol and cancer risk.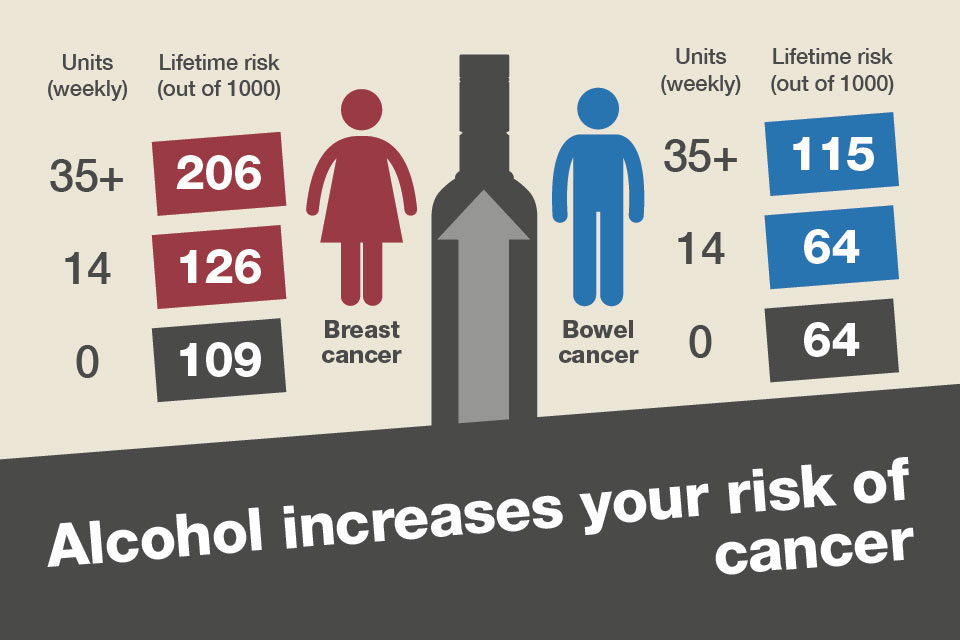 Alcohol in pregnancy
The guidelines for pregnant women have been updated to clarify that no level of alcohol is safe to drink in pregnancy.
Alcohol misuse is associated with mental health problems
A number of large epidemiological surveys demonstrate the high prevalence of co-morbidity in those attending mental health services and both drug and alcohol treatment services.
An estimated 44% of community mental health patients have reported problem drug use or harmful alcohol use in the previous year.
There is a strong association between alcohol misuse and suicide. The National confidential inquiry into suicide and homicide by people with mental illness found that there was a history of alcohol misuse in 45% of suicides among the patient population during period 2002 to 2011.
Alcohol misuse and employment
Significant negative health impacts can arise as a result of unemployment, both for the individual and their families. This impact worsens when it involves alcohol misuse.
Studies from Europe and the US conclude that alcohol misuse is more likely to start or escalate after unemployment begins.
Harmful drinking and the associated increased risk of mental health problems can make it harder for people with alcohol dependence issues to find work again.
Alcohol related hospital admissions
Alcohol dependence can be a long-term condition, which may involve relapses even after good quality treatment. Dependent individuals also experience many health problems and are frequent users of health services.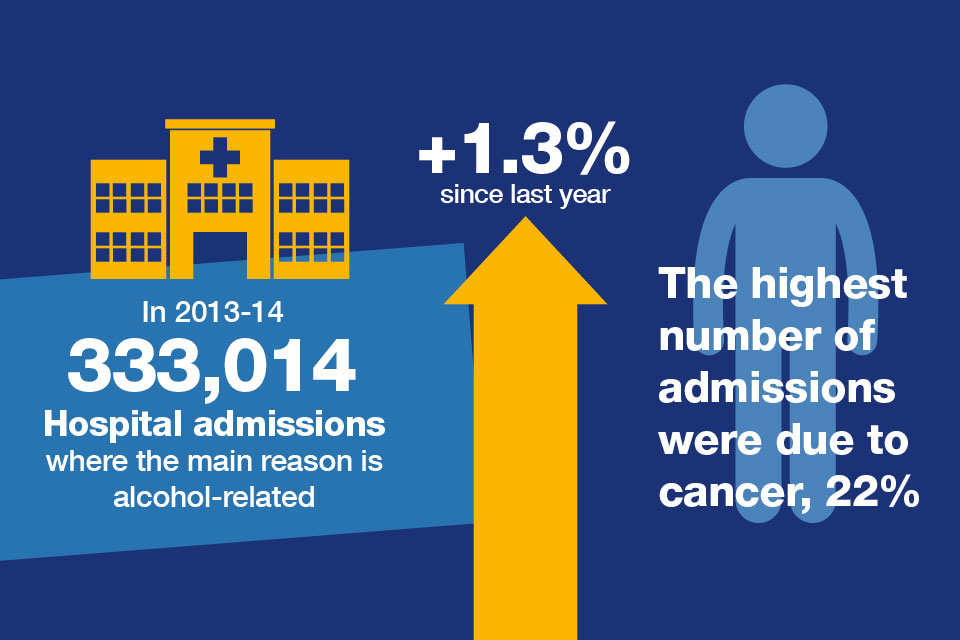 Alcohol related mortality
Excessive alcohol consumption is a major cause of preventable premature death. It accounts for 1.4% of all deaths registered in England and Wales in 2012.
Our figures show that the number of alcohol-related deaths in England has increased the following years:
22,481 in 2013
22,049 in 2012
20,996 in 2002
Liver disease is one of the leading causes of death in England and people are dying from it at younger ages. Alcohol accounts for over a third of all cases of liver disease. Most liver disease is preventable.
Liver disease has more than doubled since 1980 and is the only major killer disease on the increase during that period in the UK. The CMO has highlighted liver disease as a major issue.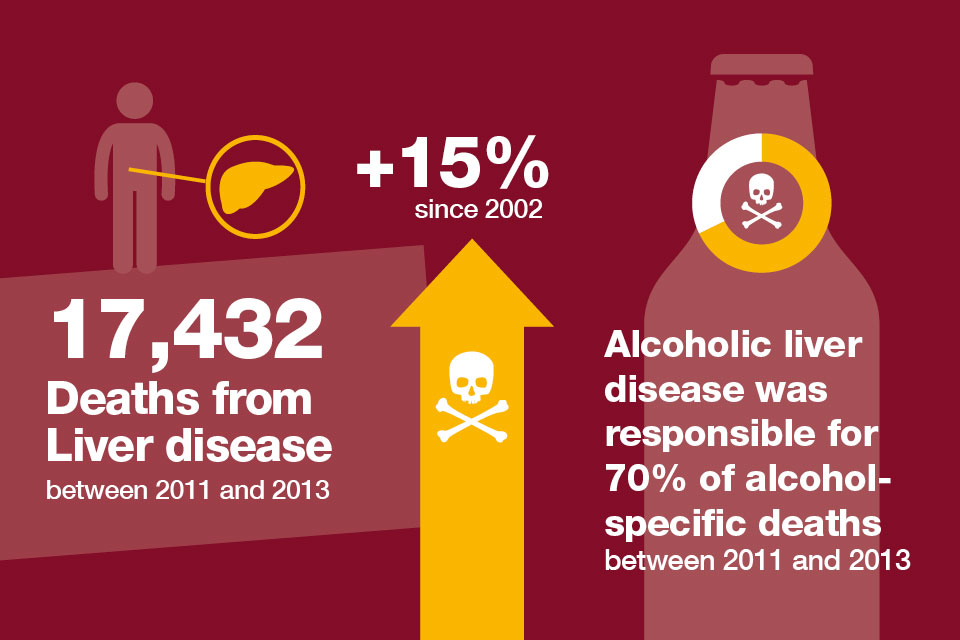 PHE is developing a framework on liver disease outlining public health action to tackle liver disease, including the risks caused by alcohol.
Impact of alcohol misuse on children and families
Alcohol misuse impacts not just on the drinker but also those around them. Children affected by parental alcohol misuse are more likely to have physical, psychological and behavioural problems.
Parental alcohol misuse is strongly correlated with family conflict and with domestic violence and abuse. This poses a risk to children of immediate significant harm and of longer-term negative consequences.
Alcohol plays a part in 25 to 33% of known cases of child abuse.
In a study of 4 London boroughs, almost two-thirds of all children subject to care proceedings had parents who misused substances including alcohol.
In a study of young offending cases where the young person was also misusing alcohol, 78% had a history of parental alcohol abuse or domestic abuse within the family.
Alcohol misuse also affects carers and adult family members. The Care Act 2014 recognises this and recommends an assessment of their own needs.
Health inequalities and alcohol dependence
Harmful drinking, alcohol dependence and socio-economic factors
Although the volume of alcohol consumed is a clear indicator of potential harm to health, other factors affect the relationship.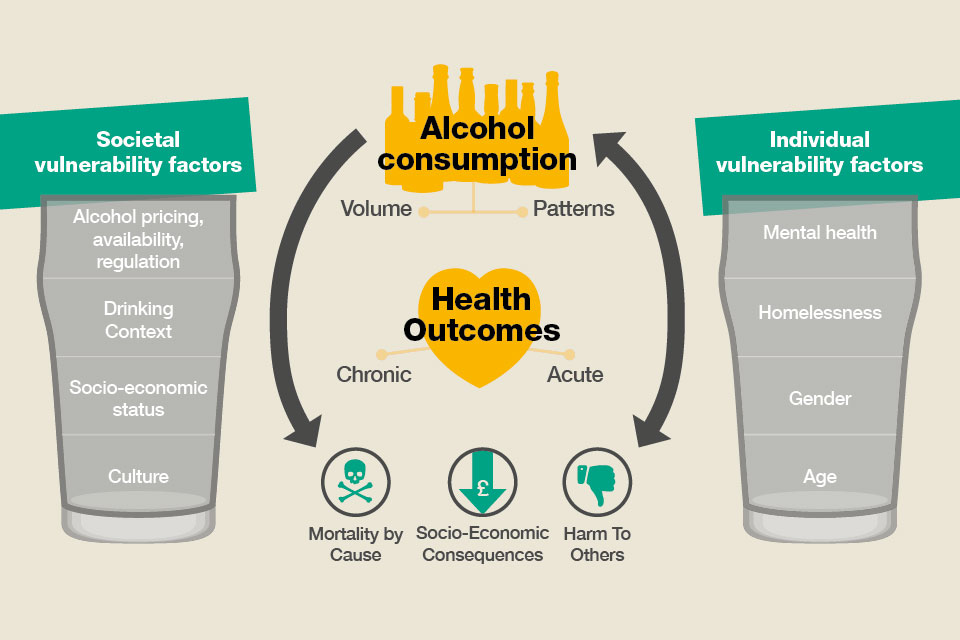 In England, alcohol dependence is more common in men (6%) than in women (2%). This gender difference is found to be the case all over the world and is one of only a few key gender differences in social behaviour.
The impact of harmful drinking and alcohol dependence is much greater for those in the lowest income bracket and those experiencing the highest levels of deprivation.
The reasons for this are not fully understood. People on a low income do not tend to consume more alcohol than people from higher socio-economic groups.
The increased risk is likely to relate to the effects of other issues affecting people in lower socio-economic groups.
The areas with the lowest rates of alcohol related mortality are mainly found in the south of England. Councils with the highest rates are situated predominantly within the North West.
Alcohol-related deaths for the most deprived decile were 53% higher than the least deprived in 2013.
In 2013 in Blackpool there were 79.5 alcohol related deaths recorded per 100,000 of the population. In Wokingham, Berkshire there were 33 alcohol related deaths per 100,000.
Rates of admission to hospital for alcohol-related causes show considerable regional variation. Hospital admissions for the most deprived decile are 55% higher than the least deprived decile in 2013 to 2014.
The north west of England has the highest rate of hospital admissions for alcohol-related causes with 551.22 per 100,000 people.
The lowest rate was in the south-east with 383.68 per 100,000.
Populations that experience severe and multiple disadvantage
There is growing awareness about the considerable overlap of populations that experience severe and multiple disadvantage, such as:
alcohol and drug misuse
homelessness
poor mental health
offending behaviours
The average age of death of a homeless person is 47 years old and even lower for homeless women at just 43. This is compared to 77 for the general population.
Alcohol and drug abuse are particularly common causes of death amongst the homeless population, accounting for just over a third of all deaths.
A recent study in England found that the quality of life reported by people with these experiences was much worse than that reported by many other people on low incomes and vulnerable people, especially regarding their mental health and sense of social isolation.
Tackling alcohol related harm is an important route to reducing health inequalities in general.
Alcohol related factors are found across all 4 of the domains in the Public Health Outcomes Framework (PHOF) for England:
improving the wider determinants of health
health improvement
health protection
healthcare public health and preventing premature mortality
Alcohol treatment can contribute to making improvements in:
hospital-related admissions
child poverty
employment for those with a long term health condition
social isolation
falls and injuries in those over 65
self-harm
treatment completion for tuberculosis
premature mortality from liver disease
cardiovascular disease cancer
Responding to the needs of harmful and alcohol dependent drinkers
People receiving alcohol treatment
Not all of the 1.6 million people estimated to have some level of alcohol dependence will need specialist alcohol treatment.
Some will benefit from a brief intervention consisting of a short alcohol health risk check in a range of health and social care settings.
Brief advice helping the person to consider the reasons for change should be offered where relevant. In some cases simple feedback of the risk with a leaflet maybe all that is required. For others further exploration and help such as goal setting may be beneficial.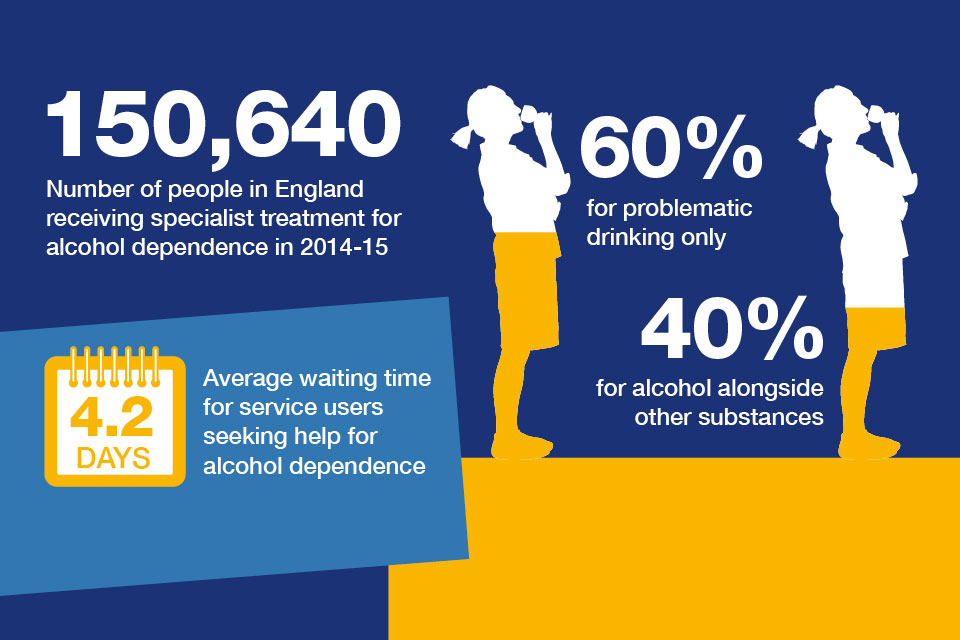 Alcohol treatment is effective. Among those who received treatment, 61% of service users reported being free of alcohol dependence when they left treatment.
Assessing need, planning and commissioning alcohol treatment systems
Local councils and health and wellbeing boards are involved in planning:
social care
housing strategy
public health
clinical treatment services
environmental health
licensing and trading standards
This puts them at the heart of the partnership needed to tackle this complex issue.
Alcohol treatment for harmful and dependent drinkers is an essential element in the broader range of alcohol policies and interventions that a council will need to plan and deliver. This is under the conditions of their public health grant.
Health and wellbeing boards will be in the best position to consider:
how specialist alcohol services within hospitals integrate with the treatment system
potential joint funding arrangements across health and public health
We provide a range of tools and guidance to support this:
Joint Strategic Needs Assessment (JSNA) support packs
The JSNA support packs provide local data on alcohol harm and alcohol treatment as well as a series of prompts to support joint planning and commissioning. The prompts include sections on commissioning both hospital services and community alcohol treatment services.
Guide to social return on investment for alcohol and drug treatment commissioners
This guide explains how investment in alcohol interventions, including specialist alcohol treatment, can produce a high return.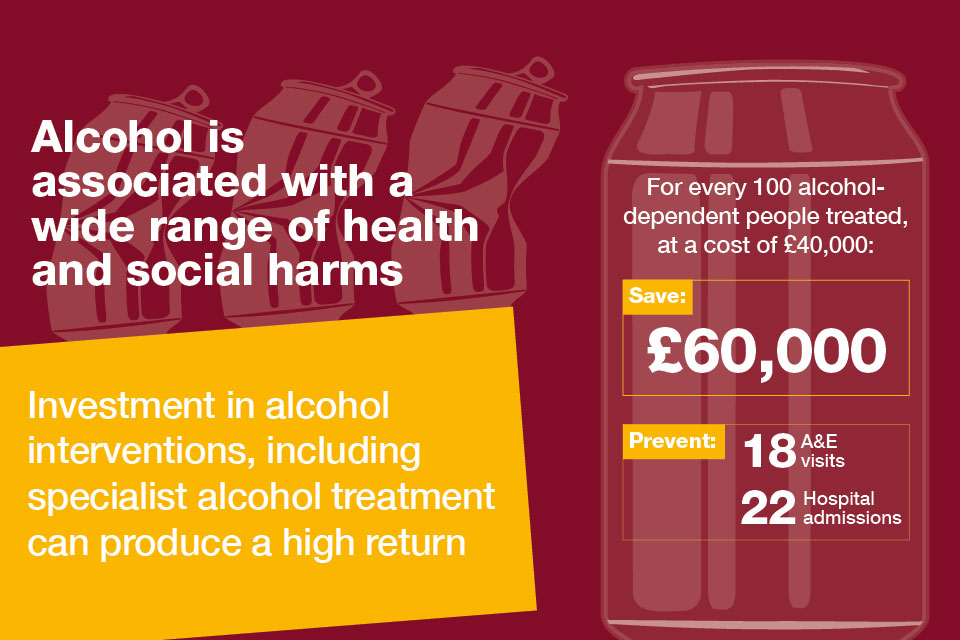 Guidance on calculating the social return on investment
We will release social return on investment tools in 2016.
Quality governance guidance for council commissioners of alcohol and drug services
Councils need to have effective quality governance arrangements in place for services commissioned using the public health grant. PHE has published guidance to support local authority commissioners of alcohol and drug services.
National Drug Treatment Monitoring System (NDTMS)
Commissioners are provided with access to restricted data reported to the NDTMS to assist with planning and service improvement. A collection of reports are available on a monthly, quarterly and annual basis. They provide detailed information on clients in structured alcohol and drug treatment from the NDTMS.
What makes a good treatment service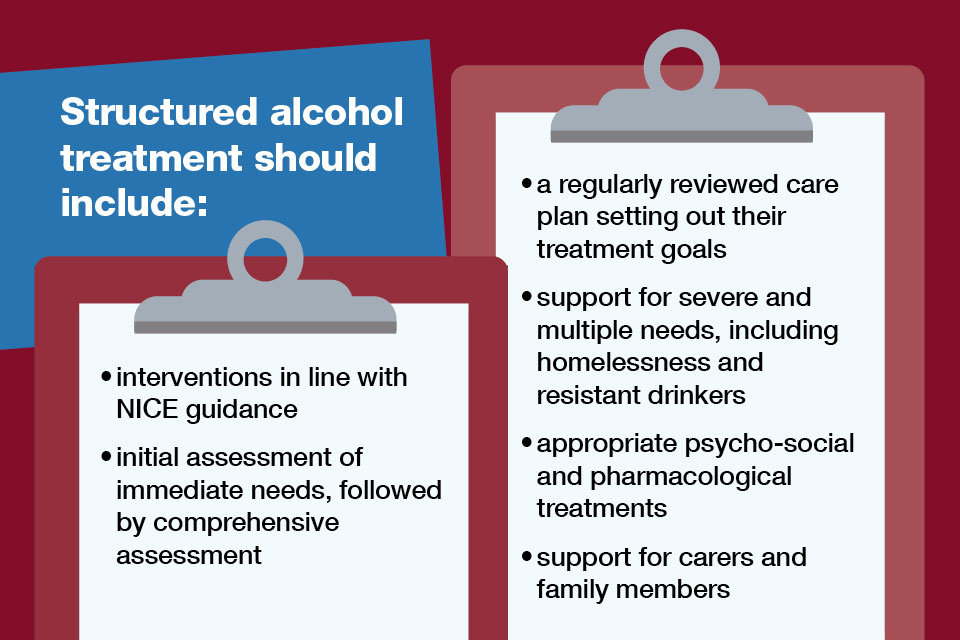 Treatment services should be informed by, and in line with, NICE guidance on alcohol use disorders.
People who are alcohol dependent should have access to support that promotes and sustains their broader recovery.
Service users should have access to mutual aid groups and recovery communities. Treatment services should assertively link service users with these groups
People in recovery:
need stable accommodation
should be supported into education, training and employment
Parents may need access to appropriate parenting and family support to strengthen family relationships and parenting
Change resistant clients
There will be some alcohol dependent clients with many needs but who are resistant to change and not yet ready for structured treatment.
Treatment services need to work in partnership with other services to address the needs of change resistant drinkers. Alcohol Concern has published guidance on working with this group.
Carers and families
Treatment services should offer information and support to carers and family members. Services should also ensure that carers are involved in the service users' treatment plans with service users' consent where this is appropriate.
Treatment services should also consider that:
carers are entitled to a carers assessment under the Care Act 2014
if there are safeguarding concerns, treatment services must comply with the Children Act 2004 and related guidance
Download a complete set of references for this document.
For any questions on this resource, please email: healthmatters@phe.gov.uk.