Guidance
What you need to know about the Future Accommodation Model?
Updated 1 August 2017
© Crown copyright 2017
This publication is licensed under the terms of the Open Government Licence v3.0 except where otherwise stated. To view this licence, visit nationalarchives.gov.uk/doc/open-government-licence/version/3 or write to the Information Policy Team, The National Archives, Kew, London TW9 4DU, or email: psi@nationalarchives.gsi.gov.uk.
Where we have identified any third party copyright information you will need to obtain permission from the copyright holders concerned.
This publication is available at https://www.gov.uk/government/publications/future-accommodation-model-what-you-need-to-know/what-you-need-to-know-about-fam
What is the Future Accommodation Model
The Ministry of Defence (MOD) is looking at how it can improve the accommodation offer for service personnel, to make it fairer, more affordable and flexible, whilst still remaining affordable for the MOD. The Future Accommodation Model (FAM) is still under development and no decisions have yet been taken. Further information will be released in late 2017 once decisions have been made.
Why might accommodation change?
The Strategic Defence and Security Review (SDSR) committed the MOD to make a new accommodation offer, to help more personnel live in private accommodation and meet their aspirations for home ownership. On top of this, the current accommodation model is unsustainable, and we are looking at how to improve it in 3 different areas.
Fairness
The current accommodation model does not support how all service personnel might choose to live, forcing some service personnel to opt out of subsidised accommodation and others to compromise on family life. For example, parents in a long-term relationship are not able to live together as a family in MOD provided accommodation unless they enter into marriage or a civil partnership.
Changing social values mean that this may no longer be the best way of supporting personnel, as a response to this we are also looking at broadening entitlement.
Affordability
We believe that accommodation can be improved for service personnel whilst being more cost efficient, doing this through reduced construction, maintenance and overhead costs usually associated with the current accommodation model. In addition, the SDSR has committed us to changing the locations of forces across the UK. FAM will not reduce the total pot of money currently used to subsidise housing, but is looking at ways of providing accommodation that offer better value for money.
Flexibility
The increased flexibility will be for both the MOD and service personnel. Under the current accommodation model simply widening the number of people who are entitled to service family accommodation (SFA) is unaffordable, as the MOD would be required to build a large number of new houses, requiring heavy investment, construction time and large upfront costs. It also increases long term maintenance cost and requires us to pay rent on the empty properties at other locations.
To avoid these costs, we are looking at alternative ways of providing accommodation. This will mean service personnel will have more choice of accommodation to suit their changing needs.
Future Accommodation Model aims
The Future Accommodation Model aims to address these issues whilst giving service personnel more choice, allowing them to live where, how and with whom they want. However, whilst we are looking at alternative forms of accommodation there are some important aims for FAM.
Our aims:
the total amount of subsidy service personnel receive for accommodation will not be cut, but changes to entitlement mean that individuals may receive more or less, depending on their need
we are looking at providing service personnel with a level of accommodation subsidy according to need, not based on rank or marriage
the MOD will continue to support service personnel who want to remain mobile, but also aims to support those who want greater stability for themselves and their families
as well as financial support, the MOD will also provide service personnel with other support (e.g. training, finding a home) to enable personnel to live and work where the MOD requires them to; some personnel will require a higher level of support, and the MOD is developing a package to address this
whether you're in service family accommodation (SFA) or renting near work, you will not be expected to pay more for the home you need if you are assigned to a more expensive location, MOD will pick up the extra cost
Potential accommodation options
Currently there are 6 different options of what FAM could look like. These range from options with a large use of service family accommodation (SFA), to models with a higher reliance on private market rentals.
Under all options, single living accommodation (SLA) will continue to be used and will not be impacted by FAM, as we understand that SLA can be a useful part of any accommodation model. However, the quantity of SFA will depend on the options chosen.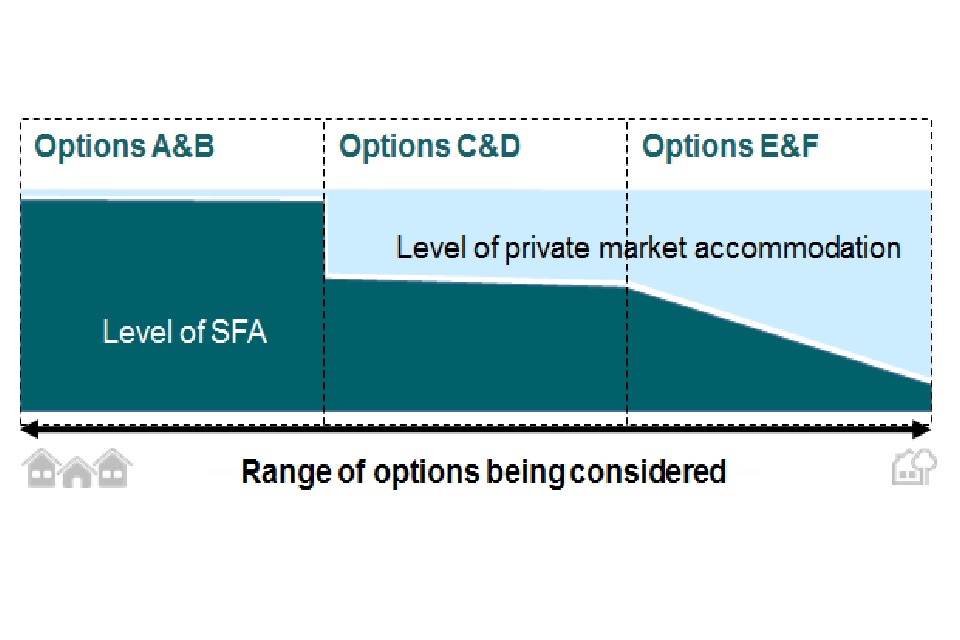 No decisions have yet been taken and we are still looking into the detail of each option until late 2017. The option chosen will then be used for the pilot and refined further for implementation.
Who will be affected?
The Future Accommodation Model will apply to personnel with families and those without, whether they are single, in a relationship or married.
When will this happen?
The Future Accommodation Model is a complex project; it will take until the end of 2017 to understand what FAM may look like and make all the main decisions. If the Future Accommodation Model gains approval, the pilot would then be introduced within a few years, with wide spread implementation not taking place for a further 5 to 15 years after the pilot phase has finished.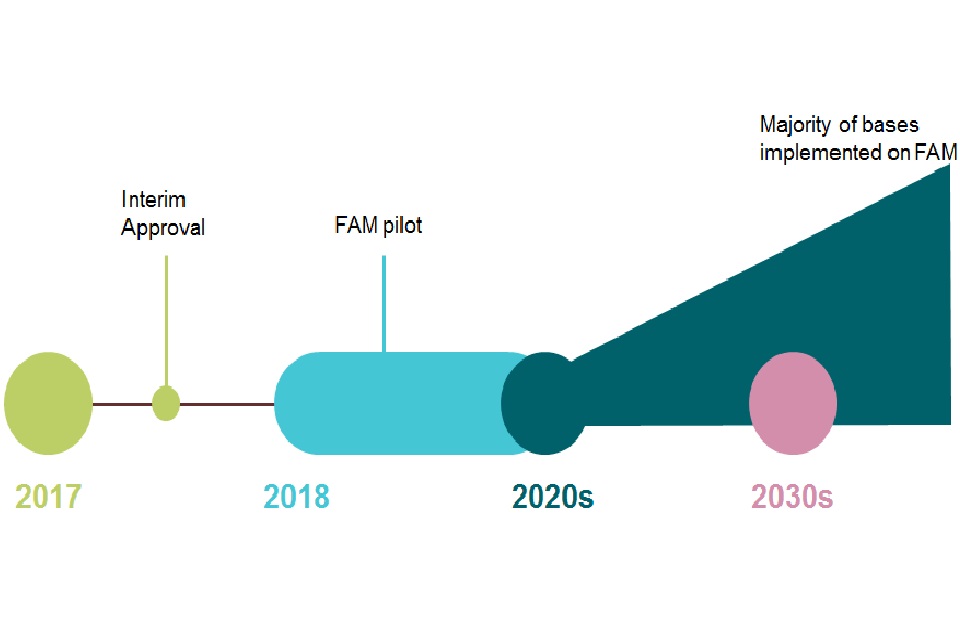 Project timeline:
interim approval: late 2017
pilot: late 2018
implementation: 2020s
full implementation in: 2030s
Further information will be released in late 2017 once a decision has been made.