Corporate report
DVLA's annual report 2012 to 2013
Updated 8 August 2013
© Crown copyright 2013
This publication is licensed under the terms of the Open Government Licence v3.0 except where otherwise stated. To view this licence, visit nationalarchives.gov.uk/doc/open-government-licence/version/3 or write to the Information Policy Team, The National Archives, Kew, London TW9 4DU, or email: psi@nationalarchives.gsi.gov.uk.
Where we have identified any third party copyright information you will need to obtain permission from the copyright holders concerned.
This publication is available at https://www.gov.uk/government/publications/dvlas-annual-report-and-accounts-2012-to-2013/dvlas-annual-report-and-accounts-2012-to-2013
1.

Highlights of the year
Operational results
We exceeded or met 18 of 20 performance measures.
Customer service measures
We exceeded or met 19 out of 20 of our customer service measures.
Customer Service Excellence
DVLA has retained its accreditation to the Customer Service Excellence standard for a further year, achieving its best result ever, including awards in twenty areas of 'best practice'.
Digital services
In October 2012 the Government launched GOV.UK bringing all government websites under a single, centrally-run domain. DVLA customer services were successfully transferred to the new site. For more information visit GOV.UK.
In 2012-13, DVLA's electronic vehicle licensing (EVL) service achieved its highest ever digital take up. By March 2013 this take up percentage had risen to 55.7% of licensing transactions.
Best event in government 2012
Digital Unite, organisers of the spring online events across the UK, awarded DVLA a special 'Best Event in Government 2012' commendation for its Silver Surfer event held in April 2012.
The Silver Surfer event proved a great opportunity for DVLA to make a positive contribution to the local community and in doing so, create an awareness of DVLA online services.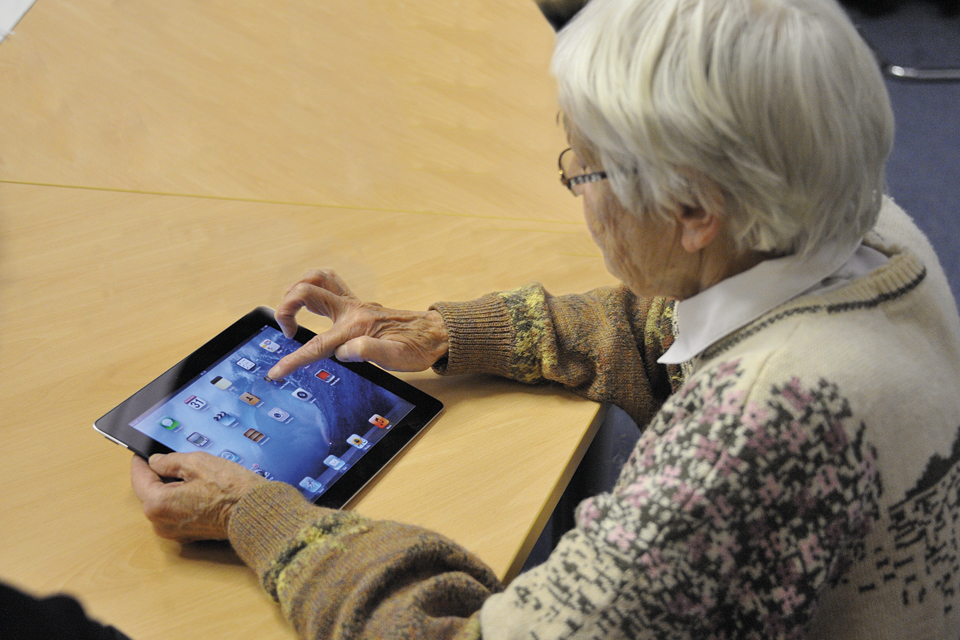 DVLA personalised registrations
In 2012, to celebrate the London 2012 Olympics, DVLA released Olympic themed registration. The Agency was granted official licensee status for the 2012 Olympic Games and a three day auction, which included 1,750 registrations, was held at City Hall, London, raising a total of £4.7 million.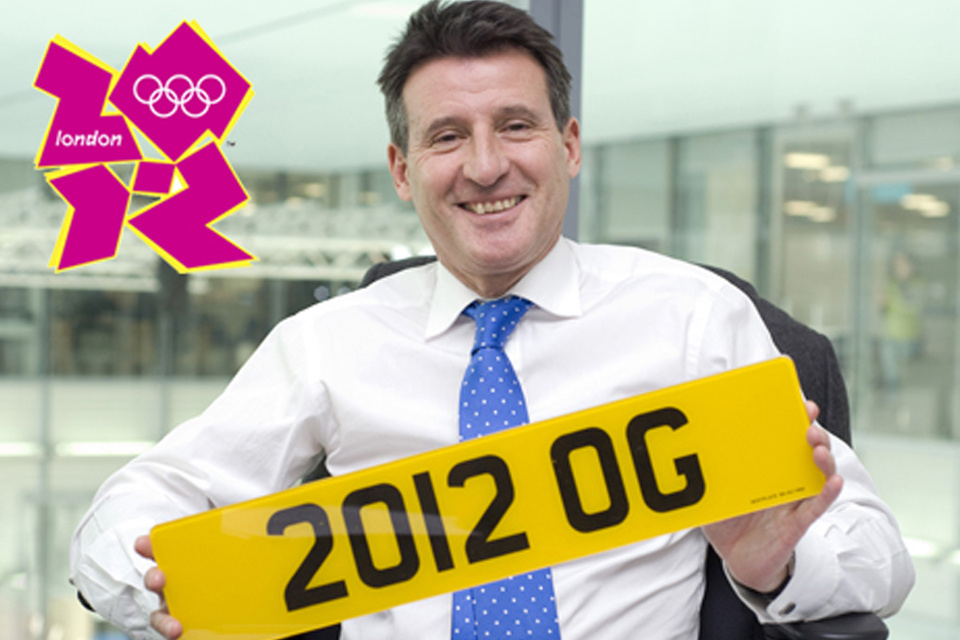 Contact Centre Association
In 2012, DVLA's contact centre was crowned 'Best Overall Contact Centre of the Year' by the Customer Contact Association (CCA). Our contact centre also won the award for the 'Most Effective Training Programme' category.
CCA is the leading independent authority on customer contact strategies and operations, particularly for the contact centre industry. The CCA Global Standard© and the CCA Excellence Awards programme brings together all of the elements needed for quality contact centre operation.
Financial result
DVLA raised £401 million through fees and charges income, an increase of £13 million against the Business Plan 2012-13 forecast of £388 million. A fees surplus of £10.9 million was achieved against a forecast breakeven outturn in our Business Plan 2012-13.
The Agency has delivered a sustainable efficiency gain of £40.6 million exceeding our target of £33.25 million.
Two ticks
DVLA has been re-accredited with the Two Ticks 'Positive about Disabled People' symbol in recognition of its actions to support disabled people in the Agency.
2.

Chief Executive's message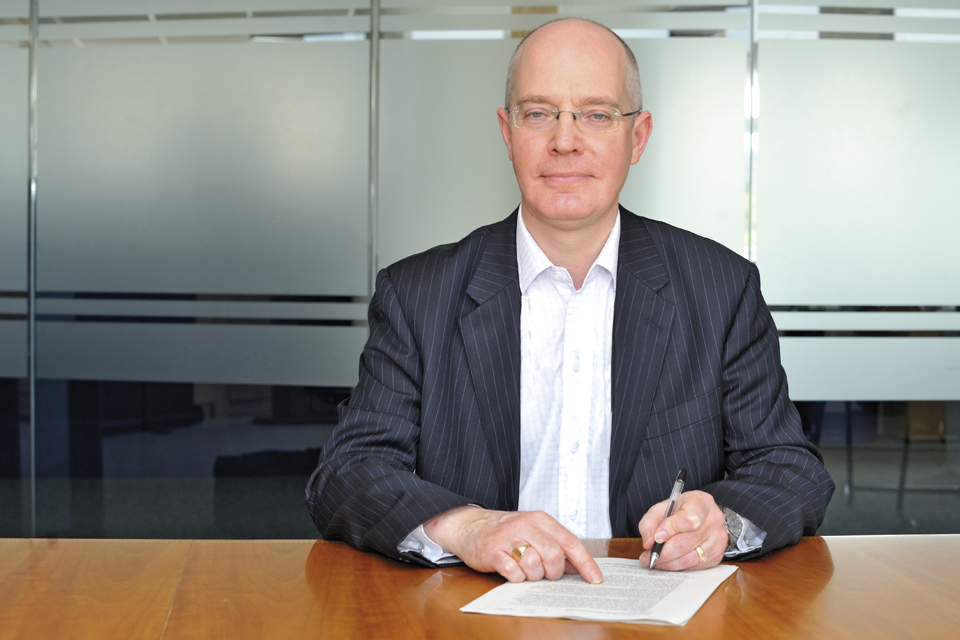 This last year has been a challenging one for DVLA and its people. Good progress has been made on the modernisation of our network services and we remain on track to meet our efficiency goal of saving £100 million in annual running costs by 2014-15. We have begun work with the Government Digital Service on developing our new digital exemplar services, whilst at the same time achieving our highest ever level of digital take-up for our established Electronic Vehicle Licensing (EVL) service and a gradual increase in our Driver Licensing online service. The EVL service is complemented by our new contract with the Post Office® for front office counter services which will ensure a reduced cost for transactions through this channel and mean that, overall, 97% of vehicle licences are received electronically, either directly or through the Post Office®.
In my short time with the Agency, I have been impressed by the clear commitment of people at all levels in the organisation to provide a high quality service to the public and to our business customers. This is reflected in our operational performance, which continues to be of a very high standard. We have achieved or exceeded 18 out of 20 performance measures and 19 out of 20 customer service measures. We have also retained our accreditation to the Customer Service Excellence standard, achieving our best result ever, whilst our contact centre was chosen as the best overall contact centre of the year by the Customer Contact Association.
Nevertheless, there have been difficulties. We did not make the progress we needed to in preparing for the procurement of a new supply chain for our IT systems support and development. This is a critical enabler for the changes we need to make to our IT architecture and to digitise and transform the remainder of our high volume services. However, good work is under way to get the programme back on track and to ensure we are able to deliver a successful outcome. Equally, whilst there was record take-up of EVL, overall take-up of our digital services did not rise as expected due to the complex nature of the transactions. This reinforces the need for us to rapidly develop new digital services that are designed around the needs of the customer and to look for opportunities to enhance existing digital services to make them more attractive for users.
There are a number of policy developments under way which could, in time, have a significant impact on the Agency and the services we provide. Many of these developments will deliver real benefits for our customers and make it easier for them to do business with us However, the challenge is to ensure that the wide range of current and potential future changes in the pipeline are managed coherently and effectively and deliver good value for money. The work completed in the final part of the year on agreeing a new vision and business strategy for DVLA is an important step towards providing a framework within which to manage this change. More work is needed in the next few months to turn this high level strategy into a meaningful plan that will support the successful transformation of DVLA into a digital business. But I am confident that, with the commitment of our people, a clear focus on our customers and the engagement of stakeholders, we can make good progress over the coming year towards realising our vision, whilst ensuring we meet our immediate business objectives.
Malcolm Dawson OBE
Accounting Officer and Interim Chief Executive DVLA 20 June 2013
3.

Directors' report
3.1

Who we are and what we do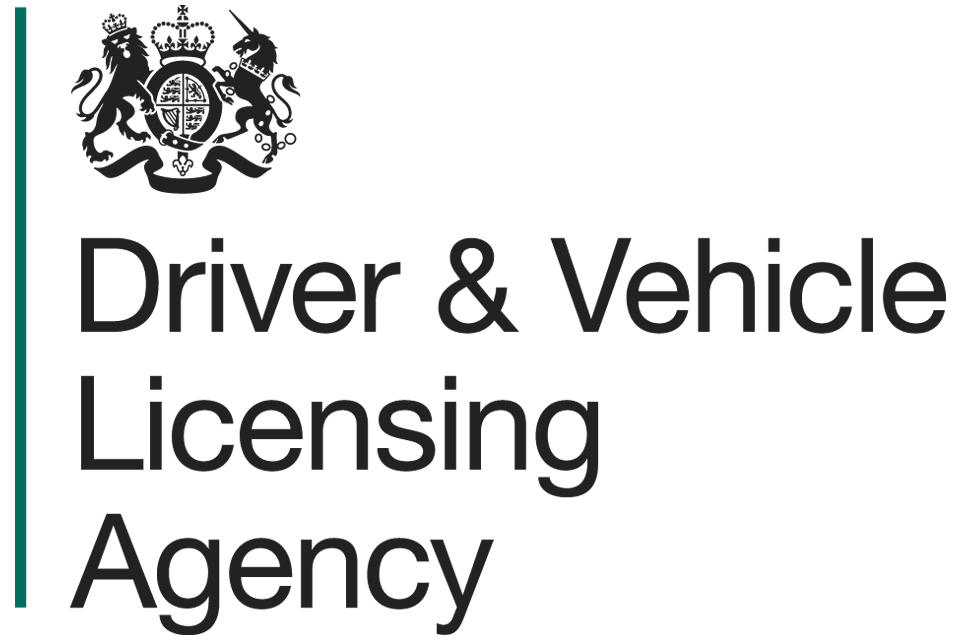 DVLA is an Executive Agency of the Department for Transport (DfT), responsible for maintaining over 44 million driver records and almost 37 million vehicle records.
Our purpose
Our purpose is to ensure that complete and accurate registers of drivers and vehicles are held and we make them as accessible and as flexible as possible, to those who have the right to use them.
These registers underpin action by DVLA, the police and others to maintain the high levels of road safety experienced in the UK and the effective collection of Vehicle Excise Duty (VED). DVLA registers are used to deliver other departmental and government initiatives such as traffic management and reducing carbon emissions.
Digital services
Since 2002, DVLA has consistently developed new digital services making it easier for customers to transact with us. In 2013 DVLA EVL service reached its highest ever digital take up.
Compliance and enforcement
The Agency collects around £6 billion a year in VED and is responsible for limiting tax evasion to no more than 1% per year. We operate continuous insurance enforcement, a joint government and insurance industry initiative to combat uninsured driving.
DVLA also supports the police and intelligence authorities in dealing with vehicle related crime.
DVLA personalised registrations
DVLA personalised registrations offer a range of unissued registration numbers for customers to buy online or at auction. Since its launch in 1989, the Agency has collected over £1.68 billion on behalf of the Treasury.
Managing our organisation
The Agency's Chief Executive and Accounting Officer chairs an Executive Board (EB) of six executive and two non-executive directors. For more information about how we manage our organisation see our Governance Statement (section 4.2) or visit our website.
The purpose of this document
The Annual Report and Accounts should be read in conjunction with the DVLA Business Plan 2012-13 and sets out our performance and achievements for the year.
For more information about DVLA, visit our website.
3.2

Transformation and change agenda
Modernisation of DVLA services
The centralisation of transactions traditionally processed in the local services network is well underway. The enforcement centres were closed on 31 March 2013 and enforcement work centralised to Swansea. Work is on schedule for the centralisation of all other transactions that will support the Agency in closing the local offices by December 2013.
Digital exemplars
Some of the transactions that will be centralised are progressing as part of the work that we are doing with Government Digital Service (GDS) to provide these services digitally. These include:
personalised registrations
change of keeper and vehicle details
Work is being taken forward on the above to ensure developments align to the Government's ICT Strategy. These initiatives will be reviewed as part of a GDS 'Discovery' workshop at the start of 2013-2014 to inform the delivery plan for these services.
DVLA ICT systems
During 2012-13, we continued discussions about our future data structures, application and technology architectures with GDS and stakeholders. Our direction and the first building blocks for the new approach are now being laid. High level plans are being developed, which will allow us to continue the journey on increasing the agility and flexibility of our ICT estate.
We have started the move away from a reliance on proprietary, closed platform, closed standard products and have started to make increased use of open source or open standard products wherever possible, as guided by the Government ICT Strategy.
The Contract Let Procurement Programme is driving this work forward by developing an IT transformation plan to inform the move away from our current architecture.
IT Contract let
The programme did not progress at the rate envisaged in 2012-13 due to a number of factors and in February 2013 DVLA received approval to enter in to a 6 month contract with an Engagement Partner.
The Engagement Partner was appointed on 19 March 2013 following a competitive procurement process. The programme is now working to deliver an outline business case for approval in September 2013.
EU Third Directive
The national legislation for the European Third Directive legislation for driver licences was laid in March 2012. DVLA systems and process were implemented by the legislative date of 19 January 2013.
Development of motor insurance industry enquiry facilities– digital exemplar
We have continued work on our project to provide access for the motor insurance industry to check driver records at the point of quotation. Working closely with GDS we have introduced an agile approach to the development and using the new Government Sprint II Framework, the project appointed Kainos to work with IBM to integrate the new build with current systems. Cabinet Office has labelled this work as a 'digital exemplar' as part of the wider government digital services agenda.
The inception phase and the first four sprints were completed during the year with a planned implementation date of the first quarter of 2014.
Migration of Northern Ireland Vehicle Systems to Vehicles System Software
We are continuing our work towards the introduction of e-services in Northern Ireland and to bring these services up to the standard of the rest of the UK.
Future card production
In April 2012 DVLA awarded the contract for the provision of card products (including driving licence) to Gemalto (UK), following the completion of competitive dialogue procurement. The new contract will run for a term of six years with the possibility of a further extension of two years. Tachograph cards will be the first products to be issued in June 2013 with the introduction of the driving licence planned for January 2014. The new card contract will provide the UK taxpayer savings of more than £35 million over the next six to eight years.
Front office counter services
In December 2012, after a successful procurement process, our front office counter services contract was awarded to the Post Office®. The new contract started from April 2013 and runs for a period of seven years. The contract is a cross government framework that will allow other departments to call off face to face services without going through an extensive procurement exercise.
We have managed to secure significant cost reduction through the new contract with forecast saving of around £19 million per year while gaining improvements to the services offered.
3.3

Service Delivery
Transaction volumes 2012 to 2013
|   | Business Plan | Actual |
| --- | --- | --- |
| Vehicle volumes | 103,672,000 | 97,424,000 |
| Driver volumes | 16,891,000 | 15,197,000 |
| Electronic take-up target | 54% | - |
| Electronic take-up (actual) | - | 50.3% |
Transaction volumes 2011 to 2012
|   | Business Plan | Actual |
| --- | --- | --- |
| Vehicle volumes | 101,193,790 | 100,982,000 |
| Driver volumes | 17,174,984 | 15,610,000 |
| Electronic take-up target | 53% | - |
| Electronic take-up (actual) | - | 53.7% |
Actual and business plan volumes in the table above show driver and vehicle transactions only. It excludes items that are not driver or vehicle specific eg volume of sale of marks. It also excludes telephone enquiries.
Driver transactions
First applications for a driving licence are at around one million transactions a year; there has been a decline in 2012-13 from 2011-12 of around 5%, which reflects the continued economic downturn. The total driver transactions have reduced by 2% against 2011-12.
Vehicle transactions
Vehicle volumes have decreased in 2012-13 against 2011-12 by 3% overall. Vehicle first registrations have increased by around 100,000 compared to 2011-12 reflecting predictions made by the motor industry during 2012-13. Volume reductions have been experienced across a wide range of vehicle transactions most noticeably relating to vehicle licensing and changes to vehicle registration documents.
DVLA digital services
In the ten years since DVLA's first electronic transaction was introduced, the demand from our customers for digital services continues to grow. In 2012-13 we processed 23.5 million EVL transactions and 2.3 million driver licence transactions.
Electronic Vehicle Licensing
By March of 2013 EVL take up rate had risen to 55.7%. DVLA continues to examine improvements to its online licensing service and is working with the Government Digital Service on a redesign of EVL that will further improve the customer experience, encouraging further growth in digital take up. DVLA's target for 2013-14 is to achieve take up of 58.0% by March 2014.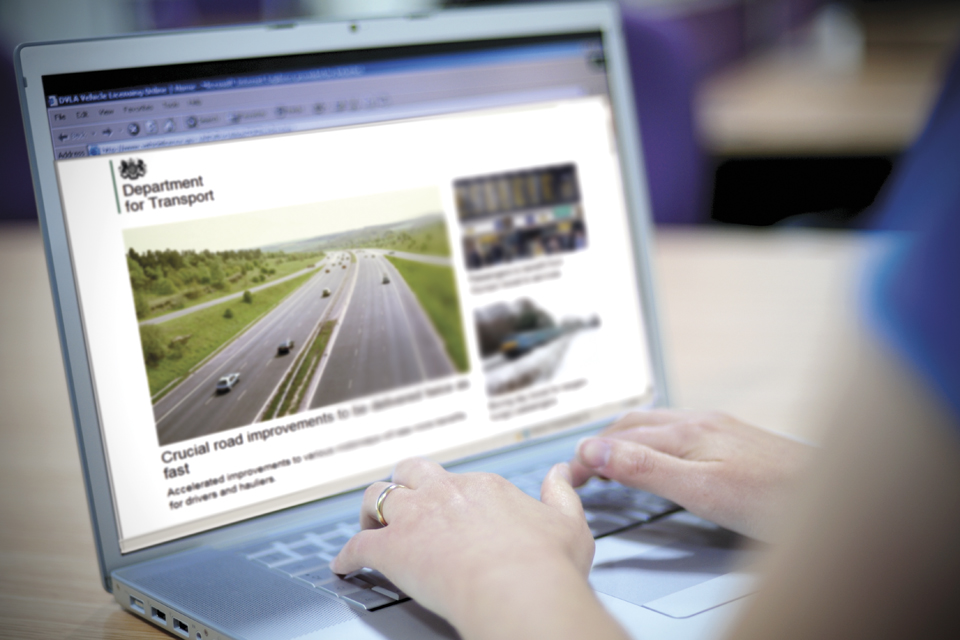 Electronic take up for drivers and vehicles
During 2011-12, 53.7% of all transactions processed by DVLA were handled digitally. It was our intention to continue to grow the digital channel and we projected a modest increase by March 2013 to 54%.
Vehicles - In 2012-13, DVLA's online vehicle enquiries were 2.3 million lower than the original forecast. These transactions are very difficult to forecast, as there is no discernable pattern to the volumes, the monthly figures vary from just under 1 million to over 3.5 million with no explanation or seasonal pattern.
Drivers - In 2012-13 there was a decrease in driver online enquiries with them totalling around1.5 million (or a further 1% reduction in what are 100% digital transactions against our plan).
Drivers electronic fixed penalty updates decreased by 500,000. This in itself is positive, as we are receiving less fixed penalty updates, showing a reduction in offences by drivers.
DVLA's driver verification service volumes reduced by almost 350,000 compared to 2011-12. There are a few potential reasons for this reduction. The customer auditing and monitoring procedures have been tightened and the organisation no longer actively promotes the service to potential new customers. In summary the reduction accounted for a 0.2% reduction.
As a result of the above volume reductions the target for 2012-13 was not achieved.
In 2012-13 we held a successful 'Silver Surfer' event to help our customers use the internet. We also started to promote our online services through the social media channel 'Twitter'.
Working with Government Digital Services
During the year DVLA worked closely with Government Digital Service (GDS) on a number of initiatives specifically the re-design of our EVL online service to improve take up and reduce the calls to our contact centre. This work is ongoing.
Work continues with GDS to understand DVLA requirements in line with the Identity Assurance agenda.
Drivers medical
In 2012-13 the Agency introduced an automated email response solution for customers needing to make medical related enquiries. This has resulted in over 44% automated responses being produced since September 2012.
Routine assurance of the drivers medical Customer Service Measures identified errors in the automated management information (MI) systems and the 2012-13 reported figures have been corrected for this. The corrected figure for 2012-13 showed 78.5% of simple cases were concluded within 15 working days. The figure prior to correction was 87.4% against a target of 90%. The target was missed due to an unexpected fluctuation in volumes. Action was taken in the latter part of the year which has improved the position.
In addition the investigation highlighted that the approach, which defined cases as simple or complex, was no longer providing a meaningful measure for customers. This has resulted in the Customer Service Measure for medical customers being altered for 2013-14.
Diversity and the customer
DVLA continues to promote and support diversity and equality principles for both staff and customers in line with the Government's Digital Agenda. During the year, the Agency held a successful 'Going digital and the customer' conference, which included a presentation by the Permanent Secretary Philip Rutnam and was attended by Sir Paul Jenkins (Civil Service Diversity Champion) as a keynote speaker.
Customer interaction continues with diverse groups participating and providing feedback on DVLA digital services, forms and leaflets. For more information about DVLA and diversity visit our website.
Automated First Registration and Licensing
In 2012-13 DVLA continued to promote take-up of Automated First Registration and Licensing (AFRL) with vehicle manufacturers not currently using the system. During the year 300 new dealers joined the system. There are approximately two million AFRL transactions each year with 90% of dealers now using the system.
DVLA Personalised Registrations
DVLA's Personalised Registrations online service allows customers to purchase registration numbers outside of auction events. The service also offers follow up transactions, which allow customers to amend details of registrations held.
3.4

Policy development
Driving licence counterpart
As part of the Red Tape Challenge, we have announced our intention to abolish the paper counterpart to the driving licence. The Motoring Services Strategy Consultation recently launched by DfT reinforced this commitment. Subject to a commencement order, legislative powers already exist to abolish the counterpart. This measure is expected to reduce burdens and deliver efficiency savings for customers and DVLA. A final decision will be taken during 2013-14.
Road safety
DVLA has introduced a fast track process for revocation of driving entitlement to drivers failing police roadside eyesight checks. This means that licences are revoked in a matter of hours rather than days.
Data sharing
Work is continuing to introduce an automated checking service with DVLA and the UK Border Agency. This service will enable DVLA to quickly verify the residency status of foreign driving licence applicants.
Statutory off Road Notification
DVLA has secured a legislative slot through the Finance Bill 2013 to amend primary legislation to deliver indefinite Statutory off Road Notification (SORN), the requirement to SORN only once. Work is progressing to plan, with an impact assessment undergoing peer review within DfT and will be published alongside the new legislation.
Road user charging
The Government has introduced a system of HGV road user charging. This will ensure a fairer arrangement for UK hauliers. The charge applies to vehicles in the HGV tax class weighing 12 tonnes or more. From April 2014, drivers taking out HGV VED will pay the new combined vehicle tax and road user charge.
The initiative will see a fairer arrangement for UK hauliers in line with current practices across EU Member States.
Fleet operators
Work continues with DfT to make the legal changes to allow fleet companies to request the suppression of vehicle registration certificates. A high level impact assessment has been reviewed by DfT. This will reduce the burden on fleet companies in having to manage and store large amounts of certificates.
Removal of insurance check
A public consultation began in October 2012 for the removal of insurance checks when taxing a vehicle. The Impact Assessment is currently undergoing review at DfT and once agreed it will be published with the amended legislation. This proposal remains on target to be delivered towards the end of 2013. The proposal will result in time savings of around 10 to 25 minutes for the public and businesses and £1.1 million for the government due mainly to fewer transactions failing when taxing online.
3.5

DVLA people

During 2012-13 DVLA has been preparing for the closure of the local services network and the centralisation of its activity in Swansea. This will result in a temporary increase in Full Time Equivalents from 5,469 at the end of March 2012 to 5,644 at the end of March 2013. This increase is as a result of the recruitment of staff into Swansea in advance of the network closure. This increase will be more than offset when the local offices close later this year. The figures excluding DfT HR staff employed on the Next Generation HR Group model at 31 March 2013 were 5,612.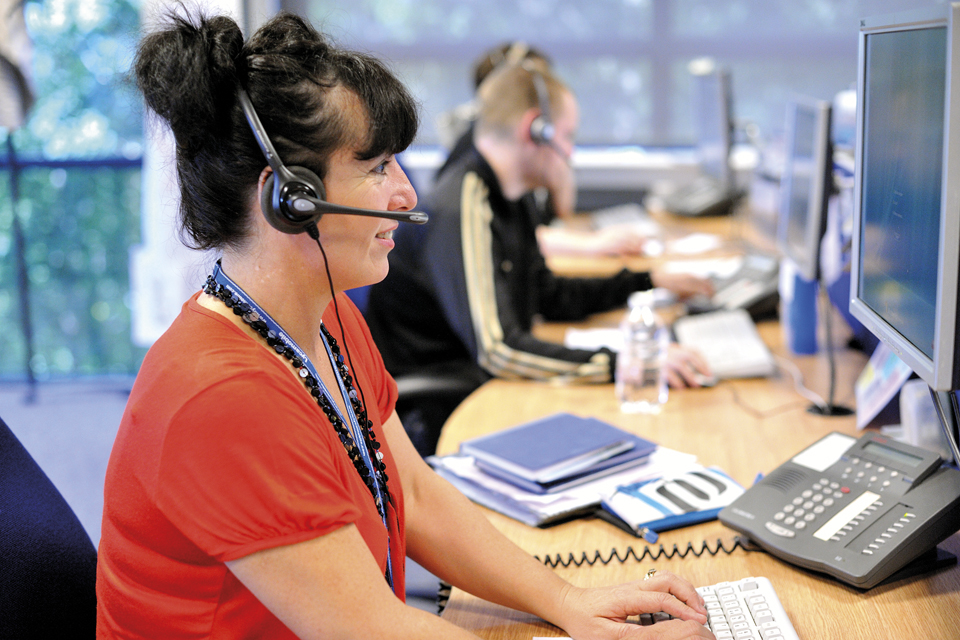 DVLA operates under the DfT Group HR model and has adopted common DfT and Civil Service Employee Policy such as attendance management. The setting up of centralised DfT HR Advice and casework teams has ensured the provision of consistent, expert advice and guidance for managers.
The Agency sick absence rates in 2012-13 reduced from an average of 7.6 days per person to 6.7 days. During this period, we delivered a programme of work entitled 'Changing Minds' to address mental health issues, which is the top reason for absence. This work included:
delivery of master-classes to managers
e-learning for all staff
an intranet site outlining advice and sources of support
a corporate challenge to build mental resilience
As a result of the Civil Service People Survey 2012, work was carried out around the areas identified in need of improvement. Leadership and managing change were identified as the key driver of engagement in the Agency and during the year, managers have been engaging with staff to make improvements, work continues.
DVLA are working with DfT to promote the good people management model, which is designed to underline the importance of a good working relationship between the line manager and their staff.
In 2012-13 we successfully launched the use of Civil Service Learning with every member of staff registering and participating in both e-learning and classroom activity.
3.6

Looking to the future

Towards the end of the financial year and to reflect the increasing emphasis on the customer's needs and the digital by default agenda, the Agency recast its vision.
Our vision: Customers are at the heart of our business and drive everything we do. Our digital services and our people exceed our customers' expectations.
To achieve this, the Agency needs to be an organisation that is digital by default, with services so good that people want to use the digital one first. We will ensure that DVLA keeps in-step with the wider Civil Service Reform Plan, the Government Digital Strategy and The Red Tape Challenge as we:
ensure we meet our customer service targets for accuracy and timeliness
ensure personal data is held safely, increasing accuracy and continuing to achieve high levels of motoring tax compliance
redesign our business and processes around customer needs to cater for the digital world that we all now live in and keep up with future technology changes
develop our staff and managers so that we have the skills to deliver, know what we are working to achieve and can all apply this strategy in our day to day work
change our culture to become a responsive, agile and empowered organisation
The revised strategy will be used to prioritise the work going forward and to develop route maps in order to achieve our goals over the next 3-5 years.
3.7

Performance Summary 2012-13
Key performance measures
| Measure 2012-13 | Met | Result |   |
| --- | --- | --- | --- |
| Change |   |   |   |
| Continuous Insurance Enforcement - reduce the number of uninsured vehicles on the road to 2.65% (860,000 vehicles) by March 2013 | Yes | 2.20% (709,906 vehicles) |   |
| EU 3rd Directive - DVLA and Third Party Systems updated and testing by March 2013 | Yes | Systems and process were implemented by the legislative date of 19 January 2013 |   |
| ICT Contract Let - appoint technical delivery partner(s), agree contract requirements and procurement strategy, define and agree technical solutions by March 2013 | No | The contract let programme did not progress at the rate envisaged. An outline business case will be delivered in September 2013 |   |
| Digital services - improve take-up of EVL by March 2013 to 55% | Yes | 55.7% |   |
| Digital services - improve overall electronic take- up (drivers and vehicles) by March 2013 to 54% | No | 50.3 % |   |
| Sustainability - cut 25% carbon emissions from Agency buildings and business use of vehicles by 2014-15 against a 2009-10 baseline cap increase at 10% | Yes | 2% reduction in carbon emissions |   |
| Service delivery |   |   |   |
| Collect vehicle tax for the government - collect a high proportion of the £6 billion tax forecast (over 99%) | Yes | £6 billion |   |
| Accuracy vehicles – maintain accuracy so the registered vehicle keeper can be traced from details held on our record in 95% of cases | Yes | 98.9% |   |
| Accuracy drivers - provide the Department with a plan by March 2013 to deliver improvements in the accuracy of driver record | Yes | A report has been provided to DfT outlining a plan of activity for 2013-14 |   |
| Service delivery |   |   |   |
| Customer service - achieve 18 out of 20 customer service measures | Yes | 19 out of 20 |   |
| Customer satisfaction - maintain or improve the satisfaction of our customers for our services (85%) | Yes | 91.3% |   |
| Freedom of Information - provide a 93% response within 20 working days | Yes | 100% |   |
| Parliamentary questions - provide a 85% response within due date | Yes | 100% |   |
| Member of Parliament correspondence - provide a 85% response within 7 working days | Yes | 99.5% |   |
| Official correspondence - provide a 80% response within 20 working days | Yes | 100% |   |
| Prompt payment - pay 80% supplier invoices within 5 working days | Yes | 96.0% |   |
| Financial performance |   |   |   |
| Finance - annually make progress towards the ultimate goal of a sustainable £100 million a year reduction in operating costs by the end of 2014-15. Deliver an in-year addition of £5.75 million of sustainable savings (substantiated by Audit) compared on a consistent basis with the 2010 baseline - £33.25 million (accumulated run rate reduction) | Yes | £40.6 million |   |
| Efficiency - Deliver financial performance in line with formal DfT breakeven expectation | Yes | £10.9 million fees surplus |   |
| Workforce - by March 31 agency workforce will number 5,635 full time equivalents (excluding DfT HR staff employed on the Next Generation HR Group model )* | Yes | £5,612 full time equivalents |   |
| Sickness Absence - ensure the average number of working days lost due to sickness is no more than 6.9 days (per full time equivalent) | Yes | 6.7 days |   |
*DfT approval to revise DVLA's workforce target from 5,307 to 5,635 as a result of the transformation and modernisation of DVLA network services.
Customer service measures
| Customer Service Measures | Met | Measure 2012-13 | Result |
| --- | --- | --- | --- |
| Customer Service Excellence Standard |   |   |   |
| Retain accreditation of the CSE Standard | Yes |   |   |
| Customer Contact Association Standard |   |   |   |
| Retain accreditation of the CCA Standard | Yes |   |   |
| Driving Licences |   |   |   |
| To deliver a first driving licence within 8 working days | Yes | 98% | 98.2% |
| To deliver a vocational licence within 8 working days | Yes | 98% | 99.5% |
| To deliver an ordinary driving licence within 10 working days | Yes | 98% | 98.8% |
| To deliver a digital tachograph renewal in 8 working days | Yes | 98% | 99.1% |
| Medical investigations |   |   |   |
| To conclude a simple case within 15 working days | No | 90% | **78.5% |
| To conclude a complex case (one that requires further medical investigating) within 90 working days | Yes | 88% | 88% |
| Vehicle registration document |   |   |   |
| To deliver a first registration document, excluding cherished transfers, within 14 working days | Yes | 95% | 99.7% |
| To deliver a change on a registration certificate within 14 working days | Yes | 95% | 98% |
| To deliver a registration document from an application (notifying changes to the registration certificate) within 30 working days | Yes | 95% | 98.7% |
| VED refunds |   |   |   |
| To deliver a refund due within 30 working days | Yes | 95% | 99.5% |
| Customer service |   |   |   |
| To answer calls queued to advisor | Yes | 95% | 98.9% |
| To deliver a recognised quality of service standard in the Contact Centre | Yes | 85% | 86.8% |
| To answer an email within 3 working days | Yes | 95% | 100% |
| Keep average local office queuing time to no more than 15 minutes | Yes | 15:00 | 11:06 |
| To deliver a cherished transfer within 7 working days | Yes | 95% | 98.3% |
| Customer complaints |   |   |   |
| To acknowledge a complaint within 1 working day | Yes | 100% | 100% |
| To maintain or improve on last year's performance sending a substantive response within 10 working days | Yes | 98% | 99.6% |
| MP correspondence |   |   |   |
| To acknowledge correspondence within 1 working day | Yes | 100% | 100% |
| Overall |   | 18 of 20 | 19 of 20 |
** see Drivers medical in section 3.3 Service Delivery.