News story
Zimbabwe and the political situation in Harare: November 2017
Updates on the situation in Zimbabwe after Robert Mugabe resigned and the new President Emmerson Mnangagwa came into office, and related developments in Harare.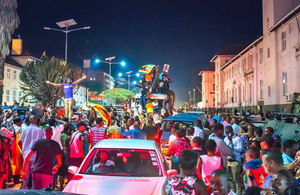 The situation in Zimbabwe is calm. However, ongoing political developments may result in further demonstrations or celebratory gatherings, especially in urban areas. You should continue to exercise caution, avoid demonstrations or activities which could be considered political. The authorities have sometimes used force to suppress demonstrations.
We also share information on the embassy social media accounts:
Foreign Secretary Boris Johnson said:
I will not pretend to regret Mugabe's downfall: but this can now be a turning point, a moment of hope for this beautiful country, full of potential. The immediate priority is to ensure that Zimbabwe has a legitimate government, appointed through free and fair elections in accordance with the constitution.

That's what the UK wants to see and together, with our international friends and partners in the region, we stand ready to support Zimbabwe in this goal.
Latest updates
Update from Simon Thomas, Acting Ambassador to Zimbabwe in Harare on 22 November:
It is a huge privilege to be here in Zimbabwe at this historic moment and I got to see for myself last night the amazing outpouring of emotion on the streets of Harare.

Today, it really feels as though there's hope in the air. My hope, for the people of Zimbabwe who have suffered so much for so long is that today really marks a turning point and that Zimbabwean's will finally get the bright future they deserve.
Acting Ambassdor Simon Thomas reflects on the resignation of Robert Mugabe
Published 15 November 2017
Last updated 16 November 2017
+ show all updates
Updated guidance
House of Commons statement added
First published.