Zeinab Badawi on freedom of expression in the UK
In a Foreign Office film launched today, the Sudanese-born BBC World News anchor celebrates the liberties we enjoy in Britain, considering them real cornerstones of democracy.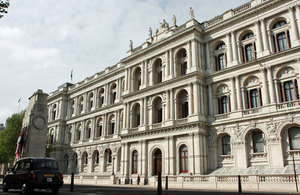 The film is one of the 'See Britain through my eyes' series featuring individuals from abroad talking about their experiences of modern Britain in the run up to the London 2012 Olympic and Paralympic Games.
In her short 'See Britain' film Zeinab says that freedom of expression is something we often take for granted in the UK. But having reported and worked in many countries around the world where there is tight state control of the media, she never does. She has visited countries where people have been imprisoned and sometimes lost their lives for speaking out. Watch her short film below.
Born in Sudan, Zeinab moved to the UK at two years old. She is one of the most senior news anchors on the BBC World News Channel and on BBC4 TV. She has been involved in British broadcast news for two decades working on an extensive range of programmes. In the film, she explains how globalisation has profoundly affected how we report and present news. She believes we can no longer speak of UK and international news as separate entities, as the two are so interlinked and we now really are global citizens.
Zeinab currently presents the daily 'World News Today' programme, which reaches 250 million households worldwide. The show offers a daily digest and analysis of the major news events around the globe, featuring interviews and debates with key international figures and commentators. Zeinab also presents in-depth discussions on the BBC World Debate Series, where her guests have included Bill Clinton and Bill Gates.
Earlier in her career, Zeinab co-presented Channel 4 news with John Snow for nearly a decade (1989-1998). She followed this with a stint reporting for and presenting programmes on British politics live from the BBC's Westminster studios. Since then she's become a familiar face presenting debates on major issues as well as being a presenter of HARDTalk, interviewing the Dalai Lama and US General Tommy Franks amongst others.
Published 5 November 2010