News story
Youth survey gives thumbs up for renewables
Research published today shows huge support for renewable energy among young people with 94% of those questioned saying that offshore wind was…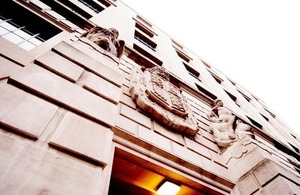 Research published today shows huge support for renewable energy among young people with 94% of those questioned saying that offshore wind was the 'fairest' energy technology, 81% saying onshore wind, and 94% supporting solar energy. This is compared to 2.2% for coal energy.
These figures are part of a report being presented by DECC's pioneering Youth Advisory Panel to energy and climate change minister Charles Hendry. The report calls for greater youth consultation on energy and climate change policy and for young people to get involved.
Based on DECC's 2050 Pathways project, the report looks at the UK's energy policies from the perspective of those people who will have to live with those decisions for their entire adult lives. The report was drafted by young people aged between 16 and 25 who visited power stations, nuclear plants and projects promoting renewable energy sources to investigate the issues at first hand and met with experts, industry, pressure groups and innovators, to look at how we keep the lights on in 2050 while reducing carbon emissions.
The report says while it is important that there is enough energy to go around, it would be irresponsible for us to only focus on providing energy to keep living the same way as we are today. Above all the report calls for:
a fair deal for young people in the decision-making process;
work to ensure that Government does not lock young and future generations into ecological debt; and
continued engagement in dialogue with the youth constituency and stakeholdership to ensure that the youth perspective is heard, and responded to, by Government.
Energy and climate change minister Charles Hendry said: "While work continues on a global deal in Cancun young people are not waiting for the politicians to start planning and building the low carbon economy for themselves. This report by DECC's Youth Panel is a remarkable piece of work which gives a fresh perspective on our energy policies and I would like to thank the Panel for the energy, enthusiasm and rigour with which they have approached this work. I now invite other young people to get involved and continue the strong partnership between DECC and the next generation."
Youth Panel member Tom Youngman, 17, Bath, from Eco-Schools and a Green Flag School said: "While we may not be able to offer a new technological insight, the decision to pursue any particular technology will define our future, and as young people we have the opportunity to view these long-term decisions with a much increased sense of urgency and tangibility. We do not want to inherit a diminished planet, as it often seems we are being asked to, and this is a huge step towards ensuring a sustainable and equitable future for our and subsequent generations."
Youth Panel member Mairi McInnes, Young Friends of Earth Scotland said:
"The report is the start of a sustainable long term journey that will hopefully inspire all generations to be curious about the complexities and politics of the energy mix. DECC has given us a platform and a voice and in return we are committed to encouraging a movement among all generations in understanding our role within that energy mix."
The dialogue element of the study was supported by the Department for Business, Innovation and Skills' Sciencewise-ERC programme.
---
Notes to editors
You can find the report on the DECC Youth Panel Report Presentation: LIVE event web page.
The survey was from a sample of 299 people under 29.
In the build-up to the Copenhagen conference (COP 16), young people in the UK made a number of approaches to the Department of Energy & Climate Change (DECC), requesting their views to be fed into the negotiations. DECC created a Youth Panel so that young people's views could be included into the actual process of how climate change policy is developed. DECC invited the Youth Panel to investigate the underlying assumptions of the 2050 Pathways project and report back from the perspective of people will spend their adult lives living with the consequences of energy decisions being made right now.
In July 2010 DECC launched the 2050 pathways calculator, a tool used to help people weigh up the different forms of energy supply and ways of reducing energy demand. You can try it for yourself on the 2050 calculator site.
If you have any comments or questions about the report please send an email to the Youth Panel
You can also follow the blog online
The Sciencewise-ERC, funded by the Department for Business, Innovation and Skills (BIS), helps policy makers commission and use public dialogue to inform policy decisions in emerging areas of science and technology. It consists of a comprehensive online resource of information, advice and guidance together with a wide range of support services aimed at policy makers and all the different stakeholders involved in science and technology policy making, including the public. The Sciencewise-ERC also provides co-funding to Government departments and agencies to develop and commission public dialogue activities.
Published 2 December 2010