Young people to be offered lessons in Mandarin
New partnership between China and UK to see 1,000 new Mandarin teachers trained for secondary schools in England.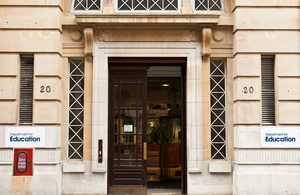 Education Secretary Michael Gove today announced a pioneering new partnership with China to train 1000 more Mandarin teachers for secondary schools in England.
During a visit to China to build stronger education partnerships with the Chinese,
Mr Gove launched the joint programme between the Specialist Schools and Academies Trust and Hanban (the Confucius Institute Headquarters). It is to run over the next five years.
Mandarin is an increasingly popular subject choice for young people at GCSE but in England there are currently only around 100 qualified Mandarin teachers, and only 16 per cent of secondary schools offered Chinese language teaching in 2009.
This new partnership will increase the quality and quantity of Mandarin teaching in schools and allow more young people than ever before the chance to study this important language. Increasing the number of Mandarin speakers will help equip Britain's future workforce with the skills we need to compete in a globalised economy.
Speaking from Beijing, Michael Gove said:
I am delighted to be building a stronger education partnership with the Chinese. There is a lot our countries can learn from each other and we want to work together to deliver world-class standards in schools through the greater sharing of knowledge and experience.
This is not just about fostering a better understanding of China among our young people. Offering every young person the chance to learn Mandarin will help to encourage mobility between the two countries, equip the next generation with the skills they need to succeed, and ensure the long-term success of our economy and society.
Elizabeth Reid, Chief Executive at the Specialist Schools and Academies Trust, said:
China is at the centre of the global economy, and the next generation will need to understand its culture and be able to work in its language - which is why we are delighted to be signing a memorandum of understanding with Hanban to train 1000 teachers of Mandarin Chinese over the next five years to meet the growing demand in England.
This new five-year programme will be co-financed by the two organisations and
will begin in July 2011. The programme is aimed at dealing with the immediate shortage of Mandarin teachers and enabling schools to meet the rapidly rising demand for Mandarin teaching. In five years, the supply of qualified Mandarin teachers should have increased sufficiently to match demand, but the situation will be kept under review.
 Notes to editors
Hanban is the Confucius Institute Headquarters / Office of Chinese Language Council International.
Mandarin GCSE entries across the UK increased by more than five per cent between 2009 and 2010 and by nearly 40 per cent since 2002.
Currently there are approximately 100 qualified Mandarin teachers in the UK.
In a CBI survey in 2010, UK employers mentioned Mandarin and Cantonese as second only to French as language skills they would be looking for in future employees.
DfE enquiries
Central newsdesk - for journalists 020 7783 8300
General enquiries - for members of the public 0370 000 2288
Published 10 November 2010