Young children still exceeding sugar recommendation
Children aged 4 to 10 years are consuming more than double the recommended amount of sugar, although consumption of sugary drinks has fallen compared to 6 years ago.
This news article was withdrawn on
This press release has been withdrawn because it's over 3 years old. See PHE's latest news.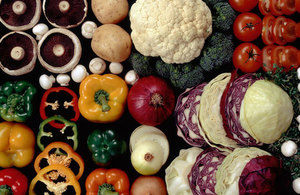 This is according to the latest National Diet and Nutrition Survey (NDNS), published today (9 September 2016) by Public Health England (PHE).
Children aged 4 to 10 years drank 100mls of sugary drinks on average in 2012 to 2014, a decrease from 130mls/day in 2008 to 2010. However, sugar makes up 13% of children's daily calorie intake, while the official recommendation is to limit it to no more than 5%. Worryingly, teenagers continue to consume 3 times the official recommendation for sugar (15%) and adults over twice as much (12%).
The survey also confirms that the UK population continues to consume too much saturated fat and not enough fruit, vegetables and fibre. Average saturated fat intake for adults aged 19 to 64 is 12.7% of daily calorie intake, above the 11% recommendation.
The same age group consume on average 4 portions of fruit and vegetables per day, older adults, aged 65 and over, consume 4.2 portions and children aged 11 to 18 consume 2.8 portions per day. Only 27% percent of adults, 35% of older adults and 8% of 11 to 18-year-olds meet the '5 A Day' recommendation for fruit and vegetables.
Dr Alison Tedstone, chief nutritionist at PHE, said:
This data provides compelling evidence that we all need to eat more fruit, veg, fibre and oily fish and cut back on sugar, salt and saturated fat to improve our health.

While it is encouraging that young children are having fewer sugary drinks, they still have far too much sugar in their diet overall, along with teenagers and adults. To help tackle this, PHE is launching a programme to challenge the food industry to remove at least 20% of the sugar in its products by 2020. It's an ambitious programme, a world first, and will be a significant step on the road to reducing child obesity levels.
Over one in 3 children leaving primary school and almost 2 in 3 adults are overweight or obese which means they are more prone to developing heart disease, type 2 diabetes and some cancers. This is why the government's recent Childhood Obesity Plan announced that PHE is to lead a programme to challenge food and drink manufacturers, retailers and the 'out of home' sector (like restaurants, cafes and takeaways) to reduce the amount of sugar in their products. This programme will apply to the foods that contribute the most to children's sugar intakes, including those aimed at babies and infants.
The data underlines PHE's call for the population to follow a healthy, balanced diet, based on the new Eatwell Guide, which includes eating a minimum of 5 portions of a variety of fruit and vegetables per day and increasing consumption of oily fish and fibre. Following a healthy, balanced diet and reducing calories will help reduce obesity and the economic and social burden of life-threatening diseases.
Background
Public Health England exists to protect and improve the nation's health and wellbeing, and reduce health inequalities. It does this through world-class science, knowledge and intelligence, advocacy, partnerships and the delivery of specialist public health services. PHE is an operationally autonomous executive agency of the Department of Health. Twitter: @PHE_uk Facebook: www.facebook.com/PublicHealthEngland
The NDNS rolling programme is a continuous cross-sectional survey, designed to assess the diet, nutrient intake and nutritional status of a representative sample of around 1000 people per year (500 adults and 500 children) from the general population aged 18 months upwards living in private households in the UK. The NDNS comprises an interview, a four-day diet diary and collection and analysis of blood and urine samples. Results are used by government to monitor the diet and nutritional status of the population, to provide the evidence base for policy development and to track progress towards public health nutrition objectives such as reducing sugar, saturated fat and salt intakes.
The NDNS is jointly funded by Public Health England and the UK Food Standards Agency. Work for years 5 and 6 of the rolling programme was carried out by a consortium led by NatCen Social Research working with the Medical Research Council Elsie Widdowson Laboratory (formerly known as MRC Human Nutrition Research) .
The report published today covers a range of topics including consumption of selected food groups, intakes of energy, macronutrients and selected vitamins and minerals and nutritional status(see note 7. Results for food consumption, nutrient intake and nutritional status are presented for five age groups: 1½-3 years; 4 to 10 years; 11 to 18 years; 19-64 years; 65 years and over, split by sex in all except the youngest age group. Fieldwork was carried out between 2012 to 201313 and 2013 to 2014 with an overall response rate of 53%. The analyses of food consumption and nutrient intake are based on 2546 individuals (1288 adults and 1258 children). The blood sample analyses are based on 700 adults and 300 children. These numbers include additional recruitment in Wales and Northern Ireland which have been weighted down in the final analysis to give a UK representative sample.
This report updates the report of the year 1, 2, 3 and 4 combined results, published in 2014 by PHE.
This report does not include results for salt intake based on 24-hour urinary sodium. The latest results for salt intake for adults aged 19 to 64 years in England were published earlier this year.
Nutritional status means the level of nutrients available to the body (after absorption) for use in metabolic processes. For some micronutrients, status can be assessed by directly measuring the level of the nutrient in the blood, while for others it is assessed by a functional measure such as the activity of vitamin-dependent enzymes.
Official advice is that no more than 5% of daily calorie intake should come from free (added) sugars.
| Age | Maximum sugar intake per day | Cubes | Teaspoons |
| --- | --- | --- | --- |
| 2 years | No more than 13grams | 3 | 1 to 3 |
| 3 years | No more than 15grams | 4 | 2 to 4 |
| 4 to 6 years | No more than 19grams | 5 | 3 to 5 |
| 7 to 10 years | No more than 24grams | 6 | 4 to 6 |
Photo courtesy Shutterstock, rights reserved.
Published 9 September 2016