Yemeni President Hadi visits UK ahead of Friends of Yemen meeting in New York
The Prime Minister today welcomed President Abd Rabbo Mansour Hadi of the Republic of Yemen to Downing Street to discuss ongoing reform in Yemen and joint efforts to defeat terrorism.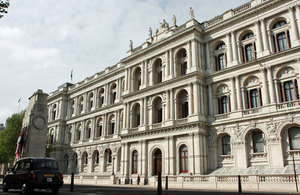 This is President Hadi's first visit to a non-Arab state since the peaceful transfer of power earlier this year, and underlines the warm and productive relationship the UK enjoys with Yemen. We welcome his strong leadership during a period of remarkable progress, including to stabilise Yemen following the upheavals of 2011. Tackling the threat posed by violent extremists and restoring security in Yemen remains a priority. Today's wider discussions, including with the Secretary of State for Defence Philip Hammond and Home Minister James Brokenshire, focussed on bolstering UK support for the Presidents' work on counter-terrorism as he continues to build the necessary foundations to complete political transition.
President Hadi also met International Development Minister of State Alan Duncan. The UK Government has expressed its concern at the worsening humanitarian crisis in Yemen by committing £28million. This makes the UK the third largest donor of humanitarian aid to Yemen and we will provide a further £196 million of development aid over the next three years.
During today's visit the UK reaffirmed its commitment to helping the President and his government provide a brighter future for all Yemenis, including through inclusive National Dialogue, constitutional reform and elections.
We now look forward to President Hadi joining the Foreign Secretary in New York to co-chair, alongside the Kingdom of Saudi Arabia, the Friends of Yemen meeting on 27 September. This meeting is an important opportunity to review Yemen's progress and establish further concrete ways Yemen's friends can help ensure the successful implementation of political, economic and security sector reform.
Published 24 September 2012