Written Ministerial Statement on the British Embassy in Madagascar
Foreign Secretary William Hague announces the re-opening of Britain's Embassy in Madagascar.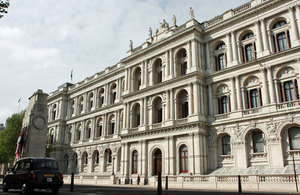 I am pleased to announce the re-opening of Britain's Embassy in Madagascar after seven years.
The Ambassador, Mr Timothy Smart, will take up his appointment in Antananarivo this month, and the Embassy will be fully functional by March 2013.
This marks Britain's full diplomatic re-engagement with Madagascar after the decision by the last British Government to close the Embassy in 2005. The new Embassy replaces the British Interests Section which was set up in the German Embassy in November 2008, which was run by a locally engaged member of staff and reported to Britain's High Commissioner in Mauritius.
Having a fully accredited British Ambassador and Embassy in Antananarivo will enable us to provide more effective systematic support to British business, a stronger trade and investment relationship with Madagascar, and full consular assistance to British residents and visitors.
The resources of a full embassy will also allow us to work more effectively with the international community to support Madagascar's return to a fully recognized constitutional government after free and fair elections, as set out in the Southern African Development Community's roadmap.
This decision sends a strong signal of British interest in and engagement with Madagascar and the region. And it is part of the expansion of Britain's diplomatic network in key regions of the world. By 2015 the British Government will have opened up 11 new British embassies and eight new consulates, and sent over 300 extra staff to over 22 countries in emerging economies.
As I said in Parliament on 11 May 2011, there will be no strategic shrinkage of Britain's diplomatic influence overseas and we will work to extend the reach of British diplomacy. Reopening the embassy in Madagascar is part of that commitment.
Published 23 October 2012