World news story
World Press Photo-2014 Exhibition in Astana and Almaty
World Press Photo Exhibition will open at the National Art Gallery "Astana" on December 10 to mark the International Human Rights Day.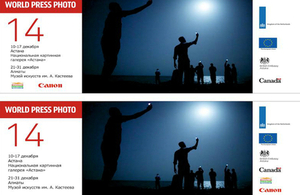 This unique travelling exhibition includes almost 140 works of the winners of the most prestigious photojournalism contest World Press Photo (WPP) announced in Amsterdam in February 2014 for the 57th time. The exhibition will stay in Astana from 10-17 December and in Almaty from 21-31 December.
World Press Photo is the most reputable annual contest for press photography, which largely determines the standards of the profession. Every year an independent international jury board comprised of professional photographers and photoeditors evaluates photo entries in nine theme categories. The contest brings together photojournalists, agencies, newspapers and magazines from all over the world. Over the two weeks the jury looked through more than 103,000 photo entries sent by 5,666 photographers from 124 countries.
The winners of the 57th World Press Photo Contest were announced in February 2014 in Amsterdam.The winners of the 56th World Press Photo Contest were announced on 15 February.The winners of the 56th World Press Photo Contest were announced on 15 February.
Each year after the contest the award-winning photographs covering the most topical events of the previous year are exhibited in Amsterdam for two months and then travel around the world. On average, the exhibition is seen by 2 million visitors. This year WPP will be exhibited in a record number of venues – 105 galleries and museums in 45 countries. This year the exhibition travels to Central Asia for the second time – in Astana and Almaty in December and in Bishkek in January.
World Press Photo is run as an independent, non-profit organization with its office in Amsterdam, the Netherlands, where it was founded in 1955 under the patronage of the Dutch Prince. The organisation is a unique forum for independent photo journalism and free exchange of information. World Press Photo receives support from the Dutch Postcode Lottery and is sponsored worldwide by Canon.
The exhibition is brought to Kazakhstan with support of the diplomatic missions of the.
The grand opening will take place at 17.00, 10 December, National Art Gallery "Astana". In Almaty the exhibition will be hosted in the Kasteev Museum from 21 to 31 December.
Please contact Legal Media Center for more information: 8 7172 42 44 32, mediastana@gmail.com.
Published 8 December 2014