News story
World must make good on promises to Syria
International donors must deliver the humanitarian help they have pledged, says International Development Secretary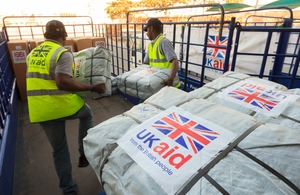 International donors must deliver the humanitarian help they have pledged to those caught up in the Syria crisis, International Development Secretary Justine Greening said today, as the UN confirmed that the number of Syrian refugees had now reached one million.
At the international pledging conference in Kuwait in January, donors committed over $1.5bn in new support. But the UN has said funding is not being delivered quickly enough.
Ms Greening also warned that women and girl refugees risk becoming the forgotten victims of the ongoing Syrian crisis.
She called for measures to prevent and respond to violence against women and girls to be systematically factored into all humanitarian work in Syria and the wider region. She also said there must be a greater focus on protection and support for all particularly vulnerable groups in the crisis, including the elderly and chronically ill.
Around two thirds of Syrian refugees are women and children and long term displacement and financial hardship are exposing them to exploitation and abuse. Women and girls have also found themselves the victim of targeted violence, with reports of systematic rape and other forms of sexual violence by armed groups.
Justine Greening said:
"One million refugees is a terrible landmark and the most vulnerable groups are inevitably those who find themselves at greatest risk. Syria's neighbours cannot deal with this alone and all donors must rapidly deliver on the promises they made in Kuwait.
"We are working closely with agencies on the ground. Britain has never stood on the sidelines and we are determined to make sure our support gets help to those in need as quickly and effectively as possible."
Original predictions warned that a million people might have fled the conflict by the middle of 2013, but as fighting continues inside Syria spiking refugee numbers have seen revised predictions and a significant shortening of timescales.
At least four millions more people are in desperate need inside Syria. Without better humanitarian access to provide them with the help they need, refugee numbers will inevitably continue to grow.
Published 6 March 2013