Press release
World Mental Health Day: Nick Clegg message
A message from the Deputy Prime Minister to mark World Mental Health Day.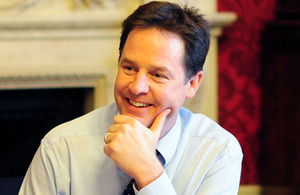 The Deputy Prime Minister said:
It's astounding that, in this day and age, when millions of us spend so much time blogging, tweeting and updating our Facebook status, there's still one issue that we all hesitate to talk about – our mental health.

This is despite the fact that 1 in 4 of us will experience a mental health condition each year. We're talking about people from every walk of life: mums, dads, sisters, brothers, pensioners, and teenagers… the list goes on.

If we broke an arm or a leg, we'd happily chat to our family, friends and work colleagues about the pain, inconvenience and treatment involved. But substitute that broken bone for anxiety or depression and, because of the stigma still associated with mental health, it's harder for many to find the right words.

This World Mental Health Day, you can help us change that.

In this coalition government, the Liberal Democrats have worked hard to close the gap between the treatment of physical health and mental health in the NHS: increasing access to talking therapies for those who need them; transforming the help children can get as they move into adulthood; and now, for the first-time ever, introducing NHS waiting time standards for mental health conditions, alongside investing £120 million to improve services.

But you don't need to be a health expert or politician to do your bit. A quick chat over a cup of tea, a supportive text or phone call or a friendly word to ask if everything's okay – today, all these things could make a massive difference.

So, if you know someone struggling with a mental health problem, pop on the kettle or pick up your phone now – let's give them the support they need to live the life they want.

You can find further information and advice to help you at: www.time-to-change.org.uk.

It's time for all of us to talk about mental health.
Published 10 October 2014
Last updated 14 October 2014
+ show all updates
Link added to photos from Deputy Prime Minister's reception to mark World Mental Health Day.
First published.