World-leading projects in UK aerospace: funding for best ideas
Organisations are invited to propose innovative projects that could benefit the UK aerospace industry through smarter, more energy-efficient technologies.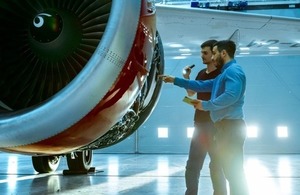 There is up to £150 million for innovative aerospace projects in a series of regular calls for ideas.
Organisations can submit an express an interest in pursuing an innovative project in aerospace design and manufacture. Successful applicants in this stage will then be invited to apply for funding.
Innovate UK is working with the Aerospace Technology Institute (ATI) and the Department for Business, Energy and Industrial Strategy to coordinate the programme.
Funding is part of a £3.9 billion UK aerospace and technology investment between government and industry, which aims to maintain and grow the UK's position as a world leader in civil aerospace.
This latest call follows the government's announcement of its aerospace sector deal. The deal will support the global move towards hybrid-electric and electric propulsion and allow the UK to best exploit emerging opportunities and markets.
Projects must strengthen aerospace industry
The competition is for industrial research projects and capital investment.
Projects must:
strengthen the UK's role in whole-aircraft design and system integration
build smarter, more connected and electrified aircraft and technologies that lead to high-value opportunities
help the UK to become a global leader in large, complex aviation structures, particularly wings
develop new propulsion technologies, such as large turbofans
Competition information
the competition is open, and the deadline for expressions of interest is at midday on 2 January 2019
projects can be led by a UK-based business, research and technology organisation or an academic organisation
organisations must sign up to the ATI framework agreement
applicants need to show that their expected costs and timescales are in proportion with the project's objectives
businesses could attract up to 70% of their project costs for industrial research projects and up to 50% for capital investment
a briefing event will be held on 17 December 2018, where organisations can find out more and how to submit a quality application
Published 10 December 2018