Press release
World Cup 2014 - your questions answered on Twitter
Foreign and Commonwealth Office (FCO) and experts to answer your questions on Twitter.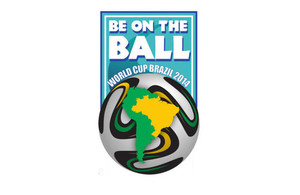 To help fans prepare for their trip the Foreign and Commonwealth Office (FCO) is teaming up with experts on football, travel and health to provide as much information as possible before they depart.
The Football Supporters Federation and the National Travel Health Network and Centre (NaTHNaC) are just two of the Be On The Ball campaign partners who will help the FCO answer your questions during dedicated Twitter Q&As. In a series of sessions between now and when the World Cup kicks off, the FCO and its partners will answer your questions on topics including arrangements on the ground, travelling in Brazil and vaccination requirements via the @FCOtravel Twitter handle and #beontheball.
Mark Simmonds, FCO Minister for Consular Affairs, said:
We know that fans planning to go to the World Cup in Brazil are likely to have lots of questions and we are using our @FCOtravel Twitter handle to help people get the answers they need. We may not be able to answer who will wear England's number 9 jersey but the FCO and its partners can answer practical travel questions that you may have.

@FCOtravel has been a great success since it was launched in 2009 and has already answered hundreds of enquiries from British nationals. We hope these Twitter sessions will help even more people get the answers they need before travelling.
Each Twitter session will focus on a different topic. The first session will be held on 14 April at 12:30 BST when the FCO and NaTHNaC will answer your questions on travel health and vaccinations.
Dr Dipti Patel, of NaTHNaC, said:
We are looking forward to answering your questions in conjunction with the FCO. It is crucial that you protect yourself against diseases such as malaria and prepare for the climate, which can vary significantly from region-to-region. Ask us at the @FCOtravel Twitter session or visit our Brazil travel health page.
Other organisations involved in the sessions include ABTA, ABI and The FSF with the following sessions due to take place:
14 April – vaccination requirements and travel heath

15 May – focusing on passports, visas and insurance

29 May – providing last minute pre-departure advice and on the ground information
The FCO has released a cartoon animation to highlight some of the things that travellers to Brazil should be aware of.
For further information and travel advice on travelling to Brazil for the World Cup visit the FCO's Be On The Ball page.
You can contact FCO consular staff on the ground in Brazil by contacting the local embassy or consulate or by emailing the travel advice team. You can also ask questions on-the-move via @FCOtravel using #beontheball.
Further information
For further information, interviews or case studies please email the Know Before You Go team or call 020 7781 2300.
The Know Before You Go campaign targets a number of audiences, from gap year students to package holidaymakers; sports fans to older travellers and people visiting friends and family abroad. The campaign works with around 600 travel industry partners to communicate its messages. For more information visit our Know Before You Go page.
Be On The Ball forms part of the Know Before You Go campaign and highlights some of the key issues that fans should be aware of before they travel to Brazil.
The National Travel Health Network and Centre (NaTHNaC) promotes standards in travel medicine providing travel health information for health professionals and the public. NaTHNaC is commissioned by Public Health England.
Published 9 April 2014