World news story
Workshop on promoting ethics in medical practice and research
The workshop was held in Kolkata, 5-7 October 2015. It was led by prosperity team and funded by the bilateral programme budget fund.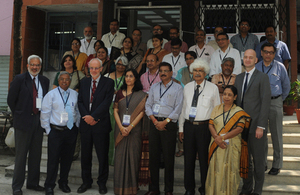 The British Deputy High Commission Kolkata in association with the Institute of Health and Family Welfare, Kolkata, organised a three-day workshop on 'Promoting Ethics in Medical Practice and Research' from 5 to 7 October in Kolkata.
The workshop aimed to stimulate discussions on the prevailing ethical issues in medical practice and research in India and elsewhere in the world. It was an opportunity for the medical practitioners and researchers of the state to exchange knowledge and ideas with their counterparts from the UK and other Indian states. The state policy makers too could get a first-hand account of the issues faced by the medical practitioners while reiterating their commitment to maintaining high ethical standards through effective policy measures and regulations.
The British Deputy High Commissioner in Kolkata, Scott Furssedonn-Wood, addressed a gathering of medical administrators, educators, institutional ethics committee members, researchers and policy makers of the state on the first day of the workshop.
Welcoming the experts from the UK to the city, he said:
It is a debate that is relevant to all of us – whether as practitioners or as consumers of medicine and healthcare – no matter where in the world we are.
While noting the differences in healthcare delivery models between the UK and India, he observed that 'there are some ethical challenges that resonate with populations – and with the medical professionals serving them - all over the world, such as those around emerging health technologies, new drugs and the vested interests of the pharmaceutical industry.'
Both the workshop participants and the state policy makers appreciated this timely initiative of the organizers in raising a pertinent issue and hoped that the roadmap emerging out of the workshop deliberations would strengthen the ethical foundation of healthcare delivery and research in the state.
For media queries, please email Manjari Chakravorty
Follow us on Twitter, Facebook, Flickr, Storify, Eventbrite, Blogs, Foursquare, Youtube, Instagram, Vine, Snapchat @UKinIndia, Periscope @UKinIndia
Published 19 October 2015