News story
Works of Art saved for the nation
8 'National Treasures' with a total value of £13.85 million saved from export this year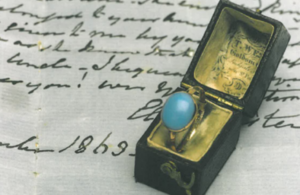 The British Library, National Portrait Gallery, and the Jane Austen House Museum are just some on the institutions that are now the proud homes of works of art saved for the nation following a decision to defer export recommended by the UK's Reviewing Committee on the Export of Works of Art and Objects of Cultural Interest.
Findings for the latest period (1 May 2013 to 30 April 2014) show that out of the 22 objects referred to the Secretary of State for deferral on the Reviewing Committee's recommendation, 8 were subsequently saved from export and can now be enjoyed by visitors to museums and institutions across the UK.
The 8 cases which resulted in acquisitions were:
A gold and gem set ring once belonging to Jane Austen (£152,450) – Jane Austen House Museum
A Traictise from the Mendham Collection (£116,500) – British Library
A pair of wall hangings designed by May Morris (£61,770) – National Museums Scotland
Self-portrait by Sir Anthony Van Dyck (value at deferral £12,500,000 purchased by the NPG for £10,000,000). – National Portrait Gallery
Watercolour by Giovanna Battista Lusieri, Panoramic View of Rome: From the Capitoline Hill to the Aventine Hill (£361,875) – British Museum
The Monson Catholicon Anglicum (£92,500) - British Library
An Empire style medal cabinet (£534,000) - V&A
An Iron Age bronze mirror (£33,000) – Oxfordshire Museum Services
See all of the works in the Arts in the UK Pinterest board.
The purpose of export control is to allow cultural goods considered to be of outstanding national importance the opportunity to be retained in the UK. The system is designed to strike a balance, as fairly as possible, between the various interests concerned in any application for an export licence: the protection of the national heritage; the rights of the owner selling the goods; the exporter or overseas purchaser; and the position and reputation of the UK as an international art market.
For cultural goods over certain age and monetary limits, an individual licence is required for export from the UK to European Union (EU) destinations and non-EU destinations.
If an item could be considered a national treasure it is referred to an Expert Adviser who will consider if the item should be passed on to the Reviewing Committee on the Export of Works of Art and Cultural Objects. The Committee uses a set of criteria to determine whether an export deferral should be granted on a work. In turn they then make a recommendation to the Secretary of State to grant the deferral for a specified period of time.
Read the full report and statistics.
Find out more about the Reviewing Committee and the export bar process.
Published 25 November 2014