Press release
Workplace pensions becoming 'social norm'
Saving into a workplace pension is becoming more of a social norm, new research shows.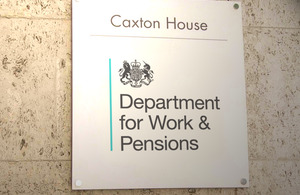 A survey of working age adults has found that almost 3 quarters of the population are aware of automatic enrolment, the flagship government policy which just last week marked the milestone of seeing 4 million people brought into workplace pension schemes.
It follows an advertising push by the government to encourage people to save more for the future, featuring well known business figures including Dragons' Den investor Theo Paphitis and vice-chairman of West Ham United and The Apprentice star Karren Brady.
The poll, conducted by Ipsos MORI on behalf of the Department for Work and Pensions (DWP), also found that 78% of people believe employers being compelled by law to automatically enrol their workers is a good thing. By 2018, all UK employers will be obliged to offer a workplace pension scheme and automatically enrol qualifying staff.
Almost half of people polled agreed that saving into a workplace pension is 'the normal thing to do'.
Pensions Minister Steve Webb said the results showed encouraging progress but also demonstrated there is more to do on conveying the importance of long-term saving to British workers. He said:
It's fantastic that so many people are now talking about workplace pensions. Increasingly, people are waking up to the fact that it pays to think about the future and consider the kind of retirement we want.

But we still have a mountain to climb. Recent DWP research found that close to half of working age people are failing to save enough to maintain their standard of living into old age, so there is more to do.

The fact is that almost everybody who has the chance to enrol into a workplace pension would benefit in the long run from doing so – we really do need to be evangelical about spreading that message.
The research has been conducted as part of an evaluation process for the DWP's ongoing workplace pensions advertising campaign – We're all in – and also includes encouraging results on the effectiveness of the drive.
It shows that 3 in 10 working age people have taken action as a result of seeing the adverts, with around a quarter having talked about workplace pensions with friends, family or colleagues some time in the past 12 months.
Of the key messages put across by the DWP's adverts, the most recognised was 'If you put money into your workplace pension, your boss will too'.
More information
Read the full findings of the latest automatic enrolment research.
Read details of the DWP's previous research on the numbers of people under-saving for retirement
The survey was undertaken by Ipsos MORI on behalf of DWP, with a sample of 2,445 adults of working age interviewed between 21 March and 6 April 2014.
Automatic enrolment means that instead of choosing whether to join a workplace pension scheme, individuals will have to actively decide to opt out. The incentive to save is reinforced by a mandatory minimum employer contribution and tax relief.
More than 4 million people have now been automatically enrolled into a workplace pension – and all Britain's large employers are now on board. This brings the number of employees in a workplace pension scheme up to more than 11.7 million, reversing a previous downward trend since 2003.
We are now starting the major challenge of introducing small businesses – many of which will be providing pensions for the first time. Around 30,000 to 35,000 employers will come on board this year (2014 to 2015). The roll-out of automatic enrolment to all employers will be complete by 2018.
Contact Press Office
Media enquiries for this press release – 0203 267 5120
Press Office
Caxton House
Tothill Street
London
SW1H 9NA
London Press Office (national media and London area enquiries only – not questions about personal claims) 020 3267 5144
Out-of-hours (journalists only) 076 59 108 883
England and Wales (local media enquiries) 029 20 586 then 097 or 098 or 099
Scotland (local media enquiries) 0131 310 1122
Follow DWP on:
Published 19 August 2014