News story
Work begins on defence training college
Work has begun to transform a former RAF base into a multi-million-pound training facility for the armed forces.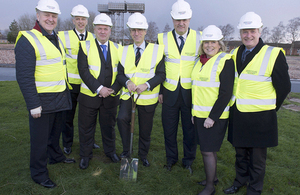 A ceremony was held yesterday, 13 February, to celebrate the first phase of construction of the new Defence College of Technical Training at MOD Lyneham in Wiltshire.
The new college brings together technical training for all 3 services at one location. This makes it more efficient and cost-effective, whilst at the same time creating 900 construction jobs.
Minister for International Security Strategy Dr Andrew Murrison was at the event. He said:
I am delighted to officially mark the first stage of construction work on the new Defence College of Technical Training.

This new college will ensure our armed forces have the best possible training environment with modern accommodation in which to live and learn.

By co-locating activities for all 3 services in one place we are not only helping to improve efficiency by reducing the time personnel need to spend in training, but also helping to save money for the taxpayer by rationalising the defence estate.
In December, the Defence Infrastructure Organisation (DIO) awarded a £121 million contract to Hercules, a joint venture between the Kier Group and Balfour Beatty plc, for tranche 1 of the development.
This first phase of work includes the creation of new single living accommodation for 1,194 trainees and staff. It will provide purpose-built teaching facilities and a large outdoor training area.
There will also be a publicly accessible museum for the army's Corps of Royal Electrical and Mechanical Engineers.
Lyneham's history of repatriating fallen military personnel will be preserved and honoured through a memorial dedication, a public garden of remembrance and an area within the museum.
DIO project leader David Holmes said:
DIO supports the armed forces by providing what they need to live, work, train and deploy. This is the first stage of the construction of the new state-of-the-art college that will offer the best possible training facilities for all 3 services in a central location.
The former RAF Lyneham closed in December 2012 after all operational flying moved to RAF Brize Norton.
Phase 1 of the work to transform the site is expected be completed by the autumn of 2015, when the first staff and students will arrive at the college.
Lieutenant General Andrew Gregory, Chief of Defence Personnel, said:
The Defence College of Technical Training will provide an excellent, tri-service establishment delivering aeronautical, electromechanical and communications and information systems training.

This facility for our future regular and reserve armed forces will benefit from stimulating surroundings, with refurbished accommodation and brand new sports, leisure and welfare facilities, all of which will combine to make this an outstanding living and working environment.
Commodore David Elford, commandant of the Defence College of Technical Training, added:
I am delighted to mark this major milestone in the college's development. It is tangible evidence of our programme to create a cost-effective and flexible technical training organisation providing modern, high quality training for our soldiers, sailors and airmen.
Richard Collin, Hercules construction manager, said:
Hercules is delighted to have been awarded this major tri-service strategic training facilities project. Working with DIO and the services, we aim to provide best-value new and refurbished assets employing sustainable construction methods and whole-life solutions.
Published 14 February 2014