Press release
Work begins in Essex on new internationally important wetland
The Environment Agency starts construction work this week on a major extension to Essex Wildlife Trust's Fingringhoe Wick Nature Reserve, on the Colne estuary.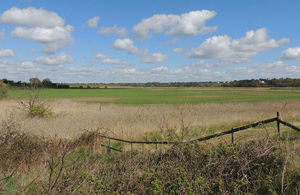 The estuary has national and international designations due to its conservation importance and has recently been included in the Marine Conservation Zone designation.
Coastal habitats that make it special include tidal mudflats, saltmarshes and coastal grazing marsh in Essex. Around 80% of the coastal marshes have been lost and the remaining are disappearing at an alarming rate.
The project, which is a partnership between the Trust and the Agency, will see 22 hectares of new intertidal habitat created by breaching the existing seawall – allowing the tide to enter the site. The habitat will be a mix of saltmarsh, mudflat and saline lagoon, with a further 1.5 hectares of new reedbed.
Once planning permission was granted in 2013, the Trust's supporters raised over £125,000 to buy the land for the project. A number of key funders and donors also supported the acquisition.
Andy May, Conservation Manager for Essex Wildlife Trust said: "This is a very exciting project, which will make much-loved Fingringhoe Wick even better for wildlife and people. We are really looking forward to working in partnership again with the Environment Agency to bring this important work to fruition."
Charles Beardall, Area Manager for the Environment Agency said: "We're delighted to be involved in this partnership with Essex Wildlife Trust, and so pleased that our workforce is playing such a huge part in creating this new internationally important habitat."
Over the next four months new seawalls will be built to the north and south of the proposed intertidal habitat and it is hoped the breach will be created in the autumn.
The new wetland will also include: new nursery areas for marine fish, Little Tern nesting islands, a new bird hide and new public footpaths on this previously private part of the estuary. Among other species to benefit will be Black-tailed Godwit, Dark-bellied Brent Goose, Lapwing, Bittern, Water Vole and a range of dragonflies.
Published 19 May 2015