Worcestershire flag flies at Department for Communities and Local Government
The flag representing the historic county of Worcestershire has been hoisted outside the department's offices.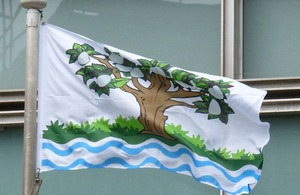 To celebrate the important place counties play in the nation's cultural heritage Secretary of State Eric Pickles has asked that English county standards be flown alongside the Union Flag outside DCLG's Eland House headquarters in Victoria.
During the Middle Ages, much of Worcestershire's economy was based on the wool trade, and many areas of its dense forests, such as Malvern Chase, were royal hunting grounds.
In the 19th century, Worcester was a centre for the manufacture of gloves; the town of Kidderminster became a centre for carpet manufacture, and Redditch specialised in the manufacture of needles, springs and hooks. Malvern was one of the centres of the 19th century rise in English spa towns due to Malvern water being believed to be very pure, containing "nothing at all".
The modern era saw canals driven through from the north of the county, the 'Black Country' to supplement and conjoin with the rivers in the industrial revolution's need for swift transportation.
It is claimed that the county was the inspiration for The Shire, a region of J. R. R. Tolkien's fictional Middle-earth, described in 'The Hobbit' and 'The Lord of the Rings'. Tolkien was thought to have named Bilbo Baggins' house 'Bag End' after his Aunt Jane's Worcestershire farm. Tolkien wrote of Worcestershire: "Any corner of that county (however fair or squalid) is in an indefinable way 'home' to me, as no other part of the world is."
Flags are being flown for a week at a time in alphabetical order or - in cases such as Cornwall and Yorkshire - to coincide with particular county days.
Eric Pickles said:
England's counties continue to form an important part of our cultural and local identity in this country and many people remain deeply attached to their home county. This sense of pride and shared identity is one of the things that bind communities together.

The historic English counties are 1 of the oldest forms of local government in western Europe. Their roots run deep. And no amount of administrative reshuffling can delete these longstanding and cherished local identities.
Councillor Adrian Hardman, Leader of Worcestershire County Council said:
I am very proud that the flag of Worcestershire will be flying in Westminster. It is a great opportunity to encourage our local communities and residents to celebrate all that is best about our county and its heritage.
Further information
The Worcestershire flag has been kindly loaned by the Association of British Counties at no charge.
Photographs of the county flags will be added to the DCLG Flickr channel
Published 18 July 2011