Press release
£14 million transport boost for Worcester
Worcester transport plans will receive over £14 million pounds of funding.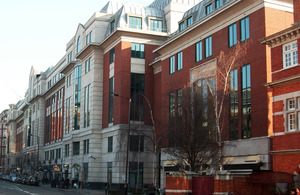 Plans to improve transport links in Worcester have been given the go-ahead by Local Transport Minister Norman Baker today (13 February 2013).
The £14.2 million package will improve access to rail travel, upgrade traffic signals and make it easier to walk and cycle in the area. Intelligent transport systems which provide better information to bus passengers and road users will also be installed and a smarter choice scheme will encourage transport users to look at alternatives to travel.
Norman Baker said:
This scheme will give the people of Worcester more convenient access to the city centre as well as providing an alternative means of accessing the city centre for people commuting by car.

The £14.2 million we are putting into this project shows that the coalition government is serious about investing in transport to create growth and cut carbon.
The Worcester transport strategy scheme includes:
improvements to Worcester Foregate Street and Malvern Link stations
traffic signal upgrades, better public transport facilities, walking and cycling improvements and changes to on-street parking on 5 routes
further cycling and walking improvements
intelligent transport systems on buses and on the local road network, including real time message signs at bus stops and 6 variable message displays linked to city centre car parks to add to the existing 6
smarter choice schemes designed to reduce the need for travel through improved information and marketing, as well as road junction improvements on the southern link road
road junction improvements on the southern link road
The Worcester transport scheme was one of the schemes given funding approval in 2011 as part of the spending review process. Work can now start on the first elements of the package with the final element due to open in March 2015.
Notes to editors
Today's (13 February 2013) announcement grants full (final) approval to the Worcester transport scheme enabling work to begin.
The last element of the package of measures promoted Worcestershire County Council is scheduled to open in March 2015.
The department will provide a maximum of £14.2 million towards the full scheme cost of £19.6 million.
Press enquiries: 020 7944 3118
Out of hours: 020 7944 4292
Public enquiries: 0300 330 3000
Published 13 February 2013