World news story
Women's World Cup Canada 2015
Updates and travel advice on the 2015 FIFA Women's World Cup in Canada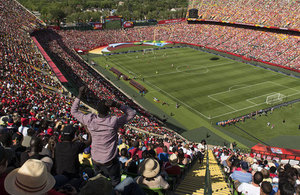 The FIFA Women's World Cup takes place from 6 June to 5 July 2015 with matches taking place in Edmonton, Ottawa, Winnipeg, Vancouver, Montreal and Moncton. This page has useful information and tips for football fans travelling to Canada.
Those visiting Canada should review the Foreign Office's travel advice. It includes information on entry requirements, health, and local laws. Visitors can also review The FA's fan guide for Canada.
On match day
arrive early at matches to avoid problems at the gate and missing the start; build in as much time as possible when travelling
for information or questions regarding tickets review FIFA's ticketing guide. You can also call 1-855-915-2015 or email info@fwwc2015.ca
there's no re-entry to a stadium after a match has begun
doubleheader match days will have 1 ticket for both matches; tickets can't be shared on the same match day
racist or xenophobic material and attitudes won't be tolerated
England's knockout stage games
England was defeated in the semifinals by Japan on 1 July. They will now play Germany for third place on Saturday 4 July in Edmonton, Alberta at Commonwealth Stadium. The match is scheduled to start at 2pm local time.
Additional information for visitors to Edmonton is provided below. You should carry out further research for each place you plan to visit.
Edmonton
Arriving by air
Edmonton International Airport (1000 Airport Road, Edmonton, Alberta) is located 30 kilometres south of downtown Edmonton along Alberta's primary north-south access (Alberta Provincial Highway No.2). Edmonton International Airport is served by a large number of domestic and international airlines. Direct flights to the UK are available.
By car the airport is about 30 minutes from downtown, but it can take longer when traffic is heavier during the peak morning and afternoon travel periods.
Car hire operators are located a short walk from the terminal building on Level P1 (Ground Level) of the parkade. A taxi stand is located outside the domestic and international terminal and the flat rate for a taxi from the airport to downtown Edmonton is $55.
The Edmonton Skyshuttle is a popular cost-effective way to travel between Edmonton International Airport and various locations in Edmonton. The Skyshuttle pick-up point is centrally located on the Arrivals Level (next to door #7).
The airport's website also lists other options for travel to and from the airport, including shuttle services and scheduled bus service.
Arriving by road
Edmonton is connected to Saskatchewan and British Columbia via Highway 16 (Yellowhead Trail within city limits), and Calgary via Queen Elizabeth II Highway. It is about a 12 hour drive from Vancouver and 3 from Calgary.
Travel to Toronto, Ottawa, or Montreal by car will take about 3 days.
Arriving by bus
A number of different bus lines, including Greyhound, offer service to Edmonton. The main bus station is located at the Edmonton Bus Depot (10324 - 103RD ST). It is located just North of downtown and a short distance from Edmonton's Commonwealth Stadium.
Arriving by train
The Via Rail train station (12360-121 Street NW) is Edmonton's rail access point. Rail service is offered to points west, including Jasper and Vancouver, as well as points east, including Toronto.
Visit VIA Rail Canada's website for current timetables.
Climate
Edmonton's average daily temperature in June and July is between 20°C and 22°C.
Getting to the stadium
Edmonton Commonwealth Stadium (11000 Stadium Road, Edmonton, Alberta) is located just north-east of downtown Edmonton. It is about a 35 minute drive from the airport.
There will be security checks at the entrances. To avoid last minute crowds try to get to the stadium early.
Spectators can use the local ETS bus and light rail system for transportation to the stadium (as well as around the city). ETS will offer free public transportation to spectators with a game-day ticket, two hours (120 minutes) prior to kick-off and two hours after the games end. Taxi service is also available to the stadium.
Detailed information on getting to games can be found on the FIFA Women's World Cup website.
Further information on the stadium's security, accessibility options, and concessions can be found by reviewing the FIFA Women's World Cup 2015 spectator guide for Edmonton.
Useful links
Published 22 May 2015
Last updated 2 July 2015
+ show all updates
Updated time and location of England's next match
Added travel information for Edmonton.
Added travel information for Vancouver in advance on England's quarter-final match.
Updated travel advice to reflect Round of 16 matches
First published.