World news story
Women in the Adjacency Zone receive support from the British Embassy
Women in the community of San José Las Flores, in the Adjacency Zone, have received support from the British Government.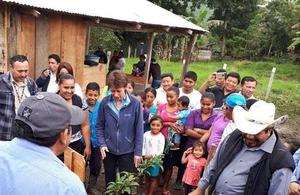 The United Kingdom's Ambassador in Guatemala, Carolyn Davidson, visited the community of San José Las Flores today, which has recently seen the opening of a new community pharmacy. The project has the support of the local women's association, which also oversees other useful initiatives.
Some 70 families have benefitted from various projects which have created opportunities and economic sustainability in the local community since 2106. This year a community pharmacy was opened, providing basic medicines needed to treat common diseases and prevent possible complications.
San José Las Flores is located in the Adjacency Zone in the Municipality of Melchor de Mencos, and is more than 200km from the nearest health centre. The local women's association and mothers from the community supervise the administration of medicines, supervised by the Ministry of Health. This initiative is self-sustainable through the sale of medicines at discounted prices.
Ambassador Davidson took part in a lunch organised by the women's association where she learned at first-hand about the community's progress, such as the establishment of a community business centre where various projects and businesses are concentrated. These have received technical and financial support from the United Kingdom.
During her visit, Ambassador Carolyn Davidson said:
I am very pleased to see the progress of the community towards creating sustainable living conditions and improvements in their health by virtue of access to basic medicines. There is still much to be done, and as Guatemala and Belize work towards resolving their territorial dispute we cannot forget the pressing needs of these communities that seek to live in peace and harmony with their neighbours.
In the last year the British Government has invested more than Q 400,000 in these projects in Petén with the support and implementation of local partners such as the Ministry of Agriculture, Asociación Balam, Asociación Visión Guatemala Futura, the Coordinator of Agricultural Associations of Petén (COACAP), the Intersectorial Group of Land and Environment (MITA) and the municipal mayors that make up the Commonwealth of Municipalities of southern Petén (MANMUNISURP).
Published 21 January 2018