Press release
Woman sentenced to 27 months for selling abortion pills illegally
51-year-old woman sentenced to 27 months imprisonment for her involvement in the supply of abortion pills with intent to unlawfully procure miscarriages.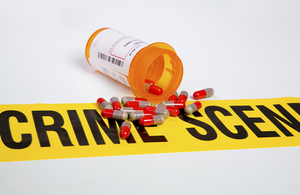 A 51-year-old woman, Gurpreet Kaur, was today sentenced to 27 months imprisonment at Southwark Crown Court for her involvement in the supply of abortion pills with intent to unlawfully procure miscarriages. This follows a joint operation by the Medicines and Healthcare products Regulatory Agency (MHRA) and the Metropolitan Police.
The Rana Herbal Ayuveridic Centre in Southall supplied a drug called Mifepristone with the express purpose of terminating pregnancies. Gurpreet Kaur's arrest followed reports to police in West London of a number of women attending Ealing Hospital with complications following illegally performed abortions. As a result, the Police and MHRA conducted a joint operation to investigate the illegal sales of abortion medication.
Mifepristone is by law required to be supplied through a UK registered facility such as a hospital or clinic. Ms Kaur was not a qualified or registered doctor and pleaded guilty to an offence under section 59 of the Offences Against the Person Act 1861.
Medicines are not ordinary consumer goods and have the potential to cause harm as well as cure. There are strict legal controls in place on medicines in the UK; including requirements for their manufacture, distribution, retail sale and advertising.
An MHRA spokesperson said:
Selling Mifepristone with no medical qualifications is illegal and can be extremely dangerous for patients. If you require medical advice, we recommend you visit your GP, as a healthcare professional is best placed to advise you.
Background
MHRA is responsible for regulating all medicines and medical devices in the UK by ensuring they work and are acceptably safe. All our work is underpinned by robust and fact-based judgements to ensure that the benefits justify any risks. MHRA is a centre of the Medicines and Healthcare Products Regulatory Agency which also includes the National Institute for Biological Standards and Control (NIBSC) and the Clinical Practice Research Datalink (CPRD). MHRA is an executive agency of the Department of Health.
Media enquiries
News centre
MHRA
10 South Colonnade
London
E14 4PU
Email newscentre@mhra.gov.uk
During office hours: 020 3080 7651 (08:30 - 17:00)
Out of office hours: 07770 446 189 (17:00 - 08:30)
Office hours are Monday to Friday, 8:30am to 5pm. For real-time updates including the latest press releases and news statements, see our Twitter channel at https://www.twitter.com/mhrapress
Published 26 June 2015