Wiltshire flag flies above Whitehall
The flag representing the historic county of Wiltshire has been hoisted above the department's offices.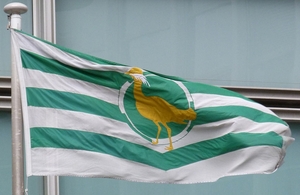 To celebrate the important place counties play in the nation's cultural heritage Secretary of State Eric Pickles has asked that English county standards be flown alongside the Union Flag outside DCLG's Eland House headquarters in Victoria.
Characterised by its high downland and wide valleys, Wiltshire is home to the famous Salisbury Plain and the location of the UNESCO-listed Stonehenge as well as the Avebury stone circles and other ancient landmarks. It is also the main training area in the UK of the British Army.
Locals, nicknamed moonrakers from an apocryphal tale of alcohol smuggling, reside in a county famous for its Neolithic history and in Salisbury Cathedral possess not only 1 of the finest examples of early-English architecture but also Britain's tallest church spire.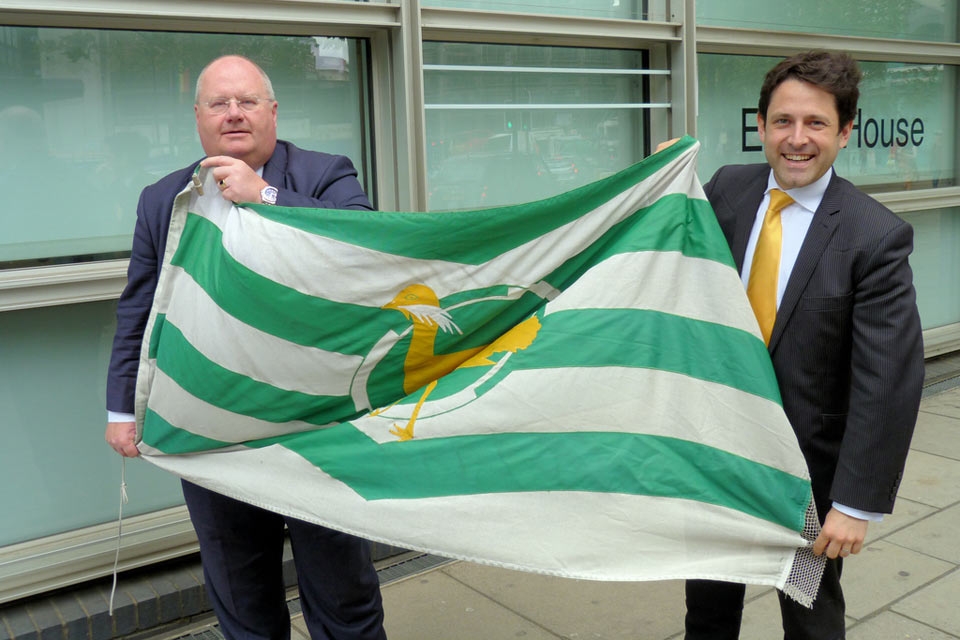 The flag of Wiltshire features the local great bustard bird which has been recently re-introduced to the Salisbury plain. It is partly based on the flag of the Wiltshire Council, including the alternating stripes of green and white that represent the grassy downs of the county and their chalk underlay.
Flags are being flown for a week at a time in alphabetical order or - in cases such as Cornwall and Yorkshire - to coincide with particular county days.
Eric Pickles said:
England's counties continue to form an important part of our cultural and local identity in this country and many people remain deeply attached to their home county. This sense of pride and shared identity is one of the things that binds communities together.

The historic English counties are 1 of the oldest forms of local government in western Europe. Their roots run deep. And no amount of administrative reshuffling can delete these longstanding and cherished local identities.
Mr John Bush, OBE, KStJ, Her Majesty's Lord Lieutenant of Wiltshire, said:
I am delighted the government has introduced this initiative, which gives a visible sign of public service provision to the electorate. Wiltshire is an historic county which contains many wonderful attractions from Stonehenge and Salisbury Cathedral to Avebury and Wootton Bassett.

There is a wide diversity of agriculture, military activity and commerce across the county, with many major companies centred in Swindon, providing a rich commercial and cultural mix. Residents are proud of their county and I feel privileged to be Her Majesty's Lord Lieutenant in such a beautiful part of England.
Jane Scott, Leader of Wiltshire Council said:
Wiltshire is a beautiful county and this is a proud moment for us all. The flying of this flag will help promote Wiltshire and its identity.
Further information
The Wiltshire flag has been kindly loaned by Wiltshire Council at no charge.
Photographs of the county flags will be added to the DCLG Flickr channel
Published 6 June 2011