Press release
Whitehall on the hunt for senior leaders to save more for taxpayers
The government is recruiting directors for the new Crown Commercial Service, a central service set up to buy goods and services.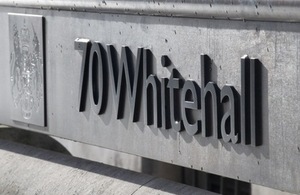 The government has announced it is looking for senior executives to join the new central service set up to buy goods and services on behalf of the taxpayer. Fulfilling a commitment set out in the Civil Service Reform Plan to radically transform how Whitehall operates, the Crown Commercial Service (CCS) will bring together government's central commercial capability into a single organisation. It will work with departments and wider public sector organisations to ensure maximum value for the taxpayer is extracted from every commercial relationship.
The new roles will sit within CCS's Commercial Delivery Directorate which is responsible for providing a complete commercial procurement function for government departments.
The directors will play a key role in driving the government's procurement reforms, which have already delivered substantial savings in a short period. This includes saving £3.8 billion in 2012 to 2013 by rationalising procurement activity, renegotiating large government contracts and limiting expenditure on marketing and advertising, consultants and temporary agency staff.
The roles open for applications include:
a Commercial Delivery Director who will report to the Chief Operating Officer and set the strategic direction for the commercial delivery function, as well as ensure that the directorate delivers breakthrough performance in cost, quality, service and innovation.
a Commercial Director (IT) who will shape the Government's buying strategy for digital solutions and IT, and;
a Commercial Director (Telecoms) who will manage the Telecoms Category Team and shape the telecoms buying strategy for government and the wider public sector.
The directors will lead a large scale programme of change that will radically improve government procurement and deliver major savings for the taxpayer, and successful candidates will need to demonstrate experience in driving organisational transformation.
Chief Procurement Officer Bill Crothers said:
This government's commercial reforms have already saved the taxpayer £3.8 billion. But hard-working families expect us to go further. The Crown Commercial Service will ensure a step change in our commercial capability, giving government a much tighter grip on all aspects of its commercial performance.

To win the global race, Britain needs an exceptional civil service with strong commercial acumen. We need the best, most cost-effective public services in the world. This is why we are recruiting a new crop of leaders who will help CCS deliver exceptional value for money for the taxpayer.
The move comes at a time when the Cabinet Office is working hard to drive up the standard of commercial capability across government in order to achieve the best value for taxpayers. As part of the Civil Service Reform Capabilities Plan, programmes are being developed to boost the commercial skills of civil servants who may influence what goods or services we buy, how we buy them, who we buy them from and how we manage their delivery.
Notes to editors
The closing date for applications is Monday 28 October.
Published 26 September 2013