News story
What Works Centre for Wellbeing announced
Professor Kevin Fenton helps to announce the establishment of a What Works Centre for Wellbeing.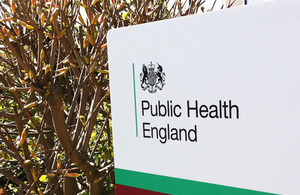 Public Health England (PHE) are pleased to be playing a major role in the development and establishment of this independent national centre.
The 'What Works Centre for Wellbeing' is the latest addition to the 'What Works Network', which was launched by the Government last year to improve public services through evidence-based policy and practice.
The new centre will soon be commissioning universities to research the impact that different interventions and services have on wellbeing.
Professor Kevin Fenton, Executive Director of Health and Wellbeing at Public Health England said:
PHE are delighted to be one of the major players in the collaboration supporting the 'What Works Centre for Wellbeing', the first of its kind in the world.

The shift to wellbeing is a key aspect of public health and there are clear benefits to this approach. We are keen to see the evidence of what works for wellbeing much more effectively disseminated and adopted across the country. We are confident that this work will lead to better outcomes for health in communities, workplaces and more widely.

We are delighted to be hosting the development team for the centre and are one of several partners providing funding to better understand what works to improve wellbeing and to communicate this to key stakeholders in local areas, local government, health and wellbeing boards, voluntary and community Sector and business partners.
PHE recently launched its key priorities for improving and protecting the public's health. Making a shift towards wellbeing and focusing on what helps keep people and communities well is one of the key drivers and opportunities we see going forward.
The 'What Works Centre for Wellbeing' has initial funding of more than £3.5 million over 3 years, with in-kind resourcing and the support of the following founding partners:
Economic and Social Research Council
Public Health England
Department for Business Innovation and Skills
Department for Communities and Local Government
Department for Work and Pensions
Department for Health
Cabinet Office
Arts and Humanities Research Council
Local Government Association
Office for National Statistics
Big Lottery Fund
DCMS/Arts Council England/Sports England/English Heritage/Heritage Lottery Fund
Today's announcement is in partnership with BT, Bristol Council (the Happy City).
Research grants will be awarded to successful bid teams in spring 2015, with a view to their starting work on 1 June 2015. The centre will become completely operational once research teams are fully resourced, at the earliest by the end of 2015.
Published 29 October 2014