West Africa: Lifesaving aid for a further 200,000 people
The aid includes emergency food for people across the region as well food vouchers to see them through the next six months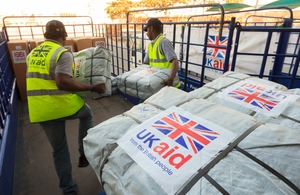 Britain will help an additional 200,000 people survive the Sahel food crisis in West Africa, Stephen O'Brien said today during a visit to Niger.
The emergency aid will feed an extra 60,000 people across the region for six months. It will also provide food vouchers for 80,000 people and animal feed and vaccinations to keep over 60,000 farmers' livestock alive.
The Development Minister has been visiting Niger this week to see for himself how British aid is helping thousands of people survive the Sahel food crisis.
Mr O'Brien met mothers and children receiving lifesaving treatment at British-supported emergency feeding centres assisted by UNICEF, the World Food Programme and World Vision.
Lifesaving: Mr O'Brien sees the British-backed emergency treatment in action near Niger's capital Niamey. Picture: Vigno Hounkanli/WFP-Niger
He also discussed with the heads of UN and other aid agencies what more the international community can do to avert a looming catastrophe before travelling to Senegal to see the impact of the food crisis there and meet heads of agencies managing the regional response.
International Development Minister Stephen O'Brien said:
What I saw in Niger was the very real human face of this terrible food crisis.

Britain will not sit back while children starve to death in the Sahel and the feeding centres I visited prove how our swift and early action is saving lives. Some very dedicated people are doing vital work to help those who are suffering through no fault of their own.

Building on the work done in the last few months and the lessons learned from previous food and nutrition crises, I am confident that our intervention is extraordinarily effective.

From what I have seen with my own eyes, the scale and urgency of the response from the British people is appropriate and means we are committing our full share.

We are delighted that other donors have also stepped up their support but there is no room for complacency.
Britain is now helping a total of more than 1.6 million people at risk of hunger across the Sahel. More than 100,000 children at risk of starvation in these countries will receive immediate lifesaving treatment.
Support includes nutritional treatment, health, water and sanitation, animal feed and vaccinations to keep farmers livestock alive and seeds and tools for families to feed themselves next year.
Published 19 June 2012