Press release
Welsh Secretary responds to latest Labour Market Statistics
David Jones: "Our long-term economic plan is working"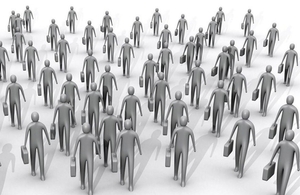 Our focus on stabilising the UK economy and promoting growth is now paying off in Wales, said Secretary of State for Wales David Jones, as official figures released today show that there have never been more people in work across the UK.
The latest employment figures published by the Office for National Statistics today (22 January 2014) have revealed a 21,000 increase in the number of people in employment in Wales over the last quarter. The figures were already at a record high.
Unemployment continues to fall across Wales. with a decrease of 12,000 over the last quarter. Youth unemployment has also seen a decrease of 600 this month, with 5,000 fewer young people claiming Jobseekers Allowance since this time last year.
Economic Inactivity, both in terms of the level and the rate, is at its lowest recorded level. In the last quarter, the number of people economically inactive in Wales decreased by 16,000. With the gap between the UK and Wales narrowing with Wales seeing the largest percentage fall over the last year of all the UK nations and regions.
Responding to the figures, David Jones said:
Our long-term plan is working, as there have never been more people in work in Wales, or indeed across the UK. Furthermore, we have seen sharp decreases in the numbers of those who are economically inactive.

As a consequence of our taking difficult decisions, the UK is recovering strongly and more quickly, particularly in comparison with our European neighbours. We are setting down strong foundations for the future security of hardworking families and businesses.

In Wales, there is growing optimism; we are demonstrating time and again that we committed to creating the right conditions for people who aspire to get on. Finally bringing our Help to Buy scheme into Wales this month has given a much-needed boost to the construction industry.

I urge the Welsh Government to work more closely with us, and particularly to look at the many successful examples where we are promoting growth and put them in place in Wales.
Published 22 January 2014
Last updated 22 January 2014
+ show all updates
Added translation
First published.