Press release
Welsh Secretary responds to Labour Market Statistics
Record employment levels in Wales are positive signs of a strong economic recovery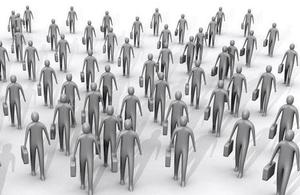 This Government's long term economic plan is working for the people of Wales, Welsh Secretary, David Jones said today, as official figures reveal a further increase in employment levels in Wales.
The latest employment figures published by the Office for National Statistics today (18 December 2013) have revealed a 24,000 increase in the number of people in employment in Wales over the last quarter. The figures were already at a record high.
Economic inactivity in Wales has also fallen to a record low, decreasing by 24,000 over the last quarter. Unemployment in Wales has fallen by 7,000 over the last quarter, and the youth unemployment level has also seen a decrease of 900 over the last month.
The number of people claiming Job Seekers Allowance in Wales has fallen by 1,300 since October 2013 and is 12,700 lower than in November last year.
The Office of National Statistics have also today published its Public Sector Employment figures which have revealed that, over the last year, Wales has seen the largest percentage increase in private sector employment of any region in the UK. Since Q1 of 2010, the number of people employed in the private sector in Wales has increased by 100,000.
Secretary of State for Wales, David Jones said:
This marked improvement in Wales' position in the labour market is a strong sign that, not only are we seeing an economy that is growing, but that growth is gathering real pace.

Wales's employment rate has increased by more than any other region in the UK, and the rate of economic inactivity has fallen by the largest amount of all the UK nations and regions. These figures, coupled with last week's news that Wales has seen the biggest increase in median weekly earnings of all UK regions over the last year, show that we are heading in the right direction towards a strong economic recovery. It is clear that it is the private sector that is driving this growth.

However, there is no room for complacency. This week's announcement from Sharp of proposed job losses at its Wrexham site was a sobering reminder that there are still considerable challenges ahead.

We must ensure we maintain close relations with businesses on the ground in Wales and focus on putting in place the right conditions to enable them to create jobs, to ensure this favourable upward trend in employment figures continues.
NOTES TO EDITORS
Published 18 December 2013
Last updated 19 December 2013
+ show all updates
Adding translation
First published.