Press release
Welsh Secretary responds to GVA figures
David Jones has responded to the Gross Value Added (GVA) statistics published today.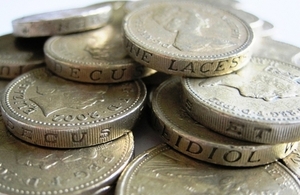 The figures published by Office of National Statistics showed that Wales had the third largest increase in GVA per head of all the devolved nations and English regions. Growth in GVA per head in Wales was also higher than across the UK as a whole.
However, Wales still has the lowest GVA per head of any devolved country or English region; GVA per head in Wales is nearly 28 per cent below the UK average.
Secretary of State for Wales David Jones said:
"The GVA figures released today show that our efforts to rebalance the UK economy are bearing fruit, and that Wales is benefitting from this Government's economic policies.
It is encouraging that over the last year the gap in GVA per head in Wales has narrowed in comparison to the UK average.

However, Wales does continue to have the lowest GVA in UK, and has held that unenviable position for well over a decade. All our efforts - both within the UK and Welsh governments - must be focused on changing that.

The Chancellor's Autumn Statement last week was aimed at young people, families and businesses; and reinforced our priority that this Government is focused on helping hardworking people in Wales.

This Government is extending a range of measures to help nearly 200,000 Small and Medium Enterprises across Wales get better access to finance by doubling the Small Business Rate Relief for a further 12 months from 1 April 2014. Also, Jobcentre Plus will also extend their services to provide support for 16-17 year olds who want to access apprenticeship and training opportunities. In addition, measures included making it easier for businesses to employ young people by abolishing National insurance contributions for under-21s earning below £813 per week.

The measures announced will continue to help Wales and the rest of the UK to continue on the road to recovery.
Notes to Editors
For full Office for National Statistics (ONS) bulletin please click here
Published 11 December 2013
Last updated 13 December 2013
+ show all updates
Adding Welsh translation
First published.