Press release
Welsh Secretary pledges to provide stability for Welsh rural economy
Welsh Secretary Alun Cairns today pledged to do everything he can to provide stability for the rural economy in Wales, following the EU referendum vote.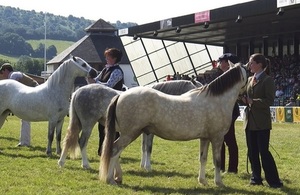 Alun Cairns MP will set out how the UK Government will work with the Welsh food and farming industry to manage a stable transition to Brexit.
He will also reassure the Farmers' Union of Wales (FUW) and National Farmers' Union (NFU) that the UK remains a full member of the European Union until the point at which we actually leave, and that all the rights and obligations of EU membership will continue until that point.
Bridging the gap between town and county the Royal Welsh Show is a highlight of the annual farming and rural life calendar in Wales. It is here that Alun Cairns, Secretary of Sate for Wales will join thousands of people to celebrate Welsh farming and produce and deliver the message of stability for these Welsh industries.
The Secretary of State will drive home the message that there are no immediate changes to the way our economy and financial system is regulated and importantly the way goods and services are traded. This means current arrangements for fishing, farming and the environment remain in place.
Alun Cairns said:
The message is clear the British economy is fundamentally strong, highly competitive and open for business. There is no doubt that farming and food and drink is a big industry for Wales and whilst there are no immediate changes to our situation, as the time comes I will do everything in my power to ensure the transition is as smooth as possible and the correct support structures are in place. Welsh farming will continue to be profitable and competitive.
Agriculture is an iconic industry in Wales which plays an important role in the economy – nearly 60,000 people are employed either full-time or part-time on holdings in Wales; agriculture's gross output is estimated at nearly £1.5bn
Mr Cairns said:
We recognise that two of the key priorities for the sector are to secure the best possible access to European markets, ensuring Wales is not disadvantaged from EU competitors and to gain clarity on future funding support for farmers.
The Secretary of State will also spend time with the different broadcasting houses at the showground. In light of the UK Governments 2017 commitment to a comprehensive review of S4C, the Secretary of State believes that S4C is a very important part of Wales' broadcasting structure.
Mr Cairns said:
S4C is an essential part of Welsh Culture and we need to make sure that it can meet the future needs of the Welsh speaking audience, maintaining its position as a very strong channel.
Published 18 July 2016