Press release
Welsh Secretary: Newport centre of excellence keep Wales on front line of UK defence and security needs
£2million facility will be the largest in Europe and will sustain jobs.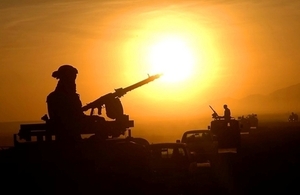 The Ministry of Defence's (MoD) Defence Science and Technology Laboratory (Dstl) has joined forces with industry to develop the UK's first ceramic armour development centre of excellence, in Newport.
The MoD and Kennametal Manufacturing UK Ltd are jointly funding the £2 million state-of-the-art facility, which will be the largest in Europe, helping to sustain 50 local jobs. It will develop full size ceramic armour components for personnel and vehicle protection, large enough for full scale impact tests.
Specialised manufacturing facilities mean that ideas generated in the development centre can be produced on site in Newport.
Dstl is already working with Tata Steel in Port Talbot to develop advanced steel armour and this new specialist high-tech ceramic facility in Newport will see South Wales become the UK's centre of advanced military armour technology. Improved UK based development and production will also help reduce the reliance on imports of ceramic armour and make it more readily available during the development of any future vehicles or body armour.
Secretary of State for Wales, David Jones visited the Dstl stand during his visit to the Defence Security Equipment International conference yesterday. He said:
Today's announcement shows that Wales is really playing its part in providing innovative solutions to the defence sector.
During my visit to the DSEI yesterday, I had the opportunity to meet staff from Dstl and was hugely impressed by the work that they do.
The industry continues to be vital to the health of the Welsh economy, and this new centre of excellence in Newport will develop vital and innovative products that will help Wales to maintain its place on the front line of our country's defence and security needs.
Minister for Defence Equipment, Support and Technology, Philip Dunne said:
I am pleased that this investment in a state-of-the art facility in South Wales, the largest in Europe, will further advance the United Kingdom's freedom of action in advanced ceramic armour.
This contract is a good example of the Ministry of Defence using its Science and Technology budget to develop innovation in the UK Defence Sector.
Professor Peter Brown of Dstl said:
This joint investment is the culmination of four years work. The ability to make ceramic samples large enough for full scale impact tests and the very significant reduction in time taken to produce a sample, means that we can investigate a much wider range of innovative formulations, faster and more cheaply than before.
Mike Williams, Kennametal MD said:
This is an exciting opportunity for Kennametal Manufacturing UK Ltd to work with the MoD and Dstl and also expand its portfolio in to the field of high performance ceramic armour products.
Notes to editors:
For more information contact the Dstl press office on 01980 658666, 07901 892660, press@dstl.gov.uk
Dstl:
The Defence Science and Technology Laboratory (Dstl) maximises the impact of science and technology (S&T) for the defence and security of the UK, supplying sensitive and specialist S&T services for the Ministry of Defence (MOD) and wider government.
Dstl is a trading fund of the MOD, run along commercial lines. It is one of the principal government organisations dedicated to S&T in the defence and security field, with three main sites at Porton Down, near Salisbury, Portsdown West, near Portsmouth, and Fort Halstead, near Sevenoaks.
Dstl works with a wide range of partners and suppliers in industry, in academia and overseas. Around 60% of the Defence Science and Technology Programme is delivered by these external partners and suppliers.
Courtesy of defence images on Flickr
Published 11 September 2013
Last updated 13 September 2013
+ show all updates
Added translation
First published.