Press release
Welsh Secretary David Jones hosts Swedish Ambassador on visit to Wales
David Jones and Nicola Clase to visit Welsh companies making waves at home and overseas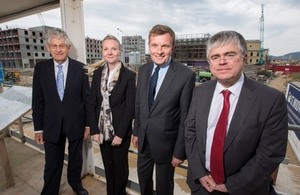 Secretary of State for Wales David Jones MP will this week host Sweden's Ambassador to the UK Nicola Clase during visits to Wales based companies expanding in overseas markets.
On Thursday 26 June, they will visit:
Neath-based business The Safety Letterbox Company, the UK's leading mailbox manufacturer. The company designs, manufactures and supplies mailboxes throughout the UK, Ireland and worldwide.

Swansea University to see the work being done to transform the Bay Campus as part of its £450m development programme. They will also see how scientists at the University's College of Medicine are working with colleagues at the Karolinska Institute in Stockholm in life sciences research and development
On Friday 27 June, they will visit:
Swedish family owned transport company Stena Line Group at Holyhead port on Anglesey.

Anglesey Sea Salt, a small Welsh company which has expanded well beyond its origins in the family kitchen to quickly becoming a globally recognised brand in the food and drink sector.
Secretary of State for Wales David Jones said:
It is very encouraging to see companies like those we are visiting this week working so successfully to internationalise their businesses.

The UK government is taking every opportunity to promote Wales overseas, using UKTI, our extensive network of embassies, consulates and high commissions around the world, to demonstrate that we are very much open for business. With just over two months to go until the NATO Summit is held in Newport, we must capitalise on the additional opportunities our world-class Welsh exporters have to reap the maximum benefit of our time in the international spotlight.
Sweden's Ambassador to the United Kingdom, Nicola Clase said:
Swedish investments create 100,000 jobs in the UK and around 5,000 of those are in Wales. Several Swedish companies look to Wales for mutual business opportunities and I am delighted to experience first-hand some of the creativity that brings them here. I am pleased to learn about the many scientific contacts between Swedish and Welsh Universities and to see the excellent work that Stena Line does in connecting people on both sides of the Irish Sea.

Both the UK and Sweden have open economies that are based on trade. This visit shows that collaboration between our countries to promote increased trade and investment is important. We will continue to cultivate the good relationship that already exists.
The visit comes following the publication of the UK government's Small Business, Enterprise and Employment Bill designed to open up new opportunities for small businesses to innovate, compete, grow and export.
Notes to editors
The Small Business, Enterprise and Employment Bill covers a number of measures that include:
Cutting down red tape, using new technologies to speed up banking processes
Increase support from UK Export Finance to help small businesses gain export footholds
Improvements in helping small firms with public procurement contracts - a market worth £230 billion
A Pubs Code and adjudicator will be introduced and steps to ensure employers pay a fair wage under the national minimum wage agreements
Enhance the reputation of the UK as a trusted and fair place to do business by increasing transparency around who owns and controls UK companies
Helping deter and sanction those who hide their interest in UK companies to facilitate illegal activities or who otherwise fall short of expected standards of behaviour
Published 26 June 2014